A nonprofit organization is an excellent way of serving society. If you're someone wanting to support a cause or make a meaningful impact on society, it's the way to do it.
Nonprofit organizations do not run for money or profits; they must still be properly managed and organized. A nonprofit business plan can do just that for any organization.
Need help writing a business plan for your nonprofit organization? Creating a business plan can help you fulfill your cause hassle-free and more manageable. So, we have prepared a nonprofit business plan template to help you start writing yours.
Key Takeaways
Your nonprofit business plan should have an executive summary section summarizing the entire plan and providing an overview of the organization's mission, goals, and strategies.
Your organization overview section will cover your organization's foundational elements like name, type, legal structure, location, and history.
Prepare a detailed section to describe your programs, products, and services as well as the impact of your offering on society.
Conduct thorough market research to understand and explain your target market, market size, growth potential, trends, and competitive landscape.
Prepare an effective operational plan outlining your day-to-day operational process, staffing requirements, quality control, and information about technologies and equipment in use.
Introduce your management team to your readers as well as the details about the organization structure and compensation plan.
Prepare accurate financial projections for your nonprofit. Emphasize providing details about revenue streams, fundraising goals, expenses, and financial ratios.
How to Write a Nonprofit Business Plan?
1. Executive Summary
An executive summary is the first section of the business plan to provide an overview of the organization's missions, goals, and key strategies. In addition to highlighting your organization's unique value proposition, it should provide a snapshot of its operations and impact. Generally, it is written after the entire business plan is ready. Here are some key components to add to your summary:
Organization summary:

Start your executive summary by introducing your nonprofit organization to readers. Offer a high-level overview of your nonprofit, including its name, location, and brief information about what your organization does.

Mission statement:

Include a clear and concise statement of your organization's mission. It must include the purpose and goals of the organization and how it helps the community.

Products, Programs, and Services:

Provide a detailed list of your nonprofit's programs and services, highlighting how the organizational operations align with your mission statement.

Impacts and Outcomes:

Briefly describe how the organization's programs and services have impacted the community and what outcomes have been achieved.

Management Team:

Mention the founding members, key personnel, board members, and volunteers involved to ensure the seamless operations of the initiative.

Financial Highlights:

Provide a high-level overview of your financial projections, revenue sources, expenses, and current or upcoming fundraising campaigns.

Call to action:

After briefly explaining your business plan, end your summary with a call to action, for example, inviting businesses, organizations, and individuals for partnerships and collaborations.
Think of your readers as potential donors and someone who has never heard of your organization. So, keep your executive summary concise and clear, use simple language, and avoid jargon.
Say goodbye to boring templates
Build your business plan faster and easier with AI
Plans starting from $7/month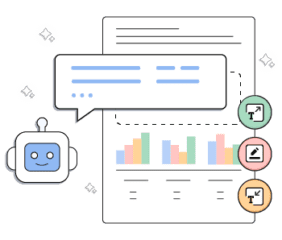 2. Organization Overview
Depending on the organization's details, you must add various organizational overview elements. Still, every organization should include some foundational elements like its name, purpose, operations, legal structure, location, and history.
Organization Description:

Provide all the basic information about your nonprofit in this section like

Name & Type of Your Organization: Describe the name and type of your nonprofit organization. For instance, you may operate one of these types of nonprofit organizations:

Educational organizations
Charitable organizations
Healthcare organizations
Religious organizations

Location of your nonprofit and why you selected that place.

Mission & Vision:

Write clear and concise statements of your nonprofit's mission and vision that outline your core principles and goals. Both statements must be memorable, clear, and brief.

Organization History:

If you're an established nonprofit, you can provide information about your organization's history, like when it was founded and how it evolved. If you can, add some personality and intriguing details, especially if you got any achievements or recognitions till now for your incredible community services.

Future goals:

It's crucial to convey your aspirations and your vision. Mention your short-term and long-term goals with the nonprofit; they can be specific targets depending on your ultimate vision.

For instance, providing free education to at least 2000 students by the end of the year as a public school.
This section should provide an in-depth understanding of the nonprofit organization. Also, the business overview section should be engaging and precise.
3. Products, Programs, and Services
The products, programs, and services section of a nonprofit business plan should describe specific products, programs, and services that will offer to its beneficiaries. Your nonprofit may or may not have all products, programs, and services to offer.
So, write this section depending on your organization's offerings:
Products:

Describe any physical or digital products your nonprofit organization produces. Describe how they are developed, produced, or distributed. In addition, mention partnerships or collaborations you've formed to develop these products.

Programs:

Mention any programs your nonprofit offers, such as mentoring programs, workshops, training sessions, and educational programs. Please explain how you designed these programs, whom they are designed for, and how you plan to implement them.

Services:

Explain any services your organization offers. These can be financial support, legal assistance, healthcare, educational services, etc. Explain how the organization provides these services and how you ensure they are accessible to all the beneficiaries.

Impacts:

Describe the impact of your products, programs, and services on the community. Use data, testimonials, and charts to illustrate the positive changes your organization has made.
In a nutshell, your products, programs, and services section should describe how your nonprofit meets needs and positively impacts the community. Use solid examples and numbers to back your claims.
Some additional tips for writing the market analysis section of your business plan:
Use a variety of sources to gather data, including industry reports, market research studies, and surveys.
Be specific and provide detailed information wherever possible.
Include charts and graphs to help illustrate your key points.
Keep your target audience in mind while writing the business plan
4. Market Analysis
Market analysis provides a clear understanding of the market your nonprofit will run along with the target market, competitors, and growth opportunities. Your market analysis should contain the following essential components:
Target Market:

Identify and describe your target market. Include user demographics, location, preferences, buying habits, and more. A buyer persona will help you and your readers better understand your target audience.
For example, A nonprofit that provides educational services to underprivileged children may have low-income families with children in urban centers as its target market.

Market size and growth potential:

Provide an overview of the industry your nonprofit operates in. It will include market size, trends, growth potential, and regulatory considerations.
For example, if your organization offers healthcare services to senior citizens, you should analyze the size and growth potential of the elderly population and the demand for senior healthcare.

Competitive Analysis:

Identify and analyze other programs or organizations that offer similar services or support to your target audience. Evaluate their strengths and weaknesses, and explain how the nonprofit has a competitive edge over competitors.

Market Trends:

Analyze current and emerging trends in your industry, such as technological changes or customer preferences. Explain how your nonprofit organization plans to cope with these trends and adapt its marketing strategy.

For example, It may be necessary for a nonprofit focused on environmental conservation to adapt its messaging to reflect the growing demand for sustainable products and practices.

Regulatory Environment:

Describe any regulations or licensing requirements that affect your nonprofit, tax-exempt status, state registration, fundraising regulations, etc.
Some additional tips for writing the market analysis section of your nonprofit business plan:
Use various sources to gather data, including industry reports, market research studies, and surveys.

Be specific and provide detailed information wherever possible.

Include charts and graphs to help illustrate your key points.

Keep your target audience in mind while writing the business plan.
5. Sales And Marketing Strategies
Building awareness, promoting engagement, and generating revenue should be the focus of your business plan's "Sales and marketing strategies" section. Here are some key elements to include in your sales & marketing plan:
Unique Value Proposition (UVP):

Define your organization's UVPs depending on your nonprofit's products, programs, and services. Describe what sets your nonprofit apart, including its vision, mission, values, social impact, etc. This section of your business plan must offer the reader a clear and compelling understanding of your UVPs.

Marketing Mix:

Describe your marketing mix to reach your target audience, including product, price, promotion, and place elements of your marketing strategy. Your strategy should consider how you will create and deliver value, how you will price your offerings, how you will communicate and persuade, and how you will distribute and deliver your offerings.

Marketing channels:

Describe how your organization intends to reach its target audience. In addition to social media, email marketing, public relations, events, webinars, partnerships, and direct email, you may use other marketing channels to promote your offerings.

Fundraising Strategies:

Describe the fundraising strategies you plan on implementing to generate revenue for your nonprofit. Your nonprofit may generate income from grants, major gifts, individual giving, charity events, online fundraising, corporate sponsorship, etc.

Identify fundraising strategies that align with the nonprofit's mission, vision, and values.

Donor Retention:

Describe how your nonprofit will retain donors and build loyalty. Your donor retention strategies may involve sending regular updates and impact reports, creating donor recognition programs, or asking for feedback and input.
In short, a nonprofit business plan's sales and marketing strategies section should describe how your organization can reach, engage, and retain your target market and generate sustainable revenue.
Be specific, realistic, and data-driven in your approach, and be prepared to adjust your strategies based on feedback and results.
6. Operations Plan
When writing the operations plan section, it's essential to consider the various aspects of your organization's processes and procedures involved in operating a nonprofit. Here are the components to include in an operations plan:
Staffing & Training:

Tell the staffing requirements of your nonprofit, including the number of employees and volunteers needed, their qualifications, and the duties they will perform.
Also, mention any training programs the nonprofit offers its employees, including professional development training, workshops, continuing education programs, etc.

Operational process:

Explain the tasks and procedures in your nonprofit's day-to-day business operations. You may include business processes like organizing fundraising events, managing programs, and donor management.

Your operations must also include details on monitoring and evaluating programs and their impact on the community.

Quality Control:

Discuss your nonprofit plans to ensure the highest quality of service to its beneficiaries, clients, and partners. Outline your QC process, like how you handle complaints and feedback to maintain quality standards.

Facilities and Equipment:

Mention the equipment, infrastructure, or facilities required for your nonprofit activities. Provide details about leases, rentals, purchases, maintenance, and repairs.

Technology & Information System:

Explain the technology and systems used in your organizational operations, such as software applications, networking infrastructure, security measures, etc.
By including these key elements in your operations plan section, you can create a comprehensive plan that outlines how you will run your nonprofit organization.
7. Management Team
The management team section provides an overview of the nonprofit organization's management team. This section should provide a detailed description of each manager's experience and qualifications, as well as their responsibilities and roles.
Founders/CEO:

List the founders, co-founders, and key executives, and describe their key roles and responsibilities in successfully running the business.

Key managers:

Describe your management team's key members, roles, and responsibilities. Highlight any specific skillset or expertise they bring to the nonprofit.

It should include the owners, senior management, other department managers, and people involved in the organizational operations, along with their education and professional background.

Organizational structure:

Describe the management team's structure, including reporting lines and how decisions will be made.

Compensation plan:

Explain your compensation plan for the management team and staff, including their salaries, bonuses, and other benefits.
Overall, the management team section of your business plan should mention key personnel involved in successfully running your organizational operations.
So, highlight your organization's key personnel and demonstrate why you have the right team to execute your organization's mission.
8. Financial Plan
When writing the financial plan section of a business plan, it's important to provide a comprehensive overview of your financial projections and goals for the first few years of your organization.
Revenue Streams:

Describe all the potential revenue streams for your nonprofit organization, such as grants, fundraising events, corporate sponsorships, membership fees, donations, etc.

Fundraising goals:

Set and describe your SMART(specific, measurable, achievable, relevant, and time-bound) fundraising goals, and explain how you plan on achieving them.

Expenses:

Provide a detailed breakdown of your expected expenses, including staff salaries, office expenses, marketing costs, etc.

Budget:

Make a detailed budget outlining all your income and expenses for the first few years of organizational operations. Your budget should include an emergency plan for revenue shortfalls or unexpected expenses.

Financial Ratios:

Calculate key financial ratios such as return on investment, debt-to-equity ratio, net asset ratio, and fundraising efficiency ratio to illustrate your organization's financial health.

Risk Analysis:

Identify and describe potential financial risks in your organizational operations. Your risk analysis may include factors like economic downturns, unexpected expenses, changes in donor behavior, etc.
Remember to be realistic with your financial projections and provide supporting evidence for your estimates.
9. Appendix
Include any additional information supporting your plan's main content when writing the appendix section. This may include financial statements, market research data, legal documents, and other relevant information.
Include a table of contents for the appendix section to make it easy for readers to find specific information.
Include financial statements such as income, balance sheets, and cash flow statements. These should be up-to-date and show your financial projections for at least the first three years of your business.
Provide market research data, such as statistics on the industry's size, consumer demographics, and trends in the industry.
Include any legal documents such as permits, licenses, and contracts.
Provide any additional documentation related to your business plans, such as marketing materials, product brochures, and operational procedures.
Use clear headings and labels for each section of the appendix so that readers can easily find the necessary information.
Remember, the appendix section of your nonprofit organization should only include relevant and essential information supporting your plan's main content.
Download a sample nonprofit organization business plan
Need help writing a business plan for your nonprofit? Here you go; download our free nonprofit organization business plan pdf to start.
It's a modern business plan template specifically designed for your nonprofit organization. Use the example business plan as a guide for writing your own.
You may explore our other nonprofit and community business plan examples before you start writing
The Quickest Way to turn a Business Idea into a Business Plan
Fill-in-the-blanks and automatic financials make it easy.
Get Started Now!

Write your business plan with Upmetrics
A business plan app like Upmetrics is the best way to draft your business plan. This incredible tool comes with step-by-step instructions and 400+ customizable sample business plans to help you get started.
So, whether starting a nonprofit organization or planning to grow an existing one, Upmetrics is the tool you need to create a business plan.