Many entrepreneurs spend hours preparing and writing their business plans. However, do not pay much attention to the cover page. This is a big mistake.
The business plan cover page can create a strong first impact. It sets the platform for how investors or readers will engage with your document.
In this article, we will understand the importance of a cover page and how you can design one yourself.
What Is a Business Plan Cover Page & Why Is It Necessary to Design It?
The cover page is an integral part of the business plan. It is the first page of your business plan that highlights the key information of your company like a company logo, company name, address, and other key information.
By looking at the business plan cover page, a banker or investor can get a quick idea about the purpose of the presented document.
Your business plan cover should be neat, clean, attractive, and professional enough to draw your reader's attention.
Regardless of whether you are writing a business plan, marketing plan, or business proposal, the cover page is an essential part of your business plan.
What to Include in the Business Plan Cover Page?
There is no specific rule about what to include and what not on your cover page. But we have prepared some essential information that you should not miss to include in it.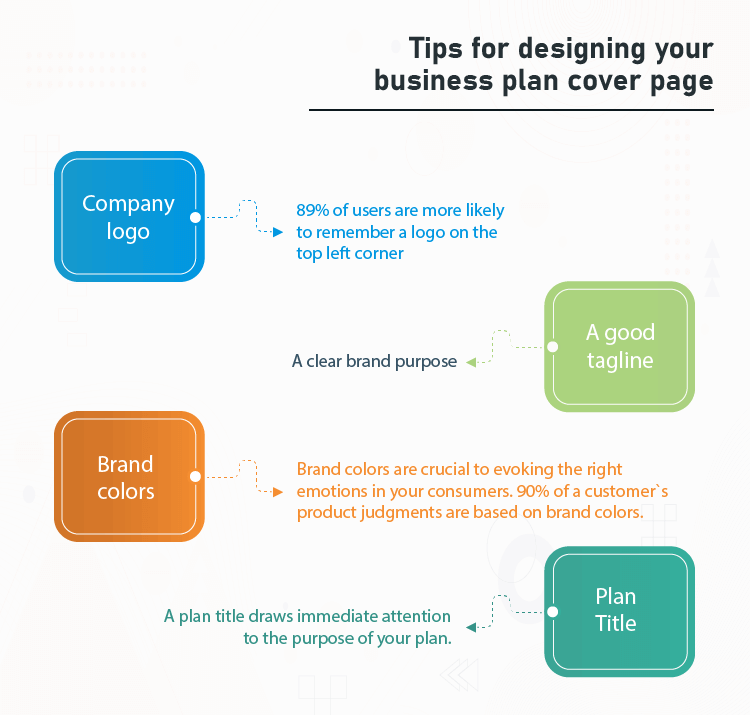 Company Logo

Your company logo will be the first and most essential section that will draw your reader's attention immediately, so you must include your company logo on your cover page.

The neat and clean, high-quality logo should be used to make your business plan cover page look like a professional cover page. It should be placed at the top of your business plan cover page.

Placing the logo on the business plan cover page sets a strong brand association that focuses a reader's attention throughout the document.

Company Name

The second most important section of the cover page after the company logo is your company name as you will always want your reader to remember your company name through the document reading process.

Your company name font should be readable, and bold, and should be the largest font on the page so that it stands out from the rest of the information on the business plan cover page.

Keep in mind, if your company logo itself includes your company name, it's okay to remove the eighter your company logo or company name from the cover page.

Business Tagline or Motto

A business tagline is a short catchy marketing slogan that is usually written with a company name or brand and is also sometimes used to indicate key features of your business. Some businesses use a tagline to show what they do and how they are different from the competition.

The tagline is an essential part of the cover page if you want your reader to understand straight away what you do or how you do it. Usually, the memorable tagline can excite an investor or reader that they will take a special interest while reading your business plan.

The best way to write a tagline is to describe what you do in short and simple words.

Branding Color

Brand color is most important in establishing trust and confidence in your customers. Your brand color will speak more than you can think about your business. Also, the right use of colors can increase your brand value by creating a strong visual identity in the industry.

Most successful companies have a strong association with their logos and brand colors. Their colors always tend to reflect their branding, even when they don't include any text on them.

Brand color can help in establishing trust and familiarity by evoking the right emotions in your reader's brains and sending the right message to them. Also, your brand color should be integrated into your business plan everywhere like titles, subtitles, features, images, etc to make your business plan more attractive.

Plan Title and Plan Year

The plan title will give a clear idea about what the presented document is about, whether it is a business plan, marketing plan, business expansion plan, recovery plan, or anything else.

The plan title is the notable feature of the cover page and should be in large font size. Immediately, the reader should know the purpose of the presented document.

There is no rule about which should be of the largest font size "Company Name" or "Plan Title" as both have their benefits. It is the owner's choice to decide what they want to highlight on the cover page for their document.

Also, readers will want to learn about what is the business plan creation time or what will be the execution time for the presented document. Thus it is important to specify the plan year on your cover page.

It should be written relatively in a smaller size and frequently below the plan title.

Prepared By

The "Prepared By" section is used to specify who is presenting the document and it should be the name of the company CEO, President, Owner, or sometimes another key person.

This information will help the reader to know about the key person in the company and whom they should contact in the case for more information.
Contact Information

Contact information contains the information reader can use to contact the person specified in the "Prepared By" section. This information includes the company's physical address, phone number, email address, and company website.

Contact information should always be on the business plan cover page. It lets the reader learn who is presenting the document and how to contact that person.

Confidentiality Statement

While it is not required, you may want to include a confidentiality statement on the cover page. Or just state "Confidential" to let the reader know that this document is confidential and not directed to share with others without the owner's consent.

Confidentiality statement on your cover page such as the following:

Example of Confidentiality Statement

Information provided in this business plan is unique to this business and confidential. Therefore, anyone reading this plan agrees not to disclose any of the information in this business plan without prior written permission of the Company
How to Design a Business Plan Cover Page?
Upmetrics gives you a beautifully designed business plan cover page template with no work on your side. Our cover pages are industry experts recommended. Thus, you can give investors and readers the information they need to learn about your business quickly.
You can use a cover page theme that suits the personality of you and your business. Upmetrics comes with professionally designed cover pages that immediately transform the reader's plain business plan reading experience into an interesting opening.
We enable you to upload your custom cover page design so you can upload the cover page of your choice for your business plan.
Upmetrics provides a feature where you can control which information and section you want to highlight on the cover page. Also, you can remove any section that you feel is not necessary for your cover page.
Explore our professionally designed
business plan cover pages
. let's get started with upmetrics to use these designs in your stunning business plan.
Upmetrics Business Plan Cover Page Examples