Embarking on your dream of starting a clothing line business? Gorgeous!
Hold onto your creative thread, as we deep dive into one of the most important questions: how much does it cost to start a clothing line?
Put on something comfortable, while we walk you through the clothing line startup costs.
It is going to be a worthwhile read, so be hooked.
What is the cost of starting up a clothing line?
The average cost to start an online clothing line spans anywhere between $5,800-$17,000, and for a large retail clothing line business it ranges between $64,500-$131,300. These costs are greatly influenced by factors such as location, size, concept, and type of clothing line business.
The average profit for these clothing line businesses ranges between 4-13%. Many times, clothing businesses earn a lucrative profit margin of up to 30% making it a desirable business venture.
Average costs for starting a clothing line
Before we dive into details, check out this clothing line startup cost checklist. It will help you plan your startup budget and know how much financing you need to get started.
Item
Online clothing
Retail clothing
One-time Expenses
Business equipment
$1,500-$2,000
$5,000-$15,000
Initial inventory & supplies
$500-$1,500
$3,000-$5,000
Business license and permits
$500-$1,000
$800-$1,500
Lease deposits
$0
$4,500-$12,000
Renovation / Remodeling/ construction space
$0
$20,000-$50,000
Initial design & development
$500-$1,0000
$5,000-$7,000
Annual Business Insurance
$500-$1,500
$500-$1,500
Initial photography & content creation
$100-$200
$200-$1,000
POS setup
$0
$1,500-$4,000
E-commerce setup
$500-$5,000
$500-$5,000
Legal and professional fees
$200-$1,000
$500-$2,000
Total One-Time Expenses
$4,300-$13,200
$41,500-$104,000
Recurring Expenses (Per Month)
Rent
$0
$1,500-$4,500
Marketing and advertising
$500-$1,000
$500-$5,000
Staffing and payroll
$0
$5,000-$15,000
Utilities
$300-$800
$300-$800
Website & E-commerce costs
$200-$500
$200-$500
Shipping costs
$500-$1,500
$500-$1,500
Total Recurring Expenses
$1,500-$3,800
$8,000-$27,300
Total
$5,800-$17,000
$64,500-$131,300
Disclaimer: Note that these costs are averages and can vary significantly depending on factors such as location, material of fabric, equipment needs, and more. It's important to conduct thorough research and planning to get a more accurate estimate of the costs specific to your clothing line business.
Use this checklist as a rough estimate to create your startup costs checklist depending on your location, equipment needs, and other requirements.
Let's move ahead and understand how you can calculate clothing line startup costs.
How to calculate the cost of starting a clothing line business
You now have a list of potential expenses and a rough estimate of your startup costs. Let's estimate your actual startup costs using these two proven methods.
The first, traditional method involves using a startup costs calculator to estimate the startup costs. However, the second, the Upmetrics method, is an innovative method that uses Upmetrics financial forecasting tool.
Let's understand both methods so that you can choose one that suits your requirements the best.
The traditional method—startup costs calculator
The calculator includes categories such as pre-trading, website setup, marketing, operations, and people. You can enter the estimated costs in each field and let the calculator estimate the costs for you.
Remember that many startup costs fall under recurring expenses, so cover those costs monthly, quarterly, or annually.
Calculate your startup costs using this calculator.
The Upmetrics method—financial forecasting tool
It is an intuitive and efficient method of calculating startup costs. Using Upmetrics will not just help you estimate startup costs but also help with financial forecasting.
All you need to do is enter your sales, costs, and other financial assumptions and let the tool calculate monthly/quarterly/ and yearly projections for you.
Check out the financial forecasting tool for accurate financial forecasting.

Check out the financial forecasting tool for accurate financial forecasting. Once you have an accurate estimate of startup costs, you can easily identify funding requirements for your clothing line business.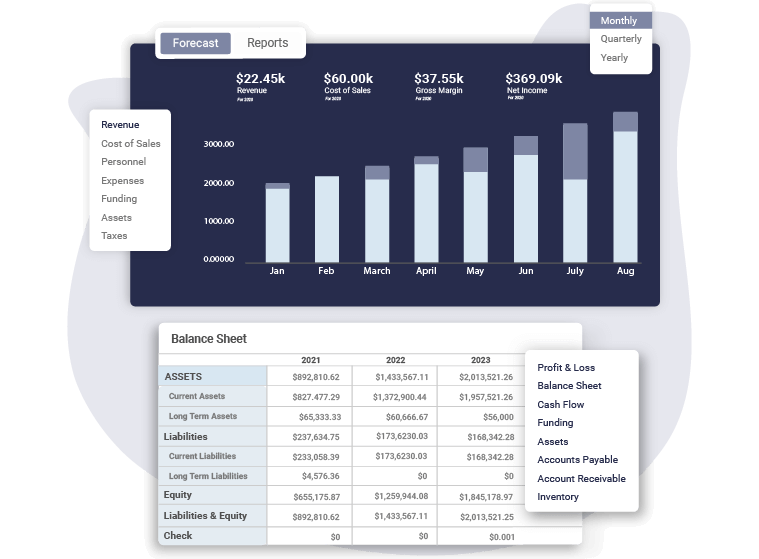 Once you have an accurate estimate of startup costs, you can easily identify funding requirements for your clothing line business.
Raising funds for a new startup is certainly a nerve-wracking and time-consuming process, but having a solid clothing line business plan can make things a lot easier.
Let's move ahead and discuss the factors that affect your clothing line startup costs.
Factors that affect clothing line startup costs
Starting a clothing line business requires a thorough consideration of various aspects. Let us now understand the factors that can substantially affect clothing line business startup costs.
1. Location
Location is an essential factor that affects the startup cost of any business.
Compared to calm, low-traffic areas, rental and leasing costs are generally higher in well-known areas and neighborhoods.
In addition to rent, location affects every other startup-related price as well. Costs are in direct connection with the location of your clothing line business, whether they are licenses, insurance, staff pay, furnishing costs, utility bills, or professional services.
For example, the rental for the less popular area is between $150-$500, whereas the rentals for the popular areas can range between $1,000-$5,000.
Still, you would want people to notice you right? Hence, the best place to start your clothing line is in a busy neighborhood.
If you launch your clothing store on an eCommerce, then there will be no renting or leasing costs, as you would be operating it directly from your home.
2. Clothing line business space and size
When it comes to choosing a space for your clothing line, you can either lease, buy or build from the ground level up.
Before you choose the feasible option amongst these, determine the space required for your business.
So how large should a clothing line business be? A small clothing store can be between 500-1000 square feet.
Since you are starting the business, leasing up is a better option. Let's see the average range of lease: 1000 square feet in a prime location might cost you around $4,000-$8,000, whereas 500 square feet would be around $2,000-$5,000.
Are you planning to buy a clothing line store? Building a clothing line business from ground level up? Consider putting $300-$400 per sq. ft into building your business space.
However, you can start designing & printing the products in your space and can build eCommerce for your startup.
3. Clothing line business equipment
The clothing line business equipment constitutes a significant part of your startup expenses. As the basis of your business relies on clothes, you simply cannot compromise on the quality or specifications.
Here is a list of non-negotiable equipment for clothing line businesses:
Sewing machine: $1,000-$5,000
Ironing & pressing equipment: $500-$1,000
Cutting & marking tools: $100-$300 
Embroidery & printing machine: $5,000-$20,000
Apart from this, there still is an exhaustive list of equipment that will be required in a clothing line business. It includes mannequins, a serger machine, a cutting table, design software, etc.
All in all, expect to spend anywhere between $5,000-$15,000+ on equipment and appliances.
If you are an online store, then you can get started with the sewing machine & cutting tools itself which would cost from $1,500-$2,000.
4. Fabric material
The most important thing for your clothing line is the fabric you choose. The more quality you provide, the more it will attract an affluent client base.
Fabric costs vary based on distinct quality, quantity, and your needs. For example, cotton or polyester fabric can range between $2-$8. While, some premium fabrics like cashmere, silk, or other special fabrics can range between $50-$100.
Not just the quality, the origin of any fabric can also affect the cost because you might have to import it. Sustainable or organic fabrics can also go on the side of a higher price tag.
For instance, premium organic cotton can cost between $10-$20, whereas normal cotton would cost around $2-$5. 
5. Licenses, permits, and insurance
Legal compliance is essential to successfully set up and operate a clothing line business.
First and foremost essential for legal setup is business registration with a state. The business registration costs span between $100-$500.
Further, various licenses and permits will be required to legally operate the clothing business. You may incur potential fines if required permits aren't taken.
Here is a list of business licenses and permits, required for a clothing business:
Business license: $50-$400
Sales tax permit: $0-$100 
Local permits: $100-$300
Insurance: $500-$1500
The cost of licenses and permits varies between different states and provinces. However, expect to spend anywhere between $1,000-$5,000 on acquiring essential permits and licenses.
Online seller permits are needed for online clothing line businesses, which cost around $20-$100. In total, expect to spend around $500-$1,000 on licenses & permits for an online store.
You must do the research before applying for licenses, permits, and insurance for your clothing line business.
6. Production quantity
The number of garments that you will manufacture will affect the cost of your clothing line business. As the production quantity increases, the discount on bulk order purchases also increases, and the cost per product decreases.
For your better understanding, let us see an example; if the cost to produce a piece of garment is $20, it will reduce to $15 if you increase the production quantity to 500 pieces, and it will go low to $12 for 1000 pieces.
Also, manufacturing bulk orders will take fewer labor hours per piece than the individual order of 10-20 pieces.
However, it is necessary to balance both the cost and production quantity along with the demand for the particular product you are going to produce.
Conduct the demand forecast first, plan everything out then only go for bulk manufacturing.
7. Inventory & Supplies
Before you launch your clothing line business, you would want to stay ready with all the funky and trendy designs to give your business a kick-start right? Therefore, the initial inventory cost plays its role in the start itself.
If you are planning to launch your business with 20 designs where 1 design would cost you around $50, then the total starting inventory cost for you would go up to $1,000 (note: this cost depends on the location, workers you hire, and other such factors).
Not just the designs:
Fabrics might cost from $2,000-$5,000
Finished garments would cost $2,000-$10,000
Racks & hangers might cost $500-$1,500 
In addition to the above costs, expect to spend around $1,500-$2,000 on monthly inventory.
For an online store, you can keep your inventory as low as $500-$1,500 and accept pre-orders for a particular set of designs.
8. Branding & marketing
Launching your business is not enough, spreading brand awareness is important too. Thus, branding and marketing can affect the startup costs of any business.
It's important to spend on pre-opening to create hype for your clothing business. It will include a logo, labeling, photography, a website, and other essential things.
The cost of the logo can range between $500-$1,500, while the cost of photography can range from $100-$300 per product depending on the type of pictures you need.
If you want eCommerce for your clothing line, then developing it might cost between $500-$5,000.
Apart from these one-time expenses, entrepreneurs generally spend 3-5% of monthly sales on recurring marketing.
9. Payroll & wages
Every successful business needs dedicated, hard-working employees; your clothing line business is no exception. Determine the number of employees you may need to hire, the benefits you will provide, and the training they require.
The federal minimum wage for employees in the US is $7.25 per hour. So make sure your payroll structure complies with federal and state government regulations.
If you are hiring in-house designers & staff, then expect to pay around $5,000-$15,000 monthly as your salary cost. But if you are working alone for your online store, then there are no such costs of wages or salary.
10. POS costs (hardware + software)
A POS system is a crucial component for clothing line businesses. This transaction technology helps with order management, payment transactions, and inventory upkeep.
The costs of POS are divided into one-time setup costs and recurring software subscription expenses.
A POS setup and equipment costs span between $ 1,500-$4,000. These costs vary considerably depending on the equipment and provider you choose. And the monthly expenses for POS software vary between $50-$200.
Stores with no physical location would not need POS systems at all.
Understood the factors that affect your clothing line business startup costs? Let's learn a few handful tips to reduce these costs.
Tips for reducing clothing line startup costs.
1. Start with an eCommerce
One of the best things about a clothing line business is that you can start with an online store or build your own eCommerce.
This way you can avoid the heavy maintenance & costs of having a brick-and-mortar shop and get access to a whole wide audience with your online platform.
2. Start small and grow
Start with a small project. Rent a small place. Invest in limited resources.
You don't need millions of dollars of investment to begin.
As the business starts generating desirable revenue, start investing in resources, infrastructure, and menu to scale the clothing line business.
3. Source cost-effective materials
Sourcing affordable and organic materials from nearby places can cut down the cost of your clothing line startup reasonably.
Here are some points about how sourcing cost-effective yet quality materials will help you lower the cost:
Reduced material expenses
Lower production costs
Increased profit margins
By carefully planning, budgeting, and exploring, you can get the best offers for sourcing your materials.
4. Outsource the services
You don't need to hire people on the payroll for everything. Hire freelancers or staff on an hourly basis when required.
This will save monthly fixed payroll expenses for the initial months till the business starts generating revenue.
It will also give you access to particular specialized people for your work, which would increase your brand value.
5. Smart marketing & advertising
Opening a clothing line business requires marketing, but marketing can be expensive. However, there are cost-effective ways. Social media can be used to advertise your business and interact with consumers.
To arrange events or run promotions, you can also collaborate with nearby businesses or organizations. Incentives can also be given to customers who recommend others to your clothing line business.
By putting these tactics into practice, you may lower the typical startup costs for your business and raise your chances of becoming a profitable enterprise.
6. Pre-sell your designs
Pre-selling your designs can significantly deduct the cost of keeping inventory for your clothing line business.
It will spread awareness for your business before actually launching it. Also, you will receive the money on a prior basis saving the extra expense of over-manufacturing.
Conclusion
That's a wrap on the journey of clothing line business costs. Relax, and let your creative spirit fly.
We hope this has been a valuable guide for you. And as fashion is about the art of expressing, so stay inspired.
Happy designing!
Use Upmetrics for Accurate Startup Cost Projections!
Looking to estimate your startup costs? Dive into Upmetrics! Our business plan software makes financial forecasting a breeze
Get Precise Projections Now