Capturing the interest of potential buyers is crucial in the dynamic fashion industry. To achieve this, you need effective marketing strategies, which require a well-considered marketing plan for promoting your clothing line.
While you put your sweat and all your work into designing the clothes, ensure you have a solid plan in place to make sure that the clothes sell themselves practically.
We understand that the thought of creating a marketing plan is overwhelming. Worry not; here is a guide on how to write a clothing line marketing plan. So, without further ado, let's get started.
Key Takeaways
A clothing line marketing plan helps reach potential customers, builds loyalty, and outlines digital and traditional marketing strategies.
Knowing your target audience's demographics, preferences, and behaviors will help you customize your strategies.
Establishing a strong brand identity with consistent logos, colors, and fonts builds trust.
Conducting SWOT and competitor analysis helps identify your brand's strengths and USP.
Allocating a budget, generally 3-5% of projected sales, will help you meet your goals.
Regularly monitoring sales, brand awareness, and customer engagement outcomes is essential to know you are on the right path.
Remember, a marketing plan is a dynamic document, so adapt your strategies to the changing trends of the clothing line industry.
What is a Clothing Line Marketing Plan?
A clothing line marketing plan outlines strategies, tactics, and other methods through which entrepreneurs can promote their fashion brands. It helps fashion brands to reach potential customers and turn them into loyal customers.
It also outlines what you'll do for a certain time to grow your clothing business. It contains goals, budget decisions, and plans for both digital & traditional marketing.
Thus, it is like a guide for what you have to do in the next quarter or year and how it will help you grow.
Why is a Clothing Marketing Plan Important?
Entrepreneurs often fail to convey their messages to the target audience; this is where a fashion marketing plan comes to the rescue.
It outlines steps on how to make your clothing brand succeed through various channels.
It helps you to know your target market and ways of how to reach them.
A well-structured plan with excellent strategies increases a loyal customer base.
A marketing plan also highlights your competitive advantage and what makes you unique.
It highlights the marketing budget, which keeps you in check for your spending.
A solid marketing plan helps you to stand out and guides you through each step in your journey.
Here is the step-by-step guide on how to write a marketing plan for a clothing brand:
Related Clothing Line Resources
A Step-by-Step Guide to Writing a Clothing Line Marketing Plan
1. Understand Your Target Audience
Start understanding your target audience by gathering some basic information about them, like their age, location, gender, income, and job.
After having the basic knowledge, dig deeper into their lifestyles, values, interests, and shopping patterns. Also, find out whether they prefer in-store or online shopping, and do they choose trendy clothes or timeless classics.
Knowing your target customers' behavior and pain points is necessary while planning strategies.
You can also ask questions like:
Are they looking for plus-size options?
Do they prefer designer wear or affordable basics?
Knowing this will help you communicate the right message to your target market.
You can even run surveys to learn more about what they like and dislike on various social media platforms. This way you will get your ideal consumers.
For example, your ideal customers can be:
Fashion-conscious millennials (fashion influencers)
People prefer gender-neutral apparel
Fitness enthusiasts who prefer activewear
Understanding your target audience helps you focus your marketing efforts, resulting in more leads & conversions.
2. Establish Your Brand Identity
Think of your fashion brand identity as its personality. The logo you create, the colors you choose, and the fonts will all work together to make your brand image.
Choose clothing colors that align with your brand's message and personality. Select fonts that are elegant and bold. For example, Nike's swoosh or Apple's Apple logo is prominent and easy to remember.
Brand identity is not only about the logo but also about your brand story. Thus, craft a compelling brand story and include visuals in it. In short, your logo, interior, packaging, visiting cards, and website are all part of your brand identity.
Some of the examples of the brand identity of famous clothing stores are:
Nike: Their brand identity revolves around athleticism and performance. The Swoosh logo represents speed and motion. The tagline "Just do it" represents individuals pushing their limits.
Ralph Lauren: Ralph Lauren's brand identity showcases classic American elegance. The brand is characterized by its Polo logo.
Gucci: Gucci's brand identity showcases luxury and opulence. Their double-G logo and use of rich colors and bold patterns convey a sense of extravagance and high fashion.
As high-end fashion brands have maintained consistency and quality, you also build trust and loyalty among target customers to build a strong fashion brand identity.
3. Conduct a SWOT & Competitive Analysis
Performing competitor and SWOT analysis is necessary, as it provides a clear understanding of your brand's strong points.
It will help you know your strengths like quality and unique designs, weaknesses such as production delay or limited resources, threats like market saturation or supply chain disruptions, and opportunities like the growth of eCommerce, customization, etc.
On the external front, if you know everything about your competitors, then it is easy to identify your USP and then work on strategies accordingly.
Some of the questions to ask while conducting competitor analysis:
Who are your primary competitors?
What are their strengths and weaknesses?
What is their market share and growth forecast
How do they price their products compared to your clothing brand?
What marketing efforts do they use?
How their customer reviews and feedback are?
What innovations have they introduced recently?
The following is an example of a SWOT analysis, prepared using Upmetrics' business plan template: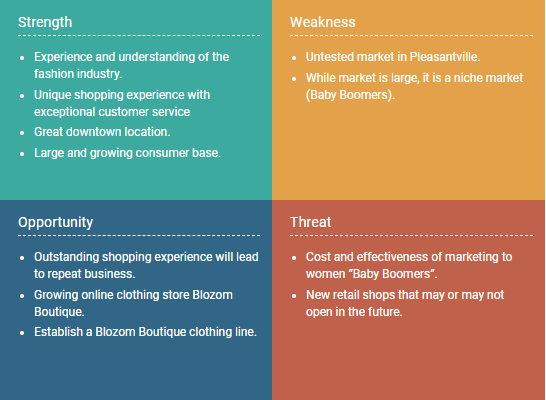 By combining the results of both analyses, you can create a great fashion marketing strategy that focuses on your USP.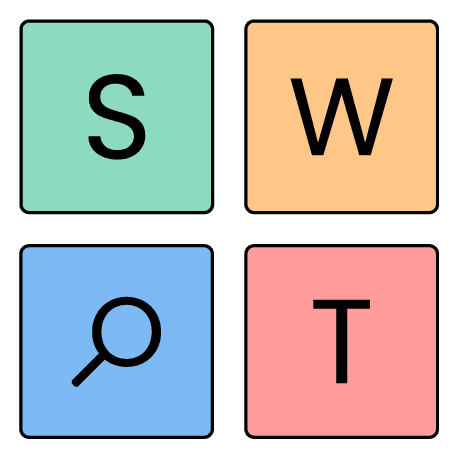 Want to create a SWOT analysis for your business?
Craft a powerful SWOT Analysis in just minutes using our user-friendly and free online SWOT Analysis Generator Tool!
4. Set Measurable Marketing Goals
Before you start marketing, do not forget to set SMART (specific, measurable, achievable, relevant, and time-bound) business goals. As it will help you understand what is working and what is not.
Here are some common primary goals for a clothing brand:
Increasing brand awareness
You can set a goal to increase your fashion brand awareness by 50% through discounts, gifts, engaging content, social media, and other channels.
Increase sales
After spreading brand awareness, set a measurable goal for more sales too. For example, keep a target of increasing activewear sales by 10% in one month.
Improve Customer Loyalty
Encouraging repeat sales and fostering brand loyalty among your existing customer base is essential for long-term success. You can achieve customer loyalty through loyalty programs and discounts. For instance, you can set a goal of raising existing customers by 15% this quarter.
Partnership & collaborations
Collaborating with other brands or influencers will help you reach a wider audience. You might set a target of collaborating with 2-4 influencers a year to improve your clothing brand awareness.
Each of these goals should be time-bound with a deadline; for example, you might set the target for 6-12 months or 1 quarter.
These goals provide a clear roadmap for your fashion brand's success, enabling you to track progress and celebrate every achievement.
5. Describe Your Marketing and Sales Strategies
In this fast-paced fashion industry, converting potential customers into existing ones needs strategic tactics. So, the next step is to mention your marketing and sales strategies in the fashion marketing plan.
Sales strategies
Sales strategies are techniques and marketing measures to sell your clothing brand products. Some of the sales strategies are:
Customer loyalty programs:
Create a loyalty program to reward loyal customers. Give them benefits like discounts, early access to new collections, and exclusive deals to keep them coming back for more.
Promotions and sales events:
Promotions and sales events can be planned during key seasonal times like "Black Friday" sales or "Back-to-school" sales. You can offer BOGO sales, clearance sales, flash sales, bundle sales, etc.
Visual merchandising:
Create visually appealing displays in physical stores and online platforms. High-quality images, product videos, and 360-degree views can help customers visualize the clothing, leading to higher sales.
Marketing strategies
Whereas sales strategies are measures to sell your products, marketing strategies are to promote your product in front of your target audiences, some of the marketing tactics are:
Content marketing:
Content is a powerful tool but for that, you need to create marketing materials on a prior basis. Some of the content marketing tactics are fashion blog posts, video content, user-generated content, etc. Remember to create content that entices new customers to visit your clothing brand.
Email marketing:
Collecting email addresses from customers and website visitors enables fashion brands to send product descriptions, product updates, offers & discounts, fashion insights, and more to engage and retain customers through emails.
Social media marketing:
Social media platforms like Instagram, Facebook, Twitter, and TikTok will help you spread your marketing efforts in no time. These platforms can be used to showcase product photos and run paid targeted ads to drive sales.Social media platforms let you target your ads to a specific audience based on the audience's location, demographics, or interests. Simply run an ad for the audience that's most likely to be interested in your brand.
In conclusion, sales strategies focus heavily on the actual selling of things. Whereas, the goal of marketing strategies is to define the target audience, produce interesting content, and promote the brand to draw in new customers and retain them.
6. Determine Your Marketing Budget
Before setting the budget, first, know your financial situation and look into how much you can allocate to marketing without hampering any other essential aspects.
Now consider your business goal; are you aiming to increase loyalty, spread brand awareness, or increase sales? Because if you are a new clothing line business, then you might want to spread brand awareness.
Then it is time to evaluate your target market and the channels you will use like social media, print media, or are going to appoint brand ambassadors. This way, you will know which channel needs more investment.
In general, according to a CMO survey, companies spend nearly 54% of their marketing budget on digital marketing. Keep this in mind, and don't forget to note what your competitors are doing, so that you can be in the competitive landscape with them.
Lastly, know your projected annual income which will help you put aside your budget. Generally, entrepreneurs keep 3-5% aside from projected sales as their budget and spend money wisely.
7. Implement Clothing Brand Marketing Ideas & Strategies
Whether it is marketing online or traditionally, proper implementation of all the tactics is necessary for launching your clothing brand.
Firstly, break down the plan into smaller tasks, like first publishing Instagram posts, then incorporating influencer collaboration, etc. Then implement everything according to the marketing calendar you make.
By putting your marketing plan into action, you can make sure that your efforts aren't wasted and reach your target market. Additionally, this stage facilitates customer engagement, buzz-building, and excitement-building for your fashion brand.
In conclusion, the implementation phase brings your clothing brand to life in the eyes of consumers, making it an essential step toward achieving your market goals.
8. Monitor the Success of Your Marketing Plan
Monitoring the success of your marketing tactics ensures that all your efforts are going to the right place and you are getting the correct response.
It allows you to measure the effectiveness of your efforts and lets you know the effects in terms of sales, brand awareness, customer engagement, or customer loyalty.
Also, it helps you pinpoint which strategies are working and which are not. By tracking website traffic, footfall, social media engagement, and sales, you will get to know which strategy is working and where to invest more.
For example, if you find that social media advertisements are giving more results than email marketing campaigns, then you can shift your focus and resources accordingly.
Some of the key metrics to measure success are sales revenue, social media engagement rate, customer acquisition cost (CAC), customer lifetime value (CLV), email engagement, etc.
Moreover, monitoring allows you to adapt to changing circumstances. The fashion industry is dynamic, and consumer preferences can shift rapidly, especially with seasonal trends.
Regularly assessing your marketing plan's performance enables you to spot trends or shifts in customer behavior early on. This, in turn, empowers you to make timely adjustments to your strategies, ensuring your brand remains relevant and competitive.
The Quickest Way to turn a Business Idea into a Business Plan
Fill-in-the-blanks and automatic financials make it easy.
Get Started Now!

Conclusion
In conclusion, a well-crafted fashion marketing plan, coupled with a thorough business plan, plays a key role in the success of a clothing line business.
Utilizing business plan software can simplify the planning process significantly.
So, take the chance to boost your fashion business. Put in the effort to create a strong marketing and business plan today because your business's success depends on it.