Clothing Line Business Plan
To start your own Clothing Line Business, having a proper business plan is of fundamental importance. Finding a niche in the clothing industry requires due to research and analysis of the kind of clothes you want to produce. Preliminary market analysis for the customer base for the style niche you are going for can be a great way of getting familiar with what could work for your business plan.
Industry Overview
The Clothing Industry has been revolutionized and re-revolutionized over the ages. Clothes and apparel will always have takers, with the clothing industry growing at the rate of 14.1% per annum. The apparel market held a worth of 8,680 million dollars in the last year alone. Thus, a clothing line is an excellent business premise if marketed well.
Preview our Blozom Boutique - Clothing line business plan example, Let's start writing your own business plan.
It's easy and fun with Upmetrics.
Some aspects to consider before you start working on your Clothing Line Business Plan.
Apparel Products for Sale

The first and most crucial aspect of launching a clothing line is to find your clothing niche. While it might seem attractive to have an abundance of products under your brand, it is always better to start with a small niche of products and expand. Decide on what apparel you'd sell – t-shirts, workout wear, formal wear, etc. and build your plan accordingly.

Budget and Staffing

The next step is to figure out what the starting budget would be comfortable for you. You should analyze all business avenues where investment is required – fabric sourcing, production cost, packaging, and marketing. Having a budget estimated for each avenue is essential before drafting a detailed plan.

Production and Marketing

The production of clothes will be one of the most critical factors for your brand. Before you get investors on board, it is a great idea to figure out a channelized and easy way of production and the employment of workers it would require. The marketing aspects, whether local or broader, also need to be thought about.

Innovation and Quality Control

When it comes to a clothing line, design and innovation are of supreme importance. You will need creative professionals on your team who can focus on this aspect. Ensuring your clothes are quality controlled should also be an essential step in the plan.
Chalking Out your Business Plan
Browse through some sample business plans to understand what goes into a hair and salon business. You can estimate a lot about the production mechanism and other creative inputs that would be required for your clothing line to get going.
Our Blossom Boutique – Clothing Line Business plan sample gives an insight into all that goes into coming up with a fashion-friendly, quality-controlled, and popular clothing line. The sample outline gives you an idea of what an entrepreneur would include in their business blueprint. You can also get a fair idea of what language and structure are typically used to represent these business plans.
The Upmetrics Business Plan software can help you develop a business plan that includes all your specific needs. The Blossom Boutique sample is created using our software and build to be comprehensive to fit everything a solid business plan needs.
Use this sample plan as your guideline and start editing it right away.
It's easy and fun with Upmetrics.
Clothing Line Business Plan Outline
This is the standard clothing line business plan outline which will cover all important sections that you should include in your business plan.
Executive Summary

Company Overview
Products & Services
Management Team

Robin Mathews
Joanna Jensen

Market Analysis
Strategy & Implementation
Financial Plan
Sources & Use of Funds

Company

Company & Industry
Legal Entity & Ownership

Robin Mathews
Joanna Jensen

Company History To Date
Facilities
Key Assets

Products And Services

Products

Description
List of products

Features & Benefits
Development

Market Analysis

Target Customer
Market Size
Trends
SWOT Analysis

Competitive Analysis

Competition

Competitors
Competitive Advantage

Competitive Pricing

Strategy & Implementation

Philosophy
Internet Strategy

Direct E-mail
Pricing Strategy

Marketing & Promotion Strategy

Public Relations
Advertising
Ongoing Customer Communications
Pre-Opening Events
Fashion Shows

Sales Strategy
Strategic Alliances
Goals
Exit Strategy

Operations Plan

Product Development
Operations

Management

Organizational Structure
Leadership
Staff Members

Financial Plan

Fund Requirements
Fund Requirements
Income Statement Projections
Cash Flow Projections
Balance Sheet
Key Assumptions & Forecasts
After getting started with upmetrics, you can copy this clothing line business plan example into your business plan and modify the required information and download your clothing store business plan pdf and doc file. It's the fastest and easiest way to start writing your business plan.
Customize your Business Plan
All businesses are different. So, don't hesitate to customize your business plan according to your requirements. Even though our sample business plans aim to help you create the perfect presentation for your clients and investors, it is finally up to you to decide how you're going to present your ideas in the best light.
Get started with upmetrics and use this sample business plan to write your plan in half of the time.
Use This Sample Now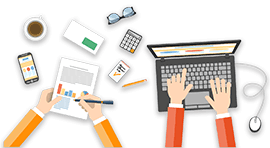 Business Plan Software
How you would you like to rate this template?
Thank you! We have received your rating.
Our upmetrics business plan software can help you to customize your business plan and provides you a step-by-step guide to write your business plan. You can save your plan online and update it any time, or download it as a PDF or DOC file. You can share business plan online with investors or any other important person with upmetrics easily.
DISCLAIMER: The business plans, templates, and articles contained on upmetrics.co are not to be considered as legal advice. All content is for informational purposes, and upmetrics makes no claim as to accuracy, legality or suitability. The site owner shall not be held liable for any errors, omissions or for damages of any kind.