Want to start a construction company? Sounds like a sturdy plan!
To convert your business idea into a profitable reality, you first need to get an idea of how much it cost to start a construction company.
While you figure out a way to start a construction business, let us help you get a detailed breakdown of costs for setting up a construction company.
Let's dive right in and calculate construction company startup costs.
What is the cost of starting up a construction company?
Starting a construction company in the USA costs somewhere between $53,100-$245,200. A variety of factors; largely the cost of raw materials, equipment, and rent factor in to determine these costs.
The profit margins of construction firms on average span between 2-10%. It is a notoriously low-margin business, however, profitable and rewarding as you expand.
Average costs for starting a construction company
Before we dive into details, check out this construction company startup cost checklist. It will help you plan your startup budget and know how much financing you need to get started.
Item
Average Cost
One-time Expenses
Registration & incorporation costs
$100-$500
Licenses & permits
$500-$5,000
Lease deposits (office space)
$4,500-$10,500
Lease deposits (warehouse)
$3,000-$15,000
Initial inventory ( construction materials & supplies)
$1,000-$10,000
Construction tools & equipment
$10,000-$50,000
Annual insurance
$2,000-$10,000
Computer hardware
$1,000-$5,000
Website setup & logo designing
$500-$5,000
Professional fees
$500-$2,000
Signage & advertising
$10,000-$30,000
Office remodeling
$1,500-$5,000
Total One-Time Expenses
$34,600-148,000
Recurring Expenses (Per Month)
Office rent
$1,500-$3,500
Utilities
$800-$1,200
Material & Supplies
$2,000-$5,000
Warehouse rent
$1,000-$5,000
Heavy equipment/machinery rent
$5,000-$40,000
Labor transport
$2,500-$20,000
Payroll/ salaries
$5,000-$20,000
Marketing
$500-$2,000
Software subscription fees
$200-$500
Total Recurring Expenses
$18,500- $97,200
Total
$53,100-$245,200
How to calculate the cost of starting a construction company
You now have a list of potential expenses and a rough estimate of your startup costs. Let's estimate your actual startup costs using these two proven methods.
The first, traditional method involves using a startup costs calculator to estimate the startup costs. However, the second, the Upmetrics method, is an innovative method that uses Upmetrics financial forecasting tool.
Let's understand both methods so that you can choose one that suits your requirements the best.
The traditional method—startup costs calculator
The calculator includes categories such as pre-trading, website setup, marketing, operations, and people. You can enter the estimated costs in each field and let the calculator estimate the costs for you.
Remember that many startup costs fall under recurring expenses, so cover those costs monthly, quarterly, or annually.
Calculate your startup costs using this calculator.
The Upmetrics method—financial forecasting tool
It is an intuitive and efficient method of calculating startup costs. Using Upmetrics will not just help you estimate startup costs but also help with financial forecasting.
All you need to do is enter your sales, costs, and other financial assumptions and let the tool calculate monthly/quarterly/ and yearly projections for you.
Check out the financial forecasting tool for accurate financial forecasting.

Check out the financial forecasting tool for accurate financial forecasting. Once you have an accurate estimate of startup costs, you can easily identify funding requirements for your construction company.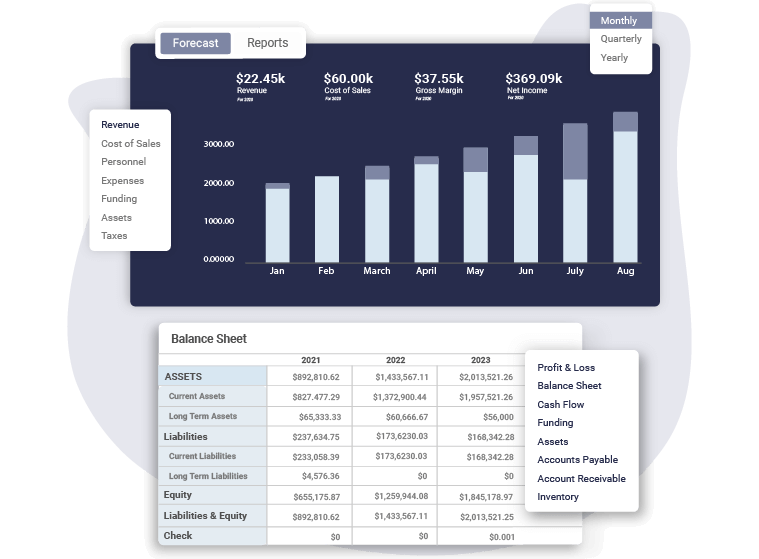 Once you have an accurate estimate of startup costs, you can easily identify funding requirements for your construction company.
Raising funds for a new startup is certainly a nerve-wracking and time-consuming process, but having a solid construction company business plan can make things a lot easier.
Let's move ahead and discuss the factors that affect your construction company's startup costs.
Factors that affect construction company startup costs
A variety of factors together determine the startup costs for a construction company. Understanding these factors will make it possible for you to start a firm on a shoestring budget.
1. Business formation (registration, licenses & permits)
A successful business setup requires you to register with the state and acquire a business license and insurance. Doing so will give legal identity to your construction business.
The requirements for registration and licenses vary between different states and jurisdictions. However, depending on your business structure, you can expect to spend between $100-$500 on business registration.
To operate successfully, businesses need to acquire licenses and permits as necessitated by the local government.
Apart from a general business license, a construction company requires a contractor's license and a builder's license to undertake construction work.
The cost of licenses and permits would span anywhere between $500-$5,000 for a small-scale construction firm.
2. Rent & Utilities
Office rent
Will your construction company require a physical setup? If so, you would have to get a commercial space on lease. Buying is also an option. However, that would require a significant initial investment.
The commercial rent is highly influenced by the location and size of the office space. For instance, the average monthly rent for a 500-1500 sq. ft. commercial space in Houston Texas spans between $1,500-$3500. The same office space in buzzing New York Street would have $4,000-$10,000 monthly rent.
To finalize the lease agreement, a lease deposit worth 2-6 months' rent is required. Hence, the one-time lease deposits for office space would range between $4,500-$10,500. The monthly utility bill for the same office space would range between $800-$1,200.
Warehouse rent
Storage is essential for construction companies. A warehouse of approximately 2500-5000 sq ft. is required to store inventory, equipment, and tools for a small-scale company. The storage rent for a given space spans anywhere between $1,000-$5,000 in a competitive location.
Just like commercial space, you would have to pay lease deposits for the warehouse as well. Expect the lease deposits to be between $3,000-$15,000.
3. Construction materials & supplies
Raw materials constitute major costs for a construction company. These expenses are recurring after the initial inventory is built.
To build an initial inventory, identify the most essential raw materials and supplies. This could be cement, lumber, concrete, steel, plumbing, and electrical supplies, etc. Build enough stock to get you started on a project.
An initial inventory worth $1,000-$10,000 is plentiful for a small-scale construction company.
The recurring expenses on raw material supplies continue to vary depending on the number of projects and the cost of raw materials.
However, expect the average material cost to span between $2,000-$5,000 and more.
4. Construction equipment & tools
A variety of tools and equipment are required to run a successful construction company.
Determine whether to rent or purchase the equipment. Take into account various factors such as cost, duration of the project, frequency of use, storage, and maintenance costs to make a decision.
It is advisable to purchase frequently required hand and power tools that aren't quite expensive. However, purchasing heavy machinery and construction vehicles makes no logical sense, especially when there is limited capacity to make large initial investments.
Heavy machinery and equipment are easily available on daily and monthly rentals. The monthly rental cost for heavy machinery like excavators, bulldozers, cranes, and loaders can span between $5,000-$40,000 depending on your requirements.
Expect to spend anywhere between $10,000-$50,000 on the purchase of basic equipment and tools.
5. Employees & field labors
Competent and skilled employees are essential for the success of a construction company. Their salaries and wages take the major share in fixed and variable costs of a business.
The cost of employee salary depends on the location and expertise of labor. Apart from the fixed pay, you also need to take benefits, vacation, sick time, insurance, and related costs into account while hiring an employee.
Focus on building a small efficient team initially. A small-scale construction company would require site supervisors, framers, construction workers, and equipment operators.
The average hourly rate of construction laborers in the USA is $22.77. This brings a total of $176 for one labor alone on an 8-hour shift. Work out the labor expense sheets before making hiring decisions.
However, you may expect to spend anywhere between $5,000-$20,000 on labor wages and employee salaries every month.
Payroll expenses add up pretty quickly. It is therefore advisable to get all the secondary tasks outsourced or freelanced.
6. Insurance
A variety of risks are involved in the construction business. It makes logical sense to get coverage against potential risks to get insured.
Here are a few insurances you must consider for your construction company:
Small business insurance: It is recommended to get business insurance for your construction company. It costs between $500-$2,000.
Workers' compensation insurance: This is compulsory for any construction company with employees. In case of injury, the coverage offers protection to employees.
A small-scale company can expect to spend between $1,000-$10,000 on workers' insurance.
Rental equipment coverage: This is especially essential if you are renting heavy equipment and machinery. Depending on the size of the business, the yearly coverage would span between $1,000-$5,000.
Builders' risk insurance: It is often referred to as installation floater insurance. This insurance offers protection against theft, weather damage, and vandalism to your construction site. The cost for builders' risk insurance is usually 1-5% of the project cost.
Consider getting umbrella insurance when you have multiple policies to get maximum coverage.
7. Professional services
A construction company would require different professional services to start and operate efficiently. Determine which services you will require and spend accordingly.
Legal services: Offers help with business registration, EIN, permits and licenses, and related legal work. Legal professionals charge anywhere between $150-$250 hourly.
Accounting and bookkeeping services: Accounting services for bookkeeping, tax preparation, and related tasks span anywhere between $100-$300 monthly.
Consultant services: Sustaining a profitable construction business in this low-profit margin industry gets difficult. Consultants help you identify potential loopholes in the existing plan and suggest ways to make your business more profitable.
Consultants charge anywhere between $500-$1,000 hourly.
8. Marketing & advertising expenses
The marketing and advertisement endorse your construction business to its target audience.
Spending thousands on marketing expenses may seem unnecessary, but it isn't. Instead of spending nothing, limit the marketing expenses to accommodate your budget.
Not all marketing expenses are essential. However, certain basic expenses need to be made. For instance, hoardings and signboards.
Expenses on these along with some basic marketing can span anywhere between $10,000-$30,000, initially.
Set aside a marketing budget for every month. An average of monthly $500-$2,000+ is spent by companies on different marketing strategies.
9. Software expenses
Software tools ensure efficiency in business operations. A variety of software technologies comes to play to reduce business downtime, costs, and time wastage.
Identify the software tools that can help your construction business and make necessary purchases.
Here are a few software technologies you can consider investing in
Accounting and invoicing software: $0- $100
Project management software (i.e. Autodesk BIM 360): $0-$200
Communication & collaboration software (Slack): $0-$50
Designing software: $0-$300
10. Website Costs
Websites are now essential for all sorts of businesses. Construction companies are no exception.
Millions of websites are going live every day competing for visibility. It is thereby crucial you invest in the correct resources to get the website set up right.
The website costs can span up to thousands of dollars, however, you can use website-building tools to bring down the costs.
Here are a few cost breakdowns for setting up a website:
Domain name: $12-$200
Website hosting: $0-$300
Website builder: $10-$500
If a website is going to play a crucial role in your construction business, consider taking the help of professionals like web designers and developers.
Overall, you can expect to spend anywhere between $500-$5,000 on building a company website.
Related Construction Company Resources
Tips for reducing construction company startup costs
1. Rent the equipment
When it comes to buying tools and equipment for your construction business, you don't need to purchase everything. Leasing can save heavy investment and maintenance expenses.
Heavy equipment and machinery are often easily available on hourly and daily rentals. Hence, you can rent the equipment only when required.
2. Choose to go with no office setup
Determine whether you require office space or not. Most construction companies require no office space when starting out.
However, if you do require an office setup, choose to lease Instead of buying a commercial space.
3. Limit your initial inventory
Bulk purchasing offers attractive discounts and prices. However, it is not always advisable to spend beyond limits to build a large inventory. Instead, build a small inventory, just enough to get you started with initial projects.
Moreover, if you build a very large inventory, you will also have to figure out storage solutions for it. This will add to the warehousing expenses.
4. Regulate your marketing expense
Avoid spending thousands on highly competitive marketing channels. Instead, promote your construction company through low-cost marketing avenues.
Social media marketing, ads marketing, and video marketing could be some brilliant ways to reach out to your potential customers.
5. Consider subcontracting
Labor expenses are the third major cost for construction businesses. To keep your startup costs low, don't hire people on the payroll before you get your first project.
Instead, consider subcontracting certain tasks to save on regular payroll expenses. Subcontracting is a brilliant way to adjust workforce capacity for different project requirements.
All in all, you can juggle your way with initial startup costs by cutting off or readjusting the expenses that may seem inessential.
Conclusion
That's it for the article guys. Hoping it gives you clarity and a path forward to calculate construction company startup costs. So what are you waiting for? Start working on your construction company business idea now.
Use Upmetrics for Accurate Startup Cost Projections!
Looking to estimate your startup costs? Dive into Upmetrics! Our business plan software makes financial forecasting a breeze
Get Precise Projections Now