Mobile apps help businesses to form stronger relationships with their users—no doubt, why the trend of developing mobile apps is increasing daily.
Are you too looking forward to investing in an app for your business, if yes, then the first question is how much does it cost to start an app?
There are a lot of factors like design, development, choice of platform, etc. that affect the startup costs of an app. Worry not, here is a detailed breakdown of these costs.
In this blog: we'll explore the average cost range you can expect when bringing your app idea to life. Let's dive deep without any further ado.
What is the cost of starting up an app?
The average cost of building an app ranges between $38,725-$267,850 and more. These startup costs can extend up to $500,000 or more depending on the scope and complexity of the app.
App businesses enjoy a lucrative gross profit margin between 60-70% and above. The average revenue per download is also expected to amount to $10.74.
Average costs for starting an app
Before we dive into details, check out this app startup cost checklist. It will help you plan your startup budget and know how much financing you need to get started.
Item
Average Cost
One-time Expenses
App Development
$5,000-$100,000
UI/UX
$5,000-$20,000
Backend development
$5,000-$50,000
Legal & intellectual property
$1,000-$5,000
Customer support setup
$2,500-$3,500
Hardware & devices for testing
$500-$2,000
API Integration & Fees
$5,000-$50,000
Initial marketing costs
$5,000-$10,000
Licenses & permits
$1,500-$3,000
Business registration
$150-$500
Annual insurance
$12,00-$2,000
Total One-Time Expenses
$31,850-$246,000
Recurring Expenses (Per Month)
App hosting & cloud services
$100-$500
App store fees
$25-$50
Maintenance & updates
$100-$300
Marketing
$5,000-$15,000
User Acquisition
$500-$1,000
Consumer care services
$500-$1,000
App analytics & monitoring
$100-$500
Security and data protection
$200-$1,000
Subscription renewals
$150-$1,500
Server backup & disaster recovery
$200-$1,000
Total Recurring Expenses
$6,875-$21,850
Total
$38,725-$267,850
Disclaimer: Note that these costs are averages and can vary significantly depending on factors such as the type of the app, app platform, complexity & structure of the app, and more. It's important to conduct thorough research and planning to get a more accurate estimate of the costs specific to your app.

Use this checklist as a rough estimate to create your startup costs checklist depending on your location, equipment needs, and other requirements.
Let's move ahead and understand how you can calculate app startup costs.
How to calculate the cost of starting an app business
You now have a list of potential expenses and a rough estimate of your startup costs. Let's estimate your actual startup costs using these two proven methods.
The first, traditional method involves using a startup costs calculator to estimate the startup costs. However, the second, the Upmetrics method, is an innovative method that uses Upmetrics financial forecasting tool.
Let's understand both methods so that you can choose one that suits your requirements the best.
The traditional method—startup costs calculator
The calculator includes categories such as pre-trading, website setup, marketing, operations, and people. You can enter the estimated costs in each field and let the calculator estimate the costs for you.
Remember that many startup costs fall under recurring expenses, so cover those costs monthly, quarterly, or annually.
Calculate your startup costs using this calculator.
The Upmetrics method—financial forecasting tool
It is an intuitive and efficient method of calculating startup costs. Using Upmetrics will not just help you estimate startup costs but also help with financial forecasting.
All you need to do is enter your sales, costs, and other financial assumptions and let the tool calculate monthly/quarterly/ and yearly projections for you.
Check out the financial forecasting tool for accurate financial forecasting.

Check out the financial forecasting tool for accurate financial forecasting. Once you have an accurate estimate of startup costs, you can easily identify funding requirements for your mobile app.
Raising funds for a new startup is certainly a nerve-wracking and time-consuming process, but having a solid App business plan can make things a lot easier.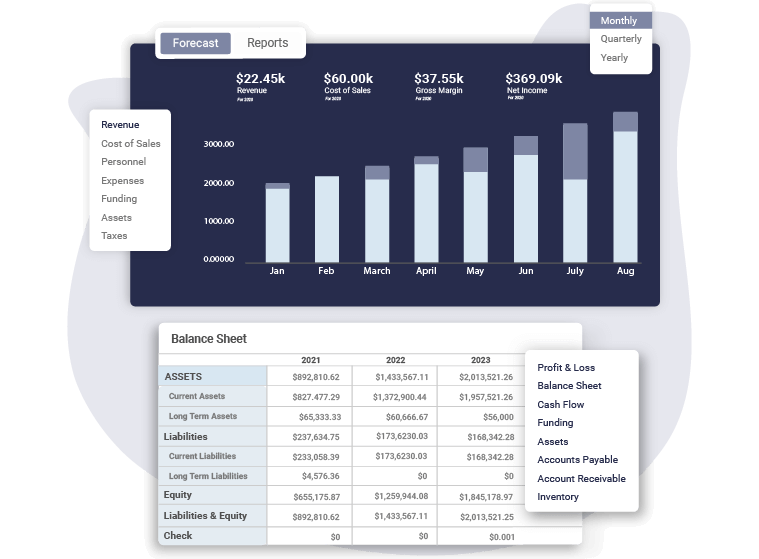 Once you accurately estimate startup costs, you can easily identify funding requirements for your app business.
Raising funds for a new startup is certainly a nerve-wracking and time-consuming process, but having a solid app business plan can make things a lot easier.
Let's move ahead and discuss the factors that affect your app startup costs.
Factors that affect app startup costs
Starting an app requires a thorough consideration of various aspects. Let us now understand the factors that can substantially affect app startup costs.
1. App complexity & structure
The type of app you want (in terms of features, structure, & complexity) will decide the cost behind it. The more complex the app is, the more it will cost.
The app development is divided into three categories: small, medium, and large.
Small apps include simple functionalities and common user interface elements specifically created for a single platform. Backend development or APIs are not required usually for these types of apps.
Average apps incorporate unique UX design, payment integration, and less complex functionalities.
The functionality of complex apps greatly exceeds that of the other two types of apps. It includes third-party API integration, custom animations, language support, and more.
Here are some average costs for building various types of apps:
Simple utility app: $5,000-$20,000
Informational app: $10,000-$30,000
Internet of Things app (IoT): $20,000-$100,000 or more
Social media apps: $20,000-$150,000 or more
Gaming app: $100,000-$500,000 or more
Apart from the features and functionalities, the type of backend development and integration also affect the cost of the app.
As an example, a complex backend with any of the above complex features would cost around $30,000-$100,000. Whereas, a simple backend would cost only $5,000-$15,000.
2. App development platform
There are different app platforms whether you would want to go for Native app development or Flutter app development.
A native app is for a specific platform that gets deployed on only one platform at a time (iOS, Android, and web). Whereas a Flutter app can be deployed on all platforms at the same time.
The development cost for a native app is around $30,000-$150,000 while a Flutter app will cost $20,000-$100,000.
Apart from all these types of apps, the cost of a progressive Web App is around $10,000-$30,000.
You have to decide now which app platform is better for you depending on the target audience, products or services, functions, etc.
3. Design & user interface (UI/UX)
The design and user interface are crucial in app development because they decide how users will interact with your application. This step will help you create a user-friendly app.
Creating wireframes, mockups, and prototypes for the app's UI/UX would cost around $5,000-$30,000 or higher.
If you want to include custom graphics or icons in your app then the design cost for it would be around $5,000-$25,000.
For responsive web app design the designing cost ranges from $3,000-$10,000.
Apart from these, if you want animation videos, GIFs, or anything else then it would cost you more.
First, determine the needs for your UI/UX and hire designers accordingly.
4. Hiring App Developers
Any business without a proper team is incomplete. Generally, a team of 2-3 people is needed to develop an app with accuracy and proper functioning.
When it comes to assembling a team for an app, you have one of the following choices:
Hire an independent freelancer
Build an in-house team
Hiring an in-house team is a wise choice if you have a nuanced understanding of app development.
Ultimately, the decision is influenced by two prominent factors: time and budget constraints.
The cost of the in-house team might be more than freelancers, but they will dedicatedly only work for you.
Whereas, hiring a freelancer would be $20-$75+ per hour, hiring an in-house team of 2-3 developers might cost around $50,000-$100,000 or more annually.
5. API integration
API integration helps in providing more value to end users through third-party necessary services. The costs related to the API integration can depend on the complexity of the API and the expertise you hire.
Here are a few API integrations to consider:
Authentication & user management API: $5,000-$20,000
Payment gateway API: $5,000-$30,000 
Social media API: $2,000-$10,000 
Cloud storage API: $5,000-$20,000 
AI API: $10,000-$20,000 
You won't need all the above APIs, so the cost depends on your requirements. This stage of production might need around $15,000-$50,000.
6. App maintenance & updates
Entrepreneurs often overlook maintenance expenses but in reality, they are important to keep running your app smoothly.
According to Outsystems, the first year's maintenance expenses will account for 50% of the cost, 25% for the second year, and 15% to 25% for each further year.
Maintenance can be corrective, predictive, preventive, or adaptive. This maintenance can include:
Bug fixes & issue resolution
Server costs
Security updates
Feature enhancements
Performance optimization
Since various factors are included in determining the maintenance costs, it's difficult to predict the exact monthly estimate. More or less, you can expect to spend anywhere between $2,000-$5,000 on maintenance services each month.
7. Security system
Having a strong security infrastructure is necessary to protect user data, prevent it from potential threats, and maintain the reputation of your app.
When any of the laws are broken, penalties can also be implied.
Here are certain practices along with the approximate costs that you should comply with while developing your app:
Security assessment and planning: $5,000-$20,000
Secure coding practices: 10-20% of your development costs
Authentication & authorization: $5,000-$10,000 
Encryption & data protection: $5,000-$15,000 
Security compliance & certification: $5,000-$10,000 or higher
Investing in robust app security measures is a proactive approach that can prevent potential security breaches, data loss, and reputation damage.
8. Marketing
Marketing is necessary to spread awareness for your app. It is the backbone that drives conversions for your business.
When thinking of marketing strategies, you need to buckle up with ASO (App Store Optimization) practices. Not only that, consider including email marketing, social media marketing, product hunt launches, etc. in your strategies.
The ideal annual marketing budget for an app should be 2 or 3X times the development costs. The annual marketing budget spans between $100,000-$200,000 making it a monthly total of anywhere between $5,000-$15,000.
Allocate a budget for a pre-launch of your app. It should cost you around $5,000-$10,000.
Now that you have a fair idea about factors influencing startup costs, let's figure out ways to reduce these expenses.
Tips for reducing app startup costs.
Reducing startup costs for your business can help you efficiently launch your business. Here are some tips to reduce the startup costs for your app business:
1. Partnership & collaboration
Partner & collaborate with other developers to share the tools, software, and design assets. It can help you to reduce your cost. Collaboration also allows you to provide more service range.
For example, you purchase a development tool and then share the same tool with other people in your network and save the cost of purchasing it solely.
2. Choose the right platform
The platform you choose will affect the startup cost of an app significantly. Different platforms have different development environments and tools which take time accordingly.
A cross-platform development framework allows developers to deploy the same code at all the platforms together. Thus, narrow down your requirements and then choose the right platform accordingly.
3. UI/UX
Designing costs for an app are on average $16,000-$32,000, which you can avoid if you design your app yourself. You can also avoid paying expenses for design software and use the free templates available.
DIY design is just not cost-effective but time-saving too because you will have a clear vision of your concept.
4. App prototyping
An individual can test the app's design and functionality before the development, which gives a rough idea of how an app will appear.
It can help you identify the design flaws early and reduce the number of changes during the development phase. This step can also help in communication with the developer about all your needs.
5. Hire Freelancers
Instead of hiring full-time staff at the beginning of your business, you can outsource the work and save money.
Along with the reduced costs, it also allows you to work from anywhere without managing the whole team.
You can outsource the work to the experts in the particular field instead of hiring freshers, improving the quality of your services.
6. Start small and validate
Don't invest all the monetary resources in developing a features-enriched app in one go. Develop an MVP of your app and launch it.
The basic features and functionality would start getting you sales. Then with the generated revenue, add desirable features and scale your app.
Conclusion
And, that's it for the article guys. We hope you now have some clarity regarding the app startup costs.
However, it's still a long road. You have to make multiple decisions and determine the actual costs for your app.
Best of luck with your app, and may your dreams turn into a thriving reality!
Use Upmetrics for Accurate Startup Cost Projections!
Looking to estimate your startup costs? Dive into Upmetrics! Our business plan software makes financial forecasting a breeze
Get Precise Projections Now