A business has three pillars: the idea, the plan, and the execution. Congratulations! You have the app idea already, now you have to step forward with a plan.
But, somewhere with all the workload, the concept of the app, hiring the right people, budget, and development of the app, entrepreneurs overlook the need for planning.
Worry not, we are here to lighten your burden with our step-by-step guide for mobile app business plan writing.
Key Takeaways
A mobile application business plan helps you define your marketing strategy, customer acquisition strategy, retention strategy, and strategies to achieve your business goals.
Craft an impactful executive summary that outlines the type of your app business, marketing approach, financial outlook, and team expertise to attract potential investors and partners.
Conduct thorough market research to understand market trends, consumer preferences, and the needs of your target market.
To ensure efficient daily operations, provide in-depth operational plans that incorporate staffing, additional services, and customer service.
Create realistic financial projections for sales revenue, expenses, and profit forecasts while considering contingencies & emergencies.
Let's get started with our guide, without any further ado:
How to Create a Mobile App Business Plan: A Complete Guide
1. Executive Summary
An executive summary is a quick overview of the whole business plan. From mission & vision to financial projections, it includes everything in between.
Generally, entrepreneurs write this section at the end after having the full knowledge of the entire business plan.
Begin your executive summary with a brief introduction of your business, and include other elements like:
Market Opportunity
Vision & mission statement
Target market
Unique value proposition
Details of your services
Management team
Financial Outlook
Call to action
For instance, here is an example of an app business USP's section:
USP for PrivyConnect – Social Media App: "Connect with Total Privacy"
Our social media app is dedicated to ensuring your online interactions remain private and secure. Unlike many other platforms, we don't share your data or personal information with third parties.
We use robust encryption to protect your messages and content, and you have full control over who can see your posts. With us, you can truly connect with your friends and family in a safe and trusted environment. Your privacy is our priority.
Note: your readers might not read the whole business plan, but they will go through the executive summary. Therefore, make sure you write it engagingly to grab their interest.
Say goodbye to boring templates
Build your business plan faster and easier with AI
Plans starting from $7/month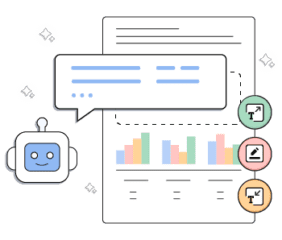 2. Company Overview
In this section, present your business in detail. It should provide the details of your business & app name, the location of your office, the structure of your business, and other such information.
Now it is time you introduce what type of business you own, for example, your app type will be one from below:
Social media app
Messaging app
E-commerce app
Entertainment app
Health and fitness app
News or magazine app
Navigation app
Gaming app
Finance app
Dating app
After that, mention the company history if you have any. Add the name and other qualifications & achievements of business owners. Mention the vision & mission statement of your app business along with your future goals.
In short, this section should provide an in-depth understanding of your business and business owners.
3. Industry Analysis
In the industry analysis section of your mobile app business plan, you have to provide the details about the mobile app industry. It will help you understand the market and gain a better insight into your business positioning.
Here are certain questions to ask while performing industry analysis:
What is the current size of the app industry in terms of both revenue and users?
What are the current trends of mobile app businesses?
Which apps are leading the industry?
Which mobile app concept is famous in public?
Conduction this industry analysis will educate you about the market and help you prepare marketing strategies according to the market trends.
In short, industry analysis will help to know a clear picture of the market, helping you in making informed decisions.
4. Competitive Analysis
Competitive analysis will help you identify the unique selling propositions (USP). Also, this way you will get to know your competitors.
Start by specifying who are your competitors – then compare it with both direct and indirect customers.
Now, let's focus on your direct competitors, those similar to your mobile app. Provide an overview of each competitor, including their size and where they're based.
Here are some questions to ask for competitive analysis:
Who are your primary competitors?
Who do they serve?
What are their USPs?
What is their pricing strategy?
What do they need to work on according to their customers?
A more effective way to this analysis is to conduct it from the customers' viewpoint. You might even ask your competitors' customers what they like and dislike about their apps to better understand customers' perspectives.
Here is an example of competitors and competitive advantage of the app:
Competitors
SocialShield: SocialShield is a notable competitor in the privacy-focused social media segment. It emphasizes strong user data protection and secure communications. Their user base has been steadily growing, particularly among privacy-conscious users.
GuardChat: GuardChat offers encrypted messaging and content sharing. It has a user-friendly interface and strong encryption features. While their user base is smaller compared to established platforms, they have garnered a dedicated following.
PriviNet: PriviNet has made a name for itself by offering comprehensive privacy controls and anonymous user interactions. They have built a niche community of users who value privacy and user-controlled sharing settings.
Competitive Advantages of PrivyConnect
PrivyConnect's comprehensive privacy controls and encryption set it apart as a top contender.
The app's transparent communication and commitment to environmental responsibility contribute to its appeal.
PrivyConnect's active community-building efforts and user engagement foster loyalty.
The app's plans to expand into secure content sharing and social community growth align with industry trends.
This way you can get to know the USP of a mobile app development company. Once you get the USP, flaunt it in the entire business plan.
5. Market Analysis
In the market analysis section, do the market research and dive right into the market where you will be providing your app services. Begin the section by providing the details of your target customers.
Your target customers will depend on the type of app you own and the services you provide.
After a thorough discussion of the target market, discuss the market trends. Mention what your target customers prefer and what new are they looking for. For example, people might be looking for:
Integration of AR/VR
Sustainable and eco-friendly apps
Privacy and data protection
Personalization
At the end of the market analysis, do mention the regulatory environment mobile apps need to follow in the particular location.
6. Sales and Marketing Plan
Writing the sales and marketing section means jotting down the marketing strategy you will use to acquire new users and retain the existing ones.
Now it is time to mention the marketing strategies for your app, there are three phases of the launch:
Pre-launch phase
App-store optimization: Before launching the app, search for the keywords to include in your title, description, and other content.
Build a landing page: You can create a website or build a landing page to make your brand presence prominent on the web too.
Pre-launch promotion: Launch a teaser for your app before the release date itself. Give some special offers to the ones who will sign up even before the launch.
Launch phase
Deploy it on major app stores: Launch your app on all the major app stores to reach a wider audience. Make sure it is working smoothly and is free of bugs.
Social media marketing: There were going to be 147.2 billion annual app downloads in 2023 itself. Imagine the competition, so be sure to make your visibility strong through social media platforms.
Content marketing: Create blog posts, videos, or infographics related to your app's niche. Share valuable content on your website and social media to engage users.
Post-launch phase
User reviews and feedback: Encourage users to leave positive reviews and ratings on app stores. Actively respond to user feedback and address issues (if any) ASAP.
User engagement strategies: You can enable push notifications or in-app notifications to interact with your users. You can also ask them to invite friends in exchange for a referral bonus.
Collaboration or influencer marketing: You can collaborate with some other mobile app companies and do cross-marketing. Influencer marketing is also a great choice.
Once you have noted down how you will acquire customers, then mention below things too:
Customer acquisition cost
Your monthly paid advertisement budget
Number of followers you have on social media
If there are any in-app purchases
7. Management Team
Knowing who is behind your app business will increase the appeal of your business plan.
The management team tells you about the people in charge of the app business. It should explain each manager's experience, what they're good at, and what their jobs are.
Here is an example of the management team:
Management team of PrivyConnect
Founder and CEO – Sarah Anderson
Sarah is the visionary leader behind PrivyConnect. With a background in cybersecurity and a passion for online privacy, she founded the company to provide users with a secure and private social media experience. Sarah is responsible for setting the company's strategic direction and ensuring its commitment to user privacy and data protection.
CTO – David Ramirez
David brings a wealth of technical expertise to PrivyConnect. He has a strong background in mobile app development and security protocols. David oversees the technical development of the app, ensuring that it employs state-of-the-art encryption and privacy measures.
CMO – Emily Davis
Emily is the marketing guru behind PrivyConnect's success. With a knack for digital marketing and user engagement, she is responsible for building the app's user base and promoting its unique selling propositions. Emily focuses on user-centric marketing strategies and community engagement.
COO – Michael Chen
Michael is the operations expert at PrivyConnect. With years of experience in streamlining business operations, he ensures the app runs smoothly and efficiently. He also oversees partnerships and collaborations to enhance the app's offerings.
8. Operations Plan
As earlier sections mentioned everything about your company goals, here it is time to mention how you will reach them. These goals are differentiated into two sections:
Everyday goals
They're the heart and soul of your mobile app's daily life, from coding and upgrades to the nitty-gritty of customer support. These are the everyday heroes that keep your app running smoothly.
Long-term goals
It's all about milestones: the moments that make you pop the champagne. Picture celebrating your 10,000th app install, hitting that milestone sales figure you've dreamt of, or expanding your team.
9. Financial Plan
Your financial plan needs to have a 5-year financial forecast. For the first year, break it down into monthly or quarterly details, and then summarize it annually. This forecast should cover your income statement, balance sheet, Use of Funds, and cash flow.
Income statement
An income statement, often known as a Profit and Loss statement or P&L, displays your earnings and then deducts your expenses to know the profitability of your business. Make practical assumptions based on your competition.
Balance sheet
Balance sheets display your assets and liabilities. Although they can contain a lot of details, like equity, goodwill, other intangible assets, etc.
Uses of Funds
When you are seeking funding, this statement becomes necessary to show where you will use the funds. Here is an example of the Uses of Funds chart with the help of Upmetrics: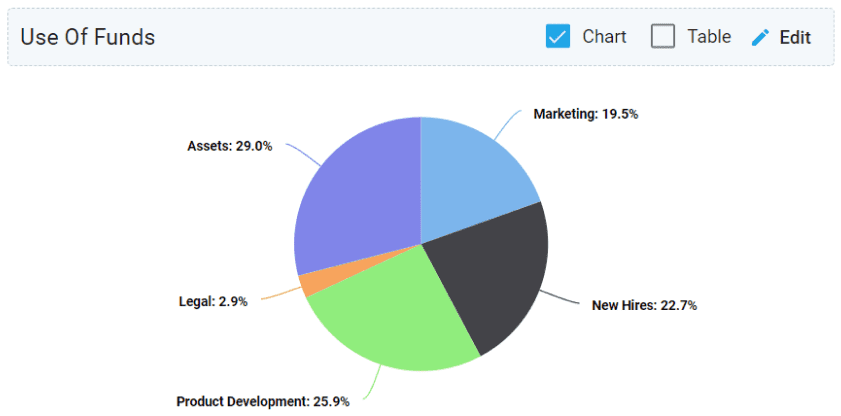 Cash flow statement
Your cash flow statement helps you see how much money you need to start or grow your business and avoid running out of money.
Surprisingly, you can make a profit but still face financial problems that could lead to bankruptcy. Therefore, you will need proper cash flow planning to avoid such circumstances.
Why Do You Need a Business Plan for Your Mobile App
For entrepreneurs who jump into business directly without writing a business plan is like delaying their success. Here are some reasons why you need a mobile app business plan:
Strategy
Writing a business plan helps you work out and make clear your business strategy. Do you want customers to pay upfront? Or there are in-app purchases? Writing this down from the start helps your team understand where you're headed.
Finances are important
Sometimes, it takes months or even a year to cover customer acquisition costs. So, you need a plan with a solid financial forecast. A good plan lets you play with different situations, so you know how much money you need for both the long and short term.
Acquiring and retaining customers
Acquiring and retaining customers is one of the sole purposes of a business. In the business plan, you have to mention in detail about your strategies to have a clear roadmap.
Knowing Your Market
A business plan lets you identify your ideal customer profile. Knowing your customers is crucial, and having a deep understanding of your customers helps you make the correct updates to your product in the future.
Download a Mobile App business plan template
Ready to kick-start your business plan writing process? And not sure where to start? Here you go, download our free mobile app business plan pdf, and start writing.
This intuitive, modern, and investment-ready template is designed specifically for mobile app businesses. It includes step-by-step instructions & examples to help in creating your own mobile app business plan.
The Quickest Way to turn a Business Idea into a Business Plan
Fill-in-the-blanks and automatic financials make it easy.
Get Started Now!

Conclusion
Finally! You know how to write a mobile app business plan. Thus, you are one step closer to starting or expanding your business.
No doubt, writing a business plan is a challenging task, but it is a lot smoother with a top business planning tool. Therefore, take a deep breath and get started with your plan. All the best!