People buy multiple properties these days, it can be for investment or to act as a future home, office space, some dream project, or whatnot.
And as they have so many properties, they'll surely need someone to manage them and deal with all aspects of having a property. Also, most people are running short of time more often than not. Hence, they hire property managers to help them deal with their property efficiently and effectively.
So, it comes as no surprise that the property management business is growing. And if you are planning to get into it, all you need is a few tips and a property management business plan.
If you are planning to start a new property management business, the first thing you will need is a business plan. Use our sample property management business plan to start writing your business plan in no time.
Before you start writing your business plan for your new property management business, spend as much time as you can reading through some examples of real estate-related business plans.
Industry Overview
The global property management market stood at a whopping market value of 13.88 billion US dollars in 2020 and isn't going to slow down anytime soon.
The major reason for the growth in this industry is the requirement for mobility management as companies are promoting remote work due to the pandemic.
The other factors that have affected the property market are the adoption of technology, software services, and other such things which have brought about a change in trends in the real estate market.
Say goodbye to boring templates
Build your business plan faster and easier with AI
Plans starting from $7/month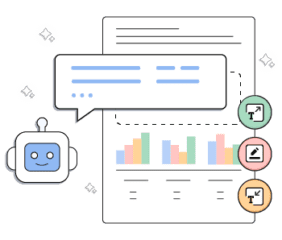 Things to Consider Before Writing a Property Management Business Plan
Build Relevant Skills

Having skills relevant to your business, be it foundational skills for managing property soft skills for dealing with the people in your business, or the deals and exchanges aspect of your business would always act as an added advantage for you. Hence, before getting started, it would be good to develop some basic skills and have a method to keep updating them as you work. Your skills alone can also become your business's unique selling point.

Join Associations and Build Your Network

Networking is a crucial aspect in every field related to real estate, hence it is essential for your property management business too. Your network should be good and diverse and consist of a variety of people, even if they are your competitors. You'll never know who might get you your next deal.

You can easily do so by building strong connections and joining relevant associations which give you more opportunities to network.

Use Technology

We owe the speed and efficiency of our work to technology. The same holds for the property management business too. You no longer need to work traditionally and laboriously of managing your properties, and use technology instead to make your work of maintaining all those details easier and more organized.

Build your Website

Building your website early gives you a head start on promoting your business and makes reaching out to your potential clients easier. Hence, if you plan on starting a business, build your website today to help you promote as much as you can.
Chalking out Your Business Plan
Reading sample business plans will give you a good idea of what you're aiming for and also it will show you the different sections that different entrepreneurs include and the language they use to write about themselves and their business plans.
We have created this sample property management business plan for you to get a good idea about how perfect a property management business plan should look and what details you will need to include in your stunning business plan.
Property Management Business Plan Outline
This is the standard property management business plan outline which will cover all important sections that you should include in your business plan.
Executive Summary

Mission statement
Vision Statement
Customer Focus
Success Factors
Financial Summary

Company Summary

History
Business Structure
Startup Summary

Products and services
Market Analysis

Industry Analysis
Market Trends
Target Market

SWOT Analysis
Strategy & Implementations

Advertising Strategy

Targeted Cold Calls
Referrals
Online Marketing
Publications
Community Events/Organizations

Pricing Strategy

Financial Plan

Important Assumptions
Brake-even Analysis
Projected Profit and Loss

Profit Yearly
Gross Margin Yearly

Projected Cash Flow
Projected Balance Sheet
Business Ratios
After getting started with Upmetrics, you can copy this sample property management business plan into your business plan and modify the required information and download your property management business plan pdf or doc file.
It's the fastest and easiest way to start writing your business plan.
The Quickest Way to turn a Business Idea into a Business Plan
Fill-in-the-blanks and automatic financials make it easy.
Get Started Now!

Download a sample property management business plan
Need help writing your business plan from scratch? Here you go; download our free property management business plan pdf to start.
It's a modern business plan template specifically designed for your property management business. Use the example business plan as a guide for writing your own.