A real estate agent business is one of the best ways of getting paid for your expertise in the real estate industry.
If you have a thorough knowledge of the market, are a brilliant negotiator, and can think on your feet then being a real estate agent might be the right career for you.
Industry Overview
Research says the global real estate agent and brokerage market are expected to grow from $960.12 billion in 2020 to $1008.95 billion in 2021 at a compound annual growth rate (CAGR) of 5.1%. Also, the market is expected to reach $1351.1 billion in 2025 at a CAGR of 8%.
The above figure suggests It is a great market to be in, but you need a well-designed business plan to succeed as a real estate agent. A business plan can help you in having a clear strategy and also in keeping a track of your progress.
But what else can a business plan do for your brokerage firm, and how to write one? Read on to find out.
Say goodbye to boring templates
Build your business plan faster and easier with AI
Plans starting from $7/month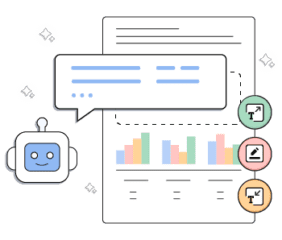 Things to Consider Before Writing a Real Estate Agent Business Plan
Find a way to get leads

The majority of your leads, at least at the beginning of your career, would come from constant effort and a variety of sources. So before getting started you'll have to figure out all the possible ways of generating leads.

Make a networking plan

Having a network comprising of your customers, businessmen, and even your competitors is necessary for a real estate agent. Because you never know where you'll get your next big client.

Hence, figuring out a networking strategy is important.

Set up your website

Nowadays, a lot of people look for real estate services online. Hence, it makes it important for you to set up a website for your business.

Making a website also contributes to building your credibility and brand image. Hence, building an optimized and active website can do wonders for your business.

Be prepared for changes in the industry

The real estate agent is changing at a rapid pace. Everything from changes in the economy to people's buying behavior, and income has a major impact on the real estate market. Hence, it is important for you to have a strategy to deal with such changes.

One of the simplest ways to do so is to have a dynamic and customizable real estate business plan. It helps you deal with changes in a smooth and effective way.
How a Business Plan Can Help You?
As a real estate agent, clear business goals and a constantly evolving way of doing business can be extremely profitable for your business. Apart from that, networking is a key aspect of a real estate agent's business.
A professional business plan can help you manage all of the above efficiently without any hassles.
Having a plan makes managing your business easier and lets you focus on the more pressing concerns of a business.
Moreover, it gives you a competitive edge over those who jump right in, without any plan.
Real Estate Agent Business Plan Outline
This is the standard real estate agent business plan outline which will cover all important sections that you should include in your business plan.
Executive Summary

Objectives
Products and Services
Management Team
Success Factors
Financial Summary

Company Summary

History
Start-up Summary
Funding Required

Products and Services

Our business offering is listed below:

Market Analysis

Industry Analysis
Market Trends
Target Market

Strategy & Implementations

Sales Strategy
Advertising Strategy

Targeted Cold Calls
Referrals
Internet
Publications
Seminars

Pricing Strategy
Sales Forecast

Operations

Management Summary
Hiring Plan
Milestones

Financial Plan

Important Assumptions
Brake-even Analysis
Projected Profit and Loss

Profit Yearly
Gross Margin Yearly

Projected Cash Flow
Projected Balance Sheet
Business Ratios
How to Write a Real Estate Agent Business Plan?
A business plan should be clear-cut and ever-changing. It should have goals, but also be flexible at the same time.
Moreover, it should be customizable as per your target market and location. You can write such a plan in many ways.
Although there are several changing and fixed aspects of a real estate agent's business plan, there are certain essential areas that should be included to write a good business plan.
They are as follows:
1. Executive Summary
The executive summary section sums up what your entire business idea stands for. It is a brief overview of all of your business's functions, including finances, target audience, operations, marketing, sales, etc.
This section, if written properly, can help you get funded as it presents your idea to the investors in a precise way and helps you gain their confidence.
2. Company Summary
This section basically consists of all the information about your agency's history, its current situation, the idea behind its existence, and also the finances and funding it requires for becoming profitable.
3. Products and Services
In this product and services section, you'll define your niche. Having a niche in real estate helps you get a better knowledge of the market and better deals in return. It also helps you meet the right people and the right customers.
As a real estate agent, you can decide whether you'll deal with office spaces, residential spaces, rentals or buying, selling, etc. Working with a specific set of customers most of the time helps you stay at the top of your game in the real estate market.
4. Market Analysis
A thorough and ongoing market analysis helps you know the market trends and your target audience better. It helps you stay updated with the demands of your customers and how you can fulfill them in the best way possible.
Not just that, it also helps you in knowing where you stand in the market when you need to change your business model with a changing market, and when you need to upskill to stay relevant as a real estate agent.
5. Strategy and implementation
After you are done analyzing the market, writing this section would be a cakewalk. As you are familiar with the market you can formulate the best strategy to thrive in it.
As a real estate agent, having a good advertising strategy, sales strategy, and essentially a good pricing strategy is of utmost importance.
6. Operations Plan
The operations plan section in your business plan includes the day-to-day functioning of your company, as well as your goals and strategies to achieve them.
It is an ever-changing section and has to be tweaked as per the demands of the industry. Breaking your goal down into smaller milestones in this section is an effective way of writing it.
7. Financial Plan
A financial plan decides whether your agency would succeed or not. It prevents you from having mismanaged finances, and a dearth of funds and also helps you in managing the cash inflow of your business.
Download a sample real estate agent business plan
Need help writing your business plan from scratch? Here you go; download our free real estate agent business plan pdf to start.
It's a modern business plan template specifically designed for your real estate agent business. Use the example business plan as a guide for writing your own.
The Quickest Way to turn a Business Idea into a Business Plan
Fill-in-the-blanks and automatic financials make it easy.
Get Started Now!

Business Plan Summary
A business plan can not only help you with the management of your business but also work as a road map to success.
A real estate agency's cash inflow is on the irregular side, but a business plan can help you thrive with that too. Having a plan gives you a clear idea of the functioning as well as the spending of your business.
After getting started with Upmetrics, you can copy this sample real estate agent business plan template into your business plan and modify the required information and download your real estate agent business plan pdf or doc file.
It's the fastest and easiest way to start writing your business plan.
So, what are you waiting for? Start planning