Real Estate Business Plan
The real estate business is growing fast by showing incremental growth every year. Livability, sustainability, resilience, and affordability are the four pillars that determine how future real estate will grow.
People looking for homes always find it hard to finance their home purchases. Not everyone has that hard cash with them all the time to buy a new home. Easy, legal and suitable home finance options are required to be made available to people.
The global real estate market is about to grow from $2687.35 billion in 2020 to $2774.45 billion in 2021 at a compounding annual growth rate of 3.2%. Gen Z millennials are the main focus as potential real estate buyers. Increasing global climate change and burden over the pocket of young generations leads to go for affordable and sustainable housing options. Increasing technology adoption leads to change in the industry by forecasting the demand for houses based on spending limits through AI and digital hassle-free home finance options.
If you are thinking about jumping into the real estate business, then consider a real estate business plan as a reference book to start.
Need a real estate business plan? We're here to help!
The first step of every business startup is crafting a perfect business plan. The real estate business plan preparation is to be concerning with the investment pool and revenue model designed. It helps you in understanding the real estate market sentiments and accordingly formulating the strategy for the business.
Performing market analysis, demand forecasting, buying pattern, and financial arrangement required a process to follow. A business plan helps in assigning the priority of the work and step-by-step walkthrough to your business goals. It clears out any doubts about the real estate business and brings the confidence of business readiness.
If you are planning to start a new real estate business, the first thing you will need is a real estate business plan. Use our Kegan - real estate business plan example created using upmetrics business plan software to start writing your business plan in no time.
Preview our Kegan - Real estate business plan example, Let's start writing your own business plan.
It's easy and fun with Upmetrics.
Before you start writing your business plan for your new real estate business, spend as much time as you can reading through some examples of Real Estate and construction-related business plans.
Reading sample business plans will give you a good idea of what you're aiming for and also it will show you the different sections that different entrepreneurs include and the language they use to write about themselves and their business plans.
We have created this Real Estate business plan example for you to get a good idea about how a perfect real estate business plan should look like and what details you will need to include in your stunning business plan.
Real Estate Business Plan Outline
This is the standard real estate business plan outline which will cover all important sections that you should include in your business plan.
Executive Summary

Market Opportunity
Demand for Housing
Management
Financing & Investment Forecast

Company Overview

Introducing Kegan
Business Model
Short Term Goals
Long Term Strategies
Keys to Success

Kegan Villas

Location
Contemporary Living for the 21" Century
The Complete Package
Pricing Strategy
Implementation Strategy - Action Plan

Market Opportunity

Target Market Overview
Demand for Housing

Housing Shortage Overview in Saudi Arabia
Housing Shortage Overview in Riyadh

Housing Prices
Kegan Home Prices

Marketing & Sales

Market Positioning & Brand
Marketing Strategies
Sales Strategies
Sales Process

Competition & Competitive Advantages

Competitive Landscape
Direct Competitors
Competitive Advantages

Company & Management

Company
Development Team

Developer
Rashid Bin Said
Director of Construction

Future Senior Team Members

Director of Construction
Member name
Chief Accountant
Member name
Director of Marketing & Sales
Member name

Other Staff
Independent Directors

Financial Plan

Financing & Investment Forecast

Solid Balance Sheet
Impressive Cashflow
Financial Summary

Financial Assumptions
Income Statement (Five Year Projections)
Balance Sheet (Five Year Projections)
Cash Flow Statement (Five Year Projection)
Use this sample plan as your guideline and start editing it right away.
It's easy and fun with Upmetrics.
After getting started with upmetrics, you can copy this real estate business plan example into your business plan and modify the required information and download your real estate business plan pdf and doc file. It's the fastest and easiest way to start writing your business plan.
How to write a real estate business plan?
Writing a business plan is a challenging task as it contains detailed information about the real estate business. You can take help from an advisor, who helps you out in drafting the investor-friendly business plan with extensive research, or you can hire a professional.
The most reliable tool for writing a business plan is through a business plan template or software. It gives the flow of writing you need to put the data in a format given to you. The readymade template resolves half of your worry about the formatting and includes all the essential things which real estate business requires.
A real estate business plan template or software is the best option out of the other two. The main reason is it gives complete clarity about the business to the person who uses it. It answers the questions like, what are the processes and steps it requires to start the business? How far have we climbed up to our success summit?
What to include in the real estate business plan?
A business plan is the first physical document about your business idea. It can use as a tracking mechanism, a planning sheet, a financial proposal document, or a marketing & advertising strategy.
It contains a brief about your real estate business. Let's dig into the real estate business plan template and understand what it includes.
The executive summary includes the market opportunities, demand forecasting, management team, and forecasting the finance & investment.
An introduction of the company, its business model, short-term goals, long-term strategies, and keys to success are all covered under the company overview section.
Post company overview, it comes a detailed real estate project information. It should show the location of the project, style of living, the complete package inclusion, pricing strategy, and implementation plan.
Understanding the target market is the crucial thing in the real estate business. The demand forecasting for the target market, current housing prices, and what you are offering them are mention under market opportunity.
Your marketing strategies and sales strategy let people know about your real estate project and your brand. Your brand and how you position it in the mind of your end customer are projected here under the market & sales heading.
If you understand your competitor well enough, that means you win the half race. The competitive advantage establishes by your competitors in the target market and what you are offering is better covered under the competition and competitive advantage section.
The company & management section defines the list of the management team, different managers working in diverse business functions across the company, and their roles and responsibilities.
The financial plan section is the core section of the real estate business plan. The reason is the real estate business contains vast investments and finance. An impressive and reasonable cash flow statement, balance sheet, and a compiled financial summary are where investors fall in love.
It is necessary to show the future financial performance and establish trustworthiness, the next five-year forecast of the projected income statement, balance sheet, and cash flow statement presented under this section.
Real estate business plan summary
A business plan helps you in controlling all functions of the business. When you followed the mentioned process as per the template, you keep an eye on everything and deadlines too. Completion of real estate projects on time also becomes essential as investors poured their money into it. Tracking, analyzing, and controlling the important functions of the business seems possible through a business plan. Profiling & recruiting skilled, semi-skilled, and unskilled labor for the business is challenging as one wrong person can hamper the business growth.
Customize your Business Plan
All businesses are different. So, don't hesitate to customize your business plan according to your requirements. Even though our sample business plans aim to help you create the perfect presentation for your clients and investors, it is finally up to you to decide how you're going to present your ideas in the best light.
Get started with upmetrics and use this sample business plan to write your plan in half of the time.
Use This Sample Now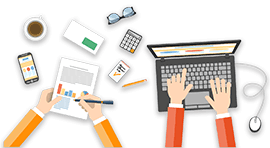 Business Plan Software
How you would you like to rate this template?
Thank you! We have received your rating.
Our upmetrics business plan software can help you to customize your business plan and provides you a step-by-step guide to write your business plan. You can save your plan online and update it any time, or download it as a PDF or DOC file. You can share business plan online with investors or any other important person with upmetrics easily.
DISCLAIMER: The business plans, templates, and articles contained on upmetrics.co are not to be considered as legal advice. All content is for informational purposes, and upmetrics makes no claim as to accuracy, legality or suitability. The site owner shall not be held liable for any errors, omissions or for damages of any kind.