If you like planning stuff, know about traveling, and are well-connected, then you might have thought of having a travel agency at least once.
And although the idea might feel intimidating because of the pandemic, no one can deny the fact that traveling, be it for work, study or leisure is an important aspect of people's lives. They might postpone it, but nobody can completely give up on it.
And if you want to have your travel agency, it is the right time to start planning for it. A travel agency business plan will help you make the most of the opportunities and stay prepared for challenging times as well.
Industry Overview
The global travel and tourism industry stood at a whopping market value of 4.67 trillion US dollars in 2021 and is expected to grow as it recovers from the impact of the COVID-19 pandemic.
The travel industry comprises a variety of aspects including boarding and lodging, transport, making travel plans, and so on. If you plan on getting into the business, you can pick one or more niches from the options and set up an agency for that.
People mainly approach travel agencies because they make traveling more convenient and effective. Hence, you should ensure that you develop enough expertise in your niche.
Say goodbye to boring templates
Build your business plan faster and easier with AI
Plans starting from $7/month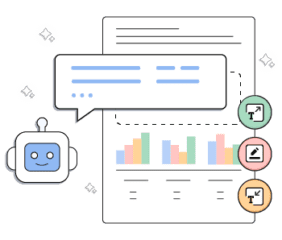 Things to Consider Before Writing Your Travel Agency Business Plan
Pick your niche

As a travel agency can choose from multiple options from planning trips to making lodging arrangements and booking tickets, you should make sure that you pick your niche and develop your expertise in it before getting started. This helps you gain an advantage over your competitors, as people spend a fairly high amount of money on travel, and they would only want to trust the experts with it.

Have good partners

Having good partners is another important aspect that'll help your travel agency thrive. Find partners who complement your skill set and bring something new to the table. In this way, both parties can get the most out of the partnership. Also, having people with different skills in your agency helps you become a one-stop shop for your customers.

Know your target market

The next step towards having a successful business is to know all relevant information about your target audience. It helps you understand their needs and motivations better. Which eventually helps in optimizing your marketing campaigns and services as per the requirements of your target audience.

Have value addition as one of your goals

Although there are a lot of good travel agencies out there, people are hesitant to approach one because of the numerous disappointments they get if they deal with one. This isn't just bad for the customers, but also for the travel agencies because they end up losing their customer's trust.

Hence, you must establish a system that provides the promised value to the customers. This helps you have retainer customers, who approach your agency for all of their travel plans.
Write Your Business Plan
If you are planning to start a new tour and travel agency business, the first thing you will need is a business plan. Use our sample travel agency business plan created using Upmetrics business plan software to start writing your business plan in no time.
Before you start writing your business plan for your new tours and travel business, spend as much time as you can reading through some examples of service-related business plans.
Reading sample business plans will give you a good idea of what you're aiming for, and also it will show you the different sections that different entrepreneurs include and the language they use to write about themselves and their business plans.
We have created this sample travel agency business plan for you to get a good idea about how a perfect travel agency's business plan should look like and what details you will need to include in your stunning business plan.
Travel Agency Business Plan Outline
This is the standard travel agency business plan outline, which will cover all important sections that you should include in your business plan.
Executive Summary

Business Overview
Objectives
Vision
Mission Statement

Products and Services

Game and Nature Reserves
Natural Wonders
Cultural Experience
Activities

Marketing Plan

Customers
Competition
Pricing offering Plan
Communication or Promotions plans
Distribution Plan
Physical evidence plan
Internal Marketing Plan
Relationship Marketing

Operation Plan

Premises
Choice of Locations and Premises
Business Target
Hours of Operation
Quality Control
Equipment
Staffing

Personnel Plan

Team

Nduduzo Vincent Miya
Sanele Mhlongo
Sylvia Khumalo
Buhle Mchunu
Wandile Nina

Average Salary of Employees

Sustainability And Corporate Society Responsibility

Revenue growth
Cost savings
Access to Capital
Human capital
Brand value and reputation
Preservation of destinations

Financial Plan

Important Assumptions
Brake-even Analysis
Projected Profit and Loss

Profit Yearly
Gross Margin Yearly

Projected Cash Flow
Projected Balance Sheet
Business Ratios
After getting started with Upmetrics, you can copy this sample business plan into your business plan and modify the required information and download your travel agency business plan pdf or doc file. It's the fastest and easiest way to start writing your business plan.
The Quickest Way to turn a Business Idea into a Business Plan
Fill-in-the-blanks and automatic financials make it easy.
Get Started Now!

Download a sample travel agency business plan
Need help writing your business plan from scratch? Here you go; download our free travel agency business plan pdf to start.
It's a modern business plan template specifically designed for your travel agency business. Use the example business plan as a guide for writing your own.