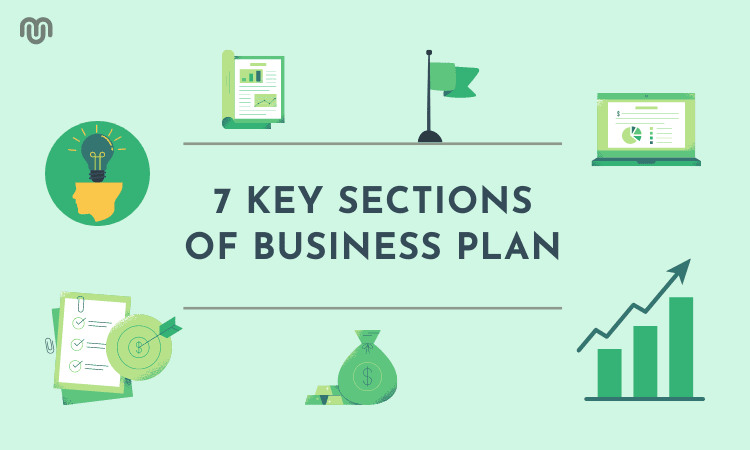 Brought to you by
Upmetrics
, The #1 business plan toolset powered by an interactive business plan builder, hundreds of templates and automated financial.
7 Key Sections of a Great Business Plan
For any business to bloom to its greatest, a great business plan is a starter.
While one can tend to be flamboyant in a business plan or perhaps over-plan unforeseeable aspects to the T, there are some key business plan sections that are must-have in a good business plan over all others.
Due time needs to be spent in organizing this information so that all key aspects of the business plan are presented in these essential sections.
These essential sections are technically significant for the business plan and should also answer questions regarding the financial, structural, and functional aspects of your business.
Whether you opt for a short business plan or a more detailed one, these key sections are must-haves in any case.
To serve the central purpose of having a business plan is to present in the first place, the business plan sections should be such that all the relevant boxes are checked describing operational, financial, and core business aspects. You can refer to our business plan checklist for this purpose.
Structuring a business plan like this can not only help in keeping the presentation organized but also assists the process of getting started on the right foot with no legal implications or financial backlashes.
Must-have sections in a good business plan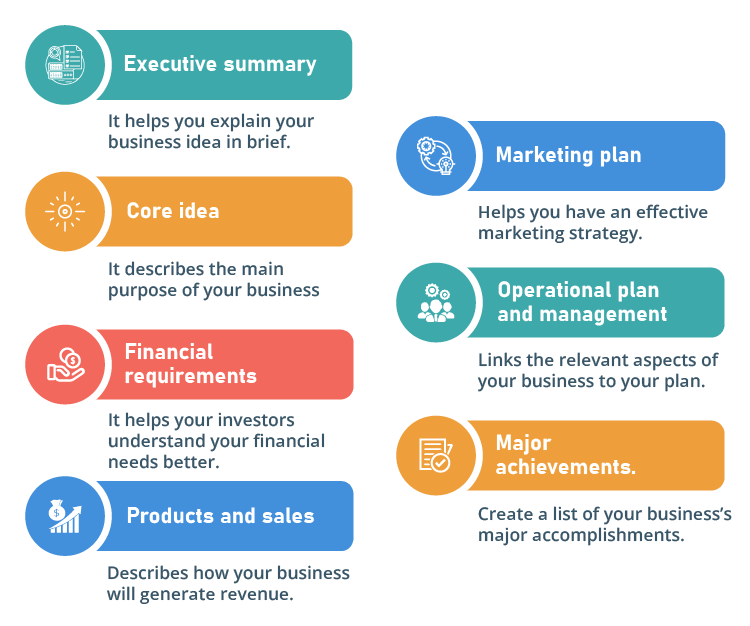 Here are the 7 must-have sections for a good business plan, each of which answers a relevant question about the business you are about to commence:
1. An Executive Summary

Starting out with a business plan, a short executive summary serves a great purpose. It not only highlights the business plan outline but also gives the reader a quick glimpse of whether or not all relevant questions have been answered later in the business plan.
An executive summary sums up the entire business plan in one or two pages to give a quick summary of the most significant aspects.
Many struggle with drafting a summary and understanding what or what not to include for the same. The finer details and mundane intricacies should be avoided here.
Your executive summary is the face of your business plan.
Often times investors, partners, and other involved parties survey through several business plans before deciding the one they want to invest their resources in. Without having the time to read each business plan, they get a reflection of the same from the executive summary.
If the summary isn't strong enough to convert them, no matter how good, the rest of the business plan is immaterial. Have a look at how to draft an effective business overview for the exact pointers that can be included for the same.
2. Core Business Idea
Once you have a robust summary in place, the next key section of the business plan targets the core business idea. This would describe the business, its products or services, and the market sector that it is intended for.
The idea here is not to monotonously mention facts about what your business will do. You need to highlight why your business is relevant in the market, what it does, and why it is better than the competitors and similar business ventures that already exist. It isn't enough to have the facts written down while describing your core business idea.
There are hundreds of business plans in your niche that offer a similar product or purpose. Stakeholders would only like to get involved if they see real potential in your business idea, while it still being novel and innovative.
Additionally, you can describe a general motive for your business and its contribution to the industry. A business likely to make an impact is one that most likely has a motto behind its operations.
All these technical and purpose-based details can be articulated within the core business idea.
3. Financial Requirements
Another relevant key section for a good business plan is that listing out the financial requirements for the same. This section is relevant for the investors as well as for legal and government policies that render funding.
If yours is a business that requires certain equipment, listing it out in your business plan can be a great way of having documentation for loan approval for the same.
You can also be made aware by investors and peers about any availability of such resources or policies to grant the same.
No requirement plan can be staunchly accurate. There are always additional requirements that arise on the way or perhaps more or fewer resources that are used than was intended.
The purpose of this section is to present the most fundamental and significant financing requirements for equipment, employees, marketing, legal aid, and other essential aspects.
A small margin can be considered for each of them to count for any stretch in requirements. You can look at how to write the financial section to get started on this key section.
4. Products and Sales
Another section regarding finances stands out to be one of the most important business plan sections.
The products and sales section talks about the plan to make money. How is it that you're exactly going to make profits? What are the products or services that your customers are going to avail and what is the expected profit margin? This section involves details about the pricing for your business services along with how the sales are going to be carried out.
A good business plan will even list out each specific product for sale. There is a chance that your business is yet to decide on such specifics, in that case, you can list out categories or few prototype products to present a fair idea.
The pricing is something that is crucial and will be considered in comparison with the competitors and other similar businesses in the market.
Thus, this section should describe Product specifications, the sales strategy along with product pricing, and the
revenue
generation aspects of your business plan.
5. Marketing Plan
How you plan to market your business is one of the most relevant questions to ask, which is why there should be a dedicated section for the same.
The market details such as the intended customer base, the advertising plans, geographical reach, campaigning budget, and all marketing details can be described within this section.
Even though any marketing strategy is required to be tweaked and optimized along the way, your initial plan can help to identify your primary target. It also establishes the number of channels you are going to undertake for this purpose.
Within the marketing section, your plan should also describe how it intends to convert customers with their reach.
The appeal strategy isn't sufficient if actual conversions aren't made. This can also include metrics for the industry segment sales, demographic data, early majority users, historical precedence, and the total conversions possible through the suggested strategy.
6. Operational Plan and Management
An Operations Plan is a key section that will link all relevant aspects of your business to your plan. Whether it is production, distribution, marketing, market analysis, budgeting, or revenue generation, all activities are interlinked and must be implemented in a specific chronology for an effective output. This section should talk about how your brand is going to operate within these attributes.
The managerial aspects of your team members can also be relevant here. You can showcase members in great positions on your management and execution team, and further, reveal their operation strategy to make this venture a successful one.
Giving a transparent presentation of how you're going to operate proves to be more convincing for all involved parties, now that they see a solid plan of action.
7. Current Position and Achievements
Lastly, but importantly, your plan must include a section about your current business position and its achievements.
Many tend to omit this section due to the lack of any major revenue generation at a certain stage. The current business status talks about information regarding your company, how it likes to operate legally and functionally when it was founded, and the key team players. This displays progress in your venture and establishes a well-put-together team.
Any major achievements regarding your business can also be mentioned in this section in terms of any novel patents secured or prototypes created.
If yours is a service that holds a crucial history, the significance of the same and your hold in the skill can also be described as an achievement for the business.
Having a dedicated section to highlight what you've already achieved showcases potential which is always great for a business plan.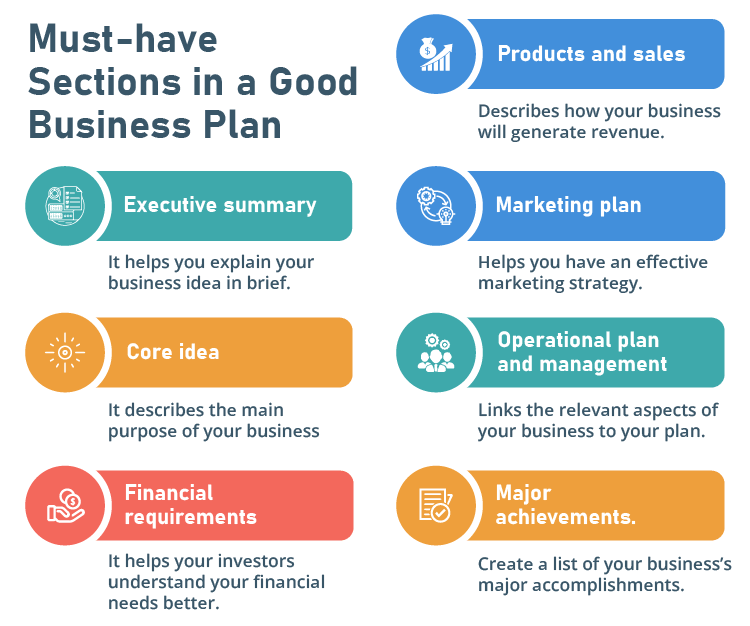 Summing Up
Thus, the above-mentioned factors are some key sections that are must-haves for any good business plan. A business plan is one that is meant for people to interact with rather than a factual piece of document. It is always beneficial to have a plan that is a reflection of what you want your brand to stand for. Your business plan is likely to be the only window for many potential investors and partners for your business.
Your plan should be written with an easy to interpret structure, a clean and professional look, accuracy of details, and an approach to make your business stand out. You can look at how to write a business plan to draft a plan that is perfect for your business and niche. Include all essentials and further add metrics to make your plan stand out amidst the rest!