What's your opinion about AI being the future? Is it the future? Let's better call it the present—it's already here.
We're living in a world surrounded by AI tools.
Today, these AI can write articles, create videos and graphics, answer customer queries, recognize objects, and do countless other tasks that once required hours to finish.
It's high time you invest in efficient AI tools for your small business and make the most of this transition toward AI.
Wondering which tools to consider starting off? Here you go.
We've compiled our research of the best AI tools for small businesses into this quick guide. This list includes AI tools for business planning, content writing, customer support, and more.
Sounds good? Let's get started.
As we begin to explore the top AI-powered tools, let's briefly talk about their benefits:
Benefits of Using AI in Small Businesses
Can AI help in business operations? Yes, and It's doing it already. In fact, more than 9 in 10 leading businesses have ongoing investments in artificial intelligence and AI tools.
So, let's quickly discuss the benefits of using AI tools for small business operations.
Increased efficiency & productivity: AI tools can improve employee efficiency and productivity by automating manual tasks, saving time, and reducing errors.
Cost cutting: AI can significantly lower business operational costs by streamlining operations and automating manual tasks.
Personalized customer services: Advanced AI tools and chatbots can help small businesses personalize the customer experience at scale, maximizing customer retention and sales.
Reduced workforce: AI can handle manual and repetitive tasks, so investing in efficient AI tools can help businesses significantly reduce their workforce.
Increased profitability: Increased efficiency & productivity and reduced workforce and overall costs ultimately help you increase business profitability.
These are just a few of the many benefits. But we'll surely cover others while discussing the AI tools moving forward.
Shall we begin? Let's dive right in.
The Best AI Tools for Small Businesses of 2023
1. Upmetrics—AI Business Plan Generator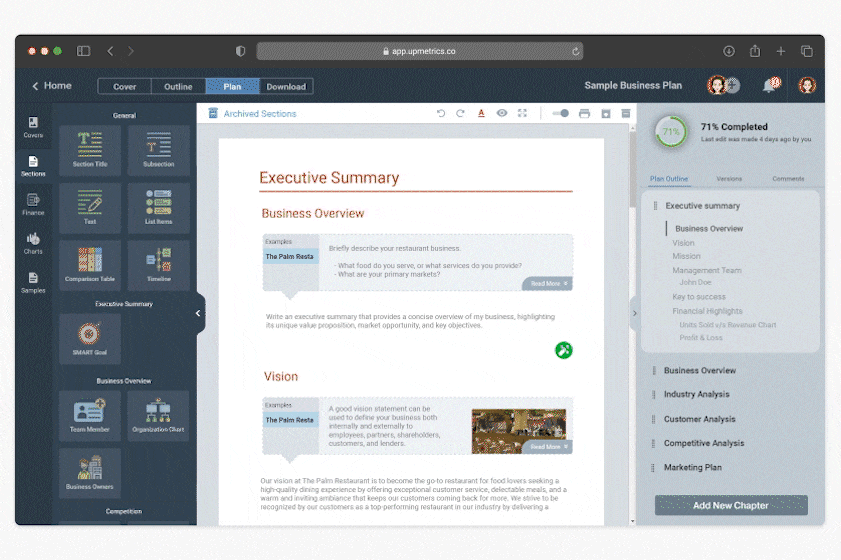 Upmetrics is the #1 AI business plan generator that helps startups, entrepreneurs, and small business owners write and create business plans in no time.
Writing a business plan is easier than ever with Upmetrics AI Assistance.
It can help you generate text, rewrite content, shorten or expand it, and it also allows you to change its tone.
The subscription includes 400+ sample business plans, video tutorials, well-written documentation, and guides to ensure you are on the right track.
But how to get started?
The tool offers an intuitive and easy-to-use interface, so it's pretty simple to get started. Simply select the "Write with AI" option from the Upmetrics business plan editor for AI assistance.
Upmetrics could be an incredible investment for business planning compared to other AI business plan generators.
Here's a quick overview of its best features and pricing:
Best Features:
AI-powered text generation to write on your business plan.
Content rewriting feature to polish or enhance content quality.
Content shortening option to briefly describe the context.
Expand upon your idea and introduce new concepts.
AI-powered assistant to help adjust the tone of your writing.
Accurate & reliable information depending on prompted information.
Real-time updates and cloud storage, eliminating the risk of data loss.
Intuitive, seamless, and responsive user interface.
Check and correct grammatical errors and spelling mistakes.
Business resources, video tutorials, and guides to help get started.
Pricing:
Check out Upmetrics' pricing plans:
| Free Demo | Starter | Starter |
| --- | --- | --- |
| $0 | $7/month | $14/month |
Remember, only Upmetrics premium users can access the AI assistance feature. Refer to the pricing page for more information.
Mariia Yevlash
Student, Sumy State University — Ukraine
"The most helpful feature was to make a business plan out of a simple idea. Thankful for all the tools provided, especially AI which did a great impact on my work."

2. ClickUp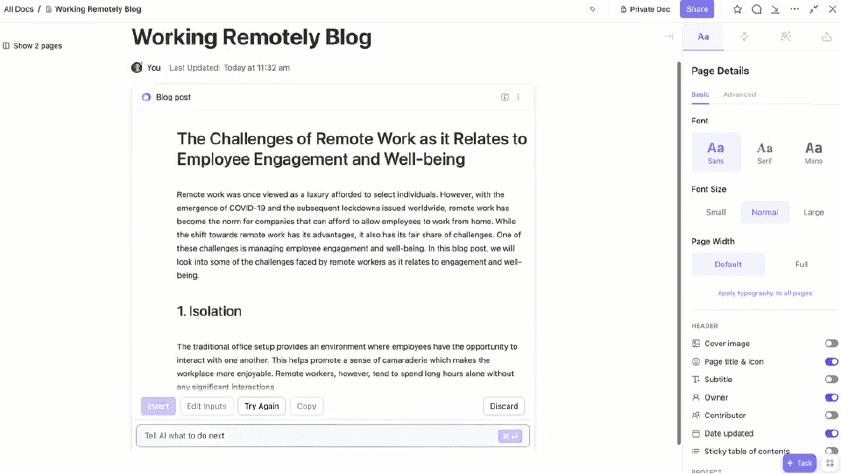 ClickUp is a cloud-based project management software helping entrepreneurs and small businesses streamline project management, collaboration, and task planning.
ClickUp's AI writing assistant uses natural language processing (NLP) algorithms and is accessible across the platform, generating content tailored to meet specific requirements.
It can assist you in creating new tasks, writing marketing emails and copies, and preparing ClickUp docs.
Here's an overview of some of its key features and limitations:
100+ role-based AI tools to speed up your workflow.

Brainstorm new ideas, generate outlines, and write with AI
Summarize long-form content in one click.
Connect third-party apps like Slack, Hubspot, Zoom, and 1000+ more.
No-code automation for repetitive tasks.
Accessible via the web, desktop, and mobile apps.
Limitations:
ClickUp AI is not available on their free plan.
The platform can be overwhelming to understand for new users.
The pricing for the AI-assistant add-on is quite high.
ClickUp AI can only be purchased for your entire workspace.
| Free forever | Unlimited | Business | Business Plus | Enterprise |
| --- | --- | --- | --- | --- |
| $0 | $10 user/month | $19 user/month | $29 user/month | Custom |
Note: Only paid plan members can access ClickUp AI; it's not available on the free plan.
Ratings and Reviews:
G2: 4.7/5.0 (8,300+)
Capterra: 4.7/5.0 (3700+)
3. Jasper AI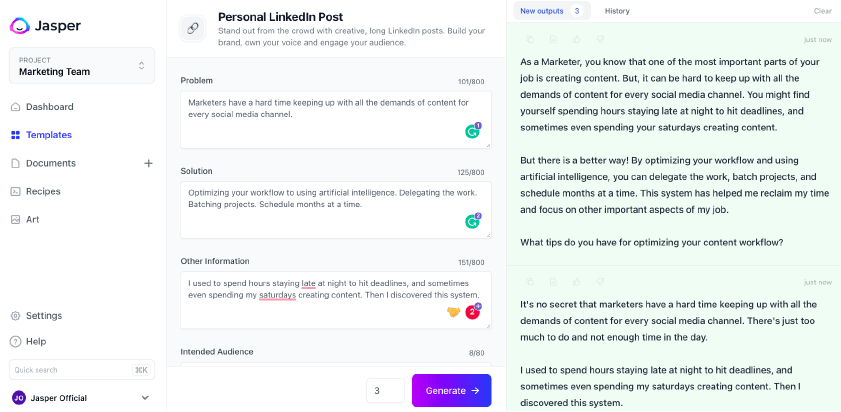 Jasper AI is a content writing tool helping entrepreneurs and marketers create and publish high-quality content at scale.
It can be used to write long-form articles and blog posts, social media posts, product descriptions, marketing campaigns, and other forms of content.
It's an easy-to-use, efficient, and cost-effective solution for content creation, making it an excellent solution for content marketing.
Here's an overview of some of its key features, limitations, and pricing:
50+ templates to speed up content creation.
Can help you create content in 30+ languages.
 Provides AI suggestions and helps in auto-completing text.
 Integrates with tools like Grammarly and Surfer SEO.
 Translate text from one language to another.
Can repurpose content for various platforms
Limitations:
Creating technical and well-researched content can challenging.
AI technology may not always provide accurate and factual information.
A lot of fact-checking, research, proofreading, and editing is required.
The plagiarism checker costs extra with Jasper AI.
Pricing:
| Free plan | Creator | Teams | Business |
| --- | --- | --- | --- |
| No | $49/month | $125/month | Custom |
Jasper doesn't have a free plan. However, they provide a 7-day free trial on all their paid plans.
Ratings and Reviews:
G2: 4.7/5.0 (1,220+)
Capterra: 4.3/5.0 (1,700+)
4. Zoho Zia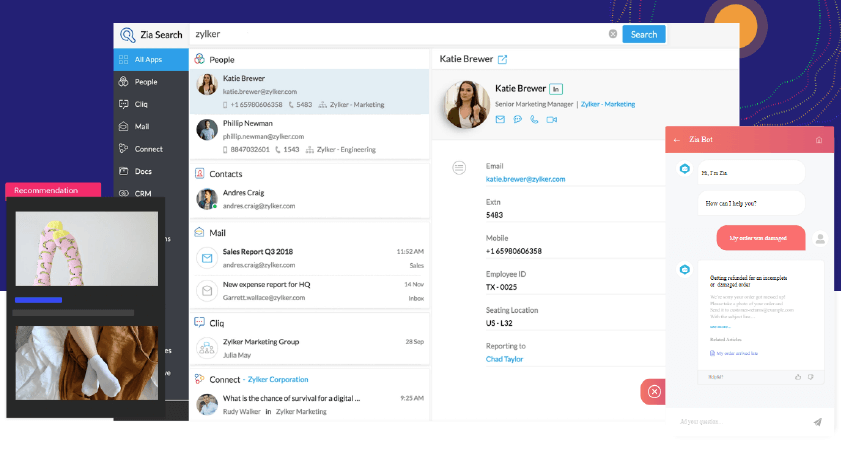 Zia is an AI-powered assistant by Zoho, helping the sales team collect customer data, write documents, automate manual lead management, and maximize sales numbers.
This AI-powered assistant can be integrated with the company website, social media profiles, and emails to respond to customer inquiries and provide support.
It also helps startups and small business owners manage calendars, schedule appointments, and create customer behavior, sales trends, and business performance reports.
If you're a sales team looking to automate and streamline processes, this is the AI tool you need.
Here's an overview of some of its key features, limitations, and pricing:
Best features:
Recommends tags and suggests the best notebook for your notes.
Uses the no-code builder to make machine-learning predictions.
Notifies you about anomalies like a sudden drop in calls.
Can distribute leads to the best sales rep, depending on availability.
Can generate charts and pivot tables from spreadsheets.
Offers grammar suggestions using ML techniques.
Limitations:
Its user interface is comparatively difficult to navigate and use.
Some Zia users have reported frequent glitches and issues.
Zia's free version has limited features; you must upgrade to a premium plan to access additional functionalities.
Pricing(Zoho SalesIQ):
| Free | Basic | Professional | Enterprise |
| --- | --- | --- | --- |
| $0 | $10 user/month | $17 user/month | $25/month |
Remember, only the enterprise plan includes AI features like an answering bot, smart suggestions, and company profile enrichment.
Zoho Ratings and Reviews:
G2: 4.7/5.0 (2,400+)
Capterra: 4.3/5.0 (6,300+)
5. ChatSpot by Hubspot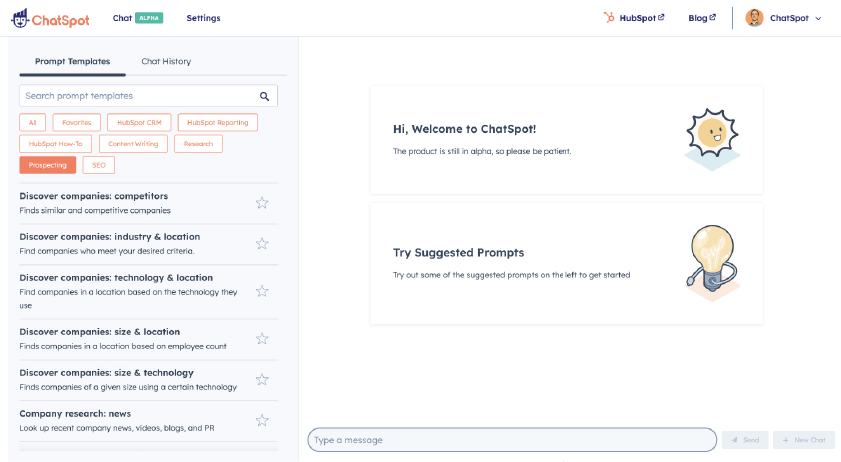 ChatSpot is an AI-powered sales and marketing assistant designed to help entrepreneurs and business owners streamline operations through best AI practices. This artificial intelligence tool combines the power of ChatGPT with other data sources.
The best thing about ChatSpot is, it's 100% free to use—even if you aren't a HubSpot user. It can be integrated into content generation, sales prospecting, and SEO content marketing.
It can help you write engaging social media posts, draft long-form blogs, create AI-generated images, and more.
Here's an overview of some of its key features, limitations, and pricing:
Best features:
Prospecting templates to identify key opportunities for outreach.
Create AI-generated images and draft blog posts and tweets.
Discover keywords, analyze phrases, and understand competitor strategies.
Add contact or company details to your CRM in one click.
Directs you around the Hubspot app to help you make the most of your CRM.
Deep insights into company data like funding rounds and technologies used.
Limitations:
ChatSpot may not always understand your commands every time.
Response time for ChatSpot can comparatively be longer than usual.
Unlike ChatGPT, this AI tool clears all your chat history after reloading.
Pricing:
Beta version is free to use.
Hubspot Ratings and Reviews:
G2: 4.7/5.0 (9,900+)
Capterra: 4.5/5.0 (3,700+)
6. Dall. E 2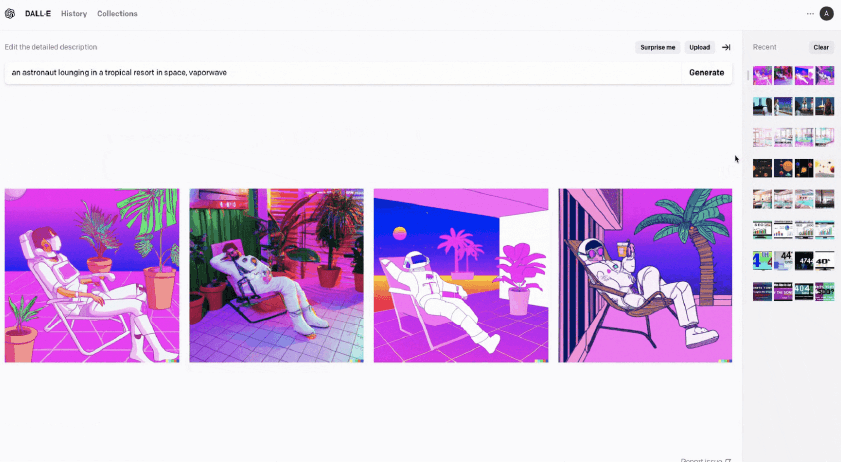 Dall. E 2 is an AI system developed by Open AI that generates realistic images and art from natural language prompts and descriptions. Furthermore, It can also combine concepts, attributes, and styles based on your description.
This AI platform can be invaluable in creative inspiration, fashion designing, art creation, and CGI creation—saving time, money, and resources.
Its speed, customization options, accessibility, and iteration make it the best AI image-generating tool in the market.
Here's an overview of Dall. E 2's best features, critical limitations, and pricing:
Best features:
Generate high-quality images from textual descriptions.
provides an intuitive and easy-to-use user interface.
 Every prompt generates four unique image variations.
Text prompts allow you to replace different elements in a picture.
Image expansion beyond the canvas using the outpainting feature.
Limitations:
While using this AI chatbot, you must have a clearly defined prompt to generate the right image.
Some users reported that the Images generated by Dall. E 2 may not look real enough.
Whether trained or copyrighted, images generated by the tool remain a major concern.
Pricing:
$15 for every 115 credits
(1 credit = 1 text prompt with 4 image variations)
Ratings and Reviews:
7. Manatal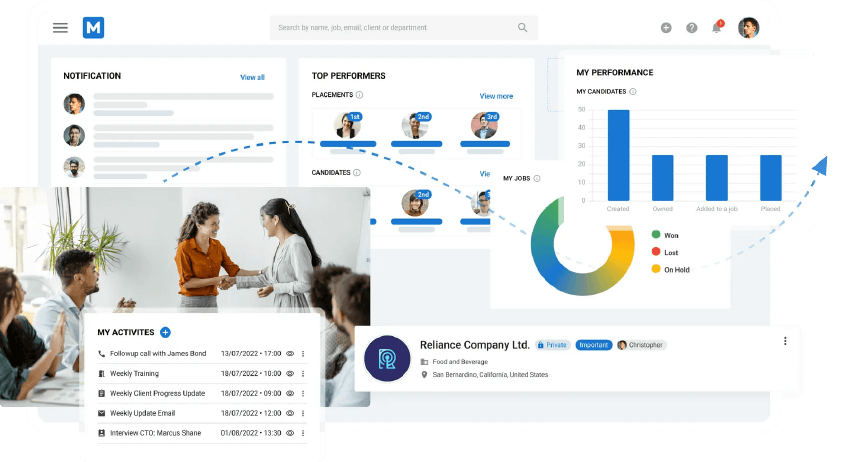 Manatal is an AI recruitment software designed to help HR teams source and hire talent faster. The tool is best suitable for HR teams, recruitment agencies, and new-age startups.
It's an easy-to-use AI software with no steep learning curve that can be used for simplifying the hiring process through AI automation.
Manatal includes features like matching recommendations and candidate profile enrichment. You can access Manatal on all your mobile, tablet, and desktop devices.
Here's an overview of some of its best features and limitations, along with pricing plans:
Best features:
Suggests best candidates for the job while automating redundant tasks.
Score candidate profiles based on job requirements.
 Enriches candidate profiles with data from LinkedIn and other social media.
Access Manatal features from all your devices—mobile, desktop, etc.
Fast setup and compatible with all web platforms.
Efficient candidate sourcing from various channels.
Limitations:
The software admin page needs to be accessed manually to generate weekly reports.
Users can only upload a maximum of 1000 resumes at a time.
Some users have reported frequent glitches while using the software.
Pricing:
| Professional | Enterprise | Custom |
| --- | --- | --- |
| $19 user/month | $39 user/month | Custom |
Ratings and Reviews:
G2: 4.8/5.0 (135+)
Capterra: 4.7/5.0 (132+)
8. Motion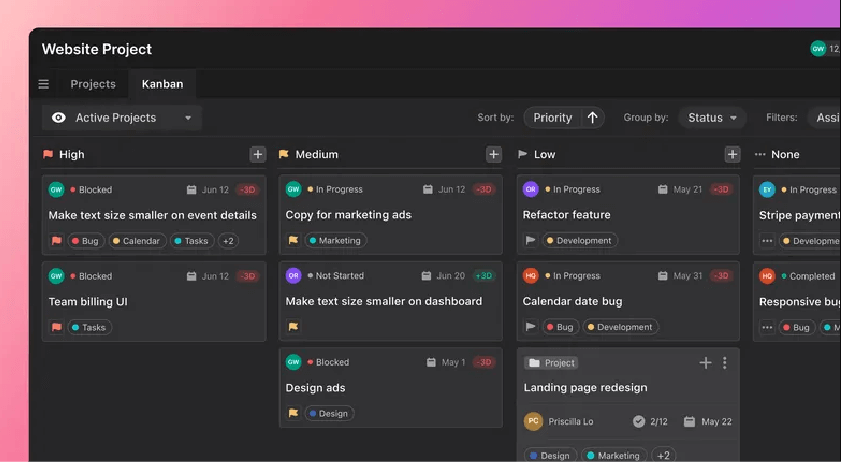 Motion is an AI calendar app that automatically builds your schedule, plans your day, and creates perfect to-do lists using machine learning and AI algorithms.
This AI tool automatically plans your day considering variables like deadlines, working hours, meetings, and average task duration. The best part is that it schedules meetings while ensuring they don't conflict with your calendar.
In short, it can be a great addition to your pack of AI tools for small businesses, helping you save time, stay ahead of your day, and be more productive.
Here's an overview of its best features, limitations, and pricing plans: 
Best features:
Plan your day and schedule meetings with AI and automation.
See your daily schedule in one click.
Automate tasks and project scheduling with AI.
 Let AI create perfect to-do lists.
Keep all your project information in one place.
Limitations:
Motion desktop app can be buggy at times due to its frequent glitches.
The mobile app is not as user-friendly as the other versions of it.
It can make a schedule for two weeks at a time.
The AI app does not have a free plan.
Pricing:
| Individual | Team |
| --- | --- |
| $34/month | $20 user/month |
Ratings and Reviews:
G2: 4.3/5.0 (68+)
Capterra: 3.8/5.0 (13+)
9. Lumen5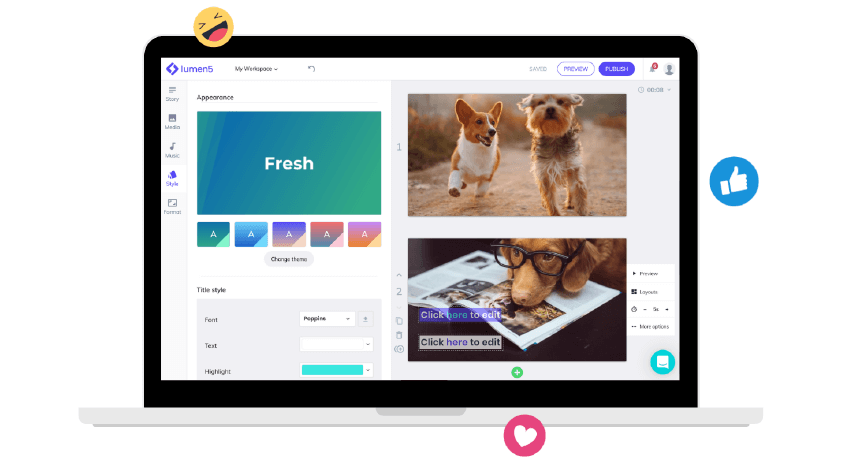 Lumen5 is an AI-powered cloud-based video-editing and making solution for business owners and marketers to streamline video content creation. They have an AI feature built to repurpose marketing content that automatically turns blog posts into engaging videos.
Lumen5 has a built-in library of 500M+ images, templates, and high-quality videos to help create videos that make your brand stand out.
If you find video editing overwhelming and time-consuming, this is the tool you need. Here's an extended overview of some of its key features, critical limitations, and pricing:
Best features:
Repurpose marketing content
Bespoke branded templates
Generate automatic captions for all your video clips
 Teams & collaboration features
Lets you turn blog posts into videos
500M+ images, templates, and videos
Limitations:
Finding the right music can be time-consuming.
Some users have reported its video layouts need to be updated, and the user interface needs to be clearer.
Editing or changing individual frames can be difficult for some users.
Pricing:
| Basic | Starter | Professional | Enterprise |
| --- | --- | --- | --- |
| $29/month | $79/month | $199/month | Custom |
Ratings and Reviews:
G2: 4.5/5.0 (65+)
Capterra: 4.6/5.0 (135+)
10. Otter AI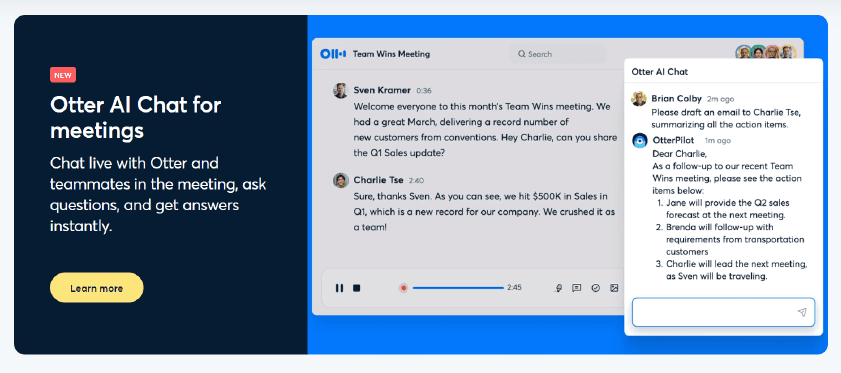 Otter AI is an AI meeting assistant that can help you record conversations, create audio files, transcribe user interviews, write notes & generate summaries, making your meetings more efficient and productive.
It can be integrated with Google and Microsoft Calendar and automatically record your meetings on Zoom, Google Meet, and Microsoft Teams.
Furthermore, this AI tool generates real-time meeting summaries, allowing users to catch up on anything missed.
Here's a quick overview of its best features and critical limitations.
Best features:
Produces meeting notes from transcriptions.
Otter AI chats to get answers instantly during meetings.
Transcribe audio and video files
 Generates live summaries of Zoom recordings or meetings.
Transcribe YouTube videos
Expert your conversation to TXT, DOCX, and PDF.
Limitations:
Utter can help transcribe user interviews but can't avoid filler words like "hmmm."
Sometimes transcription can spell words incorrectly.
It takes longer than usual to upload audio transcripts to the website.
Pricing:
| Basic | Pro | Business | Enterprise |
| --- | --- | --- | --- |
| Free | $16.99 user/month | $30 user/month | Custom |
Ratings and Reviews:
G2: 4.1/5.0 (110+)
Capterra: 4.5/5.0 (67+)
ChatGPT—A Free AI tool for small businesses
ChatGPT is the most efficient and reliable yet free AI chatbot online. It is an AI language model trained by OpenAI, using machine learning algorithms to generate human-like responses to text-based prompts.
Despite the fact that it's not on our primary list, we rate it very highly and recommend that every business owner utilize it.
It can be used in content creation, content & email marketing, language translation, customer support, business planning, and other aspects of business operations.
While ChatGPT is entirely free to use, there is a $20 monthly fee for ChatGPT Plus.
And our list ends here, but before we conclude—let's look at how you can select the right tool for your business.
How to Choose the Right AI Tools for Your Business?
The tools mentioned earlier were all about helping you streamline your business processes. But, if you still seek assistance choosing the right tools for your requirements, here are a few factors to consider before calling the shots.
Understand your requirements: Understand your business objectives and priorities before investing in any tool. This will help you understand areas of business that need optimization and can be automatized.
Training requirements: Understand the level of training required while onboarding an AI software. Ensure you can invest time in employee training and that the AI tool provider offers adequate support.
Industry Experience: Make sure the tool provider has significant experience dealing in your industry to understand user behavior and provide actionable insights.
Ethical and legal considerations: Make sure using AI in your business doesn't violate laws or bring any legal or ethical violations.
Return on Investment: Conduct a quick ROI analysis and determine the expected benefits or returns of using a tool to ensure the return justifies the investment.
That's it for today. Keep these factors checked while selecting and investing in an AI tool, and you will be alright.
Conclusion
That's it for today. We hope you found the tool you were searching for when you started reading. If not, go back and see if you can find something you missed earlier.
However, if need help writing a business plan, Upmetrics is the best AI business plan generator. Sign up now, and get the first draft of your business plan ready in no time!