Business Plan books are the first thing to go for once you have decided on the idea you want to pursue as an entrepreneur.
Starting up as an entrepreneur is not as simple as it seems. Transforming your idea into a business that creates value for the world is a long process.
The process is full of uncertainties, hurdles, and burnout. To make consistent efforts without giving up, you need a plan you can rely upon.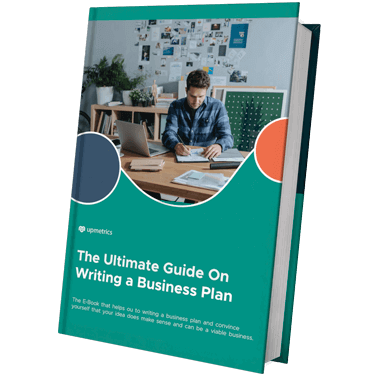 A plan that helps you in making wise decisions in your entrepreneurial journey is known as a business plan.
It also helps in refining processes and keeps you in line with your business goals.
Now, how would you create a business plan?
Well, you can anyhow get to know what it contains. However, to easily create a business plan that covers all aspects of your business, you must read these books.
In this article, we are going to discuss the 7 top business plan books written for ambitious entrepreneurs like you!
1. Art of the Start 2.0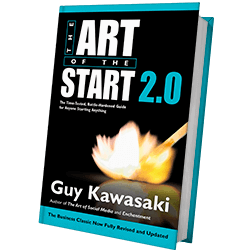 Goodreads rating: 3.87/5
The author of this book is American millionaire Guy Kawasaki. Though his name is enough for anyone to stand up from their seats let me tell you a few things about him.
He worked with Apple in 1984 as a part of the marketing team for Macintosh computers.
He is the author of 12 books including The Art of Social Media, and Enchantment.
He is currently working as the chief evangelist of Canva which is a graphic designing software.
Now coming to what this book holds for you, it's one of those books that focus on transforming your business idea into a full-fledged organization.
Guy Kawasaki explains why it is important to have a vision and how you, as an entrepreneur, can feed your team with the same vision.
If your team does not adhere to the same vision, there will always be chaos in the workspace.
You must also share stories about your product and your journey. Everyone loves stories. You don't have to write a 300-page book but a few social media posts, and videos that resonate well with your target audience.
The book also guides entrepreneurs while hiring. It tells you to hire people who are new in the industry. They are most likely to innovate new products as they consistently ask questions.
Key Highlight:
This book will help you in writing a business plan along with guiding you in various steps of entrepreneurship. This book holds something for every aspect of entrepreneurship.
It also stresses how you can use the internet and cloud tools to make the processes more accessible and more efficient. In the modern era, businesses are equipped with tools that are affordable and accessible to everyone.
Moreover, the book also throws light on socializing and partnering with the right people for leadership roles or to get funding.
By reading this book, you will feel more powerful as an entrepreneur and will be ready to take on challenges that come along with entrepreneurship.
This book doesn't sound like rhetoric and probably that's why this book received appreciation from all across the world.
Book Link- Art of the Start 2.0
A reader's review:
The focus is on tech entrepreneurs. While much of the advice is applicable to other industries, the book will hit the bullseye specifically with those starting technology businesses.
Anita Campbell (via Goodreads)
2. The Successful Business Plan: Secrets and Strategies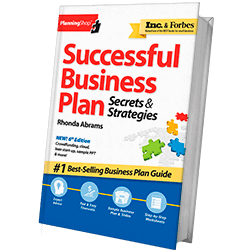 Goodreads rating: 3.87/5
The author of the book is Rhonda Abrams who has written more than 12 books on entrepreneurship. Being an entrepreneur herself, the knowledge she shares is absolute gold and trustworthy.
She also writes one of the most popular columns in the US known as Small Business Strategies.
Let us now discuss what Rhonda Abrams has taught in her book.
The Successful Business Plan: Secrets and Strategies is a complete guide for anyone stuck in writing. It is one of those books that give you a push to start working on your idea.
This book contains various worksheets and charts which makes it consumable as well as practical.
You will get enough examples of various parts of a business plan, giving you an in-depth idea of what it looks like and how it is written.
This book not only teaches you to write a business plan that reminds you about your vision but also this plan can help you get investors on board.
It also equips you with strategies to get funds at the best possible rates and also to minimize the costs involved in running a business.
It gives you an in-depth understanding of positioning your brand in the market to gain the attention of your target audience and thus derive maximum profit.
Moreover, you can also use it for competitions related to showcasing plans for their businesses. The book is used by many entrepreneurs and is recommended to every small business.
Book Link- The Successful Business Plan
A reader's review:
There's enough information here to help you get almost any business started. This is a proven source, for it's been through several re-prints since 1991.
Jeffrey Brown (via Goodreads)
3. The Founder's Dilemma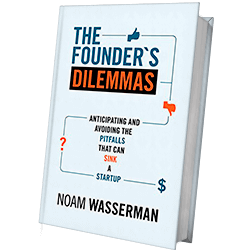 Goodreads rating: 4.01/5
The book, The Founder's dilemma, is one of the best business plan books by Noam Wasserman. Apart from this, he has written another bestseller known as Life is a startup.
Noam Wasserman served as a professor at Harvard Business school for 13 years and is currently working at the University of Southern California as a founding Director at the Founder Central Initiative.
The book he wrote is an absolute beauty. Not because he has told some hidden secrets but because he has addressed a problem that many entrepreneurs often ignore.
And that problem is the company's leadership. You might have a billion-dollar business idea and even have cracked the tech for it, but you might still fail because of listening to the wrong advice.
If you want your business to not suffer due to wrong decisions made by top leadership, you must read this book.
This book will help you in deciding whom you want to work with, and how to share the equity among co-founders and employees without being emotional.
However, this book might not be useful for small businesses but is a gem for someone planning to launch a high-growth business.
Good Business Planning is 9 parts execution for every 1 part of a strategy –
Tim Berry
Book Link – The Founder's Dilemma
A reader's review:
I've never seen a book before that was particularly helpful – to a founder – about the wide range of issues a founder will face.
Brad Feld (via Goodreads)
4. The One-Page Business Plan for the Creative Entrepreneur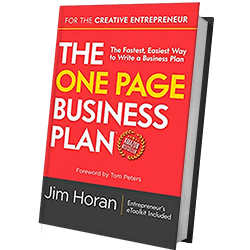 Goodreads rating: 3.86/5
The author of this mind-blowing book is none other than Jim Horan.
Known for his expertise in solving complex business problems, Jim has helped many entrepreneurs in turning their businesses into profit-making machines.
Jim Horan has also been a Fortune 500 executive and has written six books in the One Page Business Plan for Creative Entrepreneur series.
This book is quite different from other books as it is written for entrepreneurs who do not understand a lot about business figures but want to get started soon.
There's a saying that if you cannot write your business plan on a single page, you are probably doing it wrong.
The book enables you to write it in a couple of hours which includes your mission, objectives, and plans.
It will be crisp and easy to understand for your investors as well as the team. In this fast-moving world, it becomes really uncomfortable to give a week preparing a business plan.
You have the idea and with the help of this book, you can turn the idea into a business in no time.
Having said that, this book is not recommended to someone who is building a high-growth company or a business with many manufacturing units.
This book is specially designed for small businesses to increase their profits and improve their vision.
Book Link – The One-Page Business Plan
A reader's review:
One of my favorites! I have used these templates many times. It really forces you to be concise and focus on your vision. Highly recommend!
Teri Temme (via Goodreads)
5. The Secrets to Writing a Successful Business Plan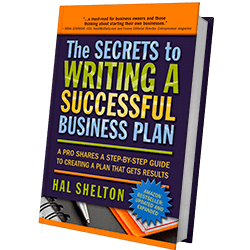 Goodreads rating: 3.70/5
The author of this book Hal Shelton is an extremely experienced executive who has worked with many corporations, non-profits, and investment companies.
Hal Shelton completed his BS from Carnegie Mellon University and then pursued an MBA from the University of Chicago.
The secrets to writing a successful Business Plan focus on each section of the plan to help you create one that stands out in front of the investors.
The book also informs you about the common errors entrepreneurs make while writing. These errors sometimes cost very high as they might create confusion for investors as well as for the team.
You will also learn to do the market analysis and write the same in your plan. You will be able to answer questions like how big is the market and whether it is sufficient to run a successful business or not.
Investors receive a lot of business plans and going through each one of them is not feasible. Therefore writing an executive summary becomes extremely important.
The executive summary is an easy way to grab investors' attention and help them understand your business without going through lengthy documents.
If you are launching a non-profit organization, this book can help you in many ways as a section of the book is dedicated to non-profits.
Moreover, the book also consists of secret strategies for writing a business plan and getting bank loans or funding from investors.
Book Link – The Secrets to Writing a Successful Business Plan
A reader's review:
This book provides a very solid foundation to write your plan. The author also provides excellent examples and instructions as to what to and not to do in writing your business plan
Kirk G. Meyer (via Goodreads)
6. Anatomy of a Business Plan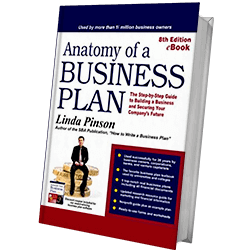 Goodreads rating: 3.91/5
The author of this book, Linda Pinson, has worked very closely with the U.S. small business administration to write the government business plan publication.
She has also been honored as Education Advocate of the year and SBA regional women in Business advocate of the year.
Apart from this book, she has written many books on entrepreneurship such as Keeping the books and steps to start a small business startup.
This is one of the best business books for people who do not know anything about business plans.
This book provides you with an in-depth understanding of different business plans and will enable you to choose your ideal kind.
After reading the book, you will learn to update your plan according to the needs of your business and the position of your brand in the market.
The author also highlights the importance of mentioning the table of contents and executive summary in navigating smoothly through the book.
Apart from this, it also throws light on how you can efficiently market your business. You will also learn how to mention the financials of your company which is an important thing to do.
The Anatomy of a Business Plan also contains five real-life business plans which give you an understanding of how successful businesses can be explained in a few pages.
You also get a few worksheets which makes the overall experience of reading the book delightful.
Book Link – Anatomy of a Business Plan
A reader's review:
This book is like "a mentor for your business plan". Really informative and helpful.
Marvin Musfiq (via Goodreads)
7. The Complete Book of Business Plans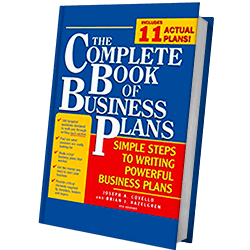 Goodreads rating: 3.47/5
The authors of this book are Brian Hazelgran and Joseph A. Covello. Both of them have a great understanding of how businesses operate in this book. They have told us that one size doesn't fit all.
That means business plans for different businesses cannot be written in the same way.
This book contains 12+ plans that give you an idea of how you write one for yourself.
This book also focuses on how you should bring people into your business and what vision you should have to run the business for decades.
Moreover, when you read the book you will have to ask a lot of questions to yourself. The book will compel you to ask questions yourself that are immensely important before writing it.
Once you give satisfactory answers to the questions asked, you will feel more motivated to start a business, and writing a business will look like a cakewalk.
The above quote shows how important it is to plan your business and create a visionary plan for your business.
Book Link – The Complete Book of Business Plans
A reader's review:
Great book encompassing everything about writing business plans.
Denny Troncoso (via Goodreads)
Bottom Line
All the Business plan books that we discussed above are going to help you in some way or the other.
But don't worry you don't need to read all of them. Just figure out where you stand and where you would want to go and select a book accordingly.
Innovative tools present in the industry like Upmetrics have helped many entrepreneurs in business and financial planning. If you need more help writing a perfect business plan, check out Upmetrics NOW and grow 2X faster.