Out of all food businesses and start-ups, the catering business is really the odd one out. Owing to both requirements and the scale of serving food, the path to setting up a catering business is most certainly different from most traditional food ventures and restaurant-type start-ups.
Contrary to walk-in diners and restaurants, you won't really have a readily available customer base which is the first big issue. Food and orders are not exactly prepared on a per-serving basis; thus, a larger setup is required. In short, there are several challenges and risks to starting a full-fledged catering business amidst COVID-19.
Why Choose Catering as a Start-up Option?
Why start a catering business then? A catering business means long hours, a bigger team in most cases, and a better infrastructure to cope with demands. It is also more flexible, can be customized, and is scalable to gain more profits in the larger run. If you want to work with food and flavors yet the physical restaurant setup, management, and maintenance seem daunting, you could definitely start a catering business.
While the production of food might be at a bulk scale with catering, you always have an estimate for how many people you're going to serve. Unlike restaurant businesses, you can always be prepared with fresh produce and not much wastage. The entire operation would also be more cost-effective than you'd think.
Working on an event basis, or project basis, as they call it, makes several requirements less frequent. You can always rent equipment and other unique requirements for a certain event instead of having to make a setup investment.
At least in the initial stages, a lot of costs can be cut down other than the basic investment to be made. You can also work very closely with event planners and eventually choose a specific niche such as wedding catering, corporate conferences and events, birthdays, and catering for other niche events.
Thus, with no major investment, you can work with different industries and have the chance to explore several opportunities flexibly.
Passion for Food Business
Just like any other business, there are several pros and cons to starting a catering business. But, if you're passionate enough about food and people, it is fair to say that a catering venture can be really profitable and fulfilling.
Reassured on the "why" aspect, the next question is how to start a catering business. This refers to where you start, what kind of business structure you have in mind and countless other details for a catering business of your own.
How you are going to source your clients is probably one of the most crucial aspects of a catering venture. But, before you can get to thinking about that, there's a lot of brainstorming and setup that needs to happen.
Catering Business Setup Checklist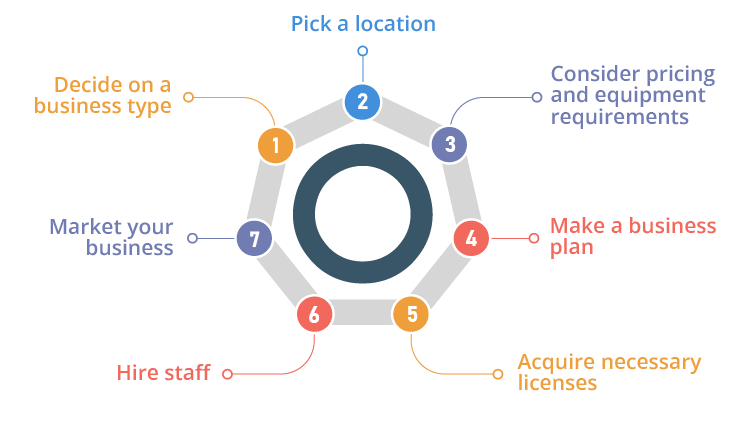 While a lot would depend on the niche you choose and the operations of your catering company, here are some things that you would need to consider to plan, setup, and accumulate all necessary resources for your catering business:
Decide on business type – Home-based, Event planner, Local Caterer

What kind of catering business are we looking at? Do you plan to start with a home-based company and cater on a lower scale?

Local catering with an intermediate setup can be another option. You can function as a mobile caterer, private caterer, or even caterer exclusive to hotel events and restaurants. Start out by deciding your business type.

Select a location for the operation

Even though you won't really need a serving space or fine ambiance for customers, you surely need a physical location for preparing food, packaging and dispatching it, and other business operations.

For a home business, it's a no-brainer. If you want to begin on a slightly larger scale, a spacious location for a kitchen set up and staff is something you should think of pretty early on.

Shortlist a Menu

What are you going to serve? Much like a restaurant or any food joint, your catering company needs to have an extended menu that customers can pick options from when they choose to cater through your company.

Shortlist the main aspects of your menu, and do a little research on how you can price them. Once you have decided on the scale of your business at setup, equipment requirements such as ovens, refrigerators, ice machines, etc., can be looked into.

Make a Business Plan

With a basic idea of where you're headed, it is now time to make a business plan. This is the stage where you create a final reference for all your requirements, such as the menu, budget, profit margins considered, operational costs, marketing, and other requirements.

Especially for a streamlined funding process and great teamwork in different aspects, a good business plan is a must. Have a look at business plan samples to get started with your draft.

Acquire necessary licenses

As a legally operating food business, you will need some mandatory permits and licenses to function smoothly. In fact, ensure you have these ready to go before any groundwork, hiring, and partnerships are started to keep out of any trouble.

For a catering business, you would require an LLC license, health, and safety permits depending on your location of operation, food, beverages, liquor license, etc. A specific catering license is also required in certain states as a food establishment license.

Connect with suppliers and hire staff

To complete your catering production line, you need to find safe and reliable suppliers and vendors for food products. You can work on a contract or regular basis with the supplier of your choice.

An extended staff with multiple chefs, servers, and a manager will be required before you can start catering events. Staff for transportation of food and other basic requirements should also be on the list.

Build a dedicated app

You can start reaching out to events in specific niches to popularize your catering business there. A wedding, lunch parties, and corporate events are some that always have a high demand for caterers.

Build a dedicated app for your business where bookings and customer interactions can take place easily. This is, of course, optional and depends on your initial scale. Market your catering company on both traditional and online platforms to draw in customers when you officially start catering.
Summing Up
A catering venture can be profitable, fulfilling, and a great business to scale. With low financial risks and high business opportunities, the possibilities are endless. Having said that, your brand identity takes center stage for a business that operates without a physical space for customers to find you. Prioritize an online presence for your catering company, as it will be a major platform to draw in customers.
When you're putting your thoughts together, you can consider the above-listed aspects for the initial setup of your business. At some point, you will need to iron out the details and formulate a detailed business plan. For prompt funding, partnerships, and monitoring ground-level aspects, a business plan is a must.
At Upmetrics, you can find several business plan templates for your layered requirements. Start planning your vision from day one to see it executed to perfection!