Every event or occasion calls for good food. And although the majority of people like good food, not everyone has the talent to cook the same.
And if you are someone who receives constant compliments for your cooking then you must have thought of having your catering business.
But having a catering business is much more than that. It all boils down to the quality of your service in the end, but before that, you need to have a strategy to attract your customers' attention, build trust, manage your finances, and many more.
All of the above might sound a little overwhelming, but it doesn't need to be. All you need is a catering business plan.
Catering Industry Highlights 2023
Here is an overview of the current state of the catering industry in 2023:
Market size and growth potential:

Catering in the United States was valued at $68.69 billion in 2022, and it is expected to grow by 5.80% between 2023 and 2028.

Employment scenario:

There are 251,584 catering employees in the US in 2023.

Number of operational businesses:

There are 85,851 operational catering businesses in the US in 2023.

Major market drivers:

Rising disposable income, growing demand from corporates, and increasing frequency of social events are key market drivers for catering businesses.

Key market trends:

Rising popularity of food outsourcing, the growing variety of catering menus, and the increasing incorporation of technology.

Financial plan:

This section provides a clear overview of your financial projection and financing needs. A well-prepared financial plan is key to raising capital for a new business.
Say goodbye to boring templates
Build your business plan faster and easier with AI
Plans starting from $7/month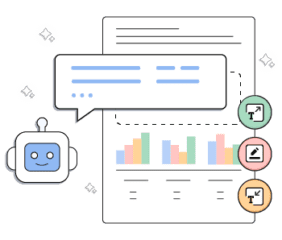 How Can a Catering Business Plan Help You?
The catering business is one of the most rewarding careers as it not only lets you pursue your passion, it has the potential to grow into a huge business by size and volume if planned properly.
A business plan is helpful for a catering business because along with great cooking skills, great management skills are an integral part of a successful catering business.
A business plan can help you conduct your daily business activities without chaos, have good finances, help you find your desired customers, and make your unique business idea a marketable one.
Things to Consider Before Writing Your Catering Business Plan
Make a list of items you can serve

Having a list of items you will serve, helps you organize your services better. It also helps your customers understand what you can offer and decide if your service is the right one for them or not.

It also becomes important that you design your menu as per your target audience's tastes and preferences.

Figure out your location and staffing coasts

Figure out from where you'll provide services, what would be the amount of rent you'll have to pay, which location would be good for your business, etc.

Apart from that, you also need to figure out staffing costs, the size of your team, the skills required, and so on.

Figure out where you'll get your supplies from

Getting good supplies is essential for a catering business. Because you need to pay attention to quality as well as the taste of the food you'll offer. Having a fixed supplier helps you maintain consistency in the quality of your food.

Make a list of important equipment

Although many catering services work on the go and prefer to rent equipment, it is a good practice to have the basic equipment in case of contingency. It would also decrease your reliance on other people, and pose fewer challenges while gathering supplies for new orders.

Having your equipment also makes it easier for you and your team to prepare orders as you get familiar with how to use those tools.
Now that you have done the research, let's learn how you can write a business plan for yourself.
How to Write a Catering Business Plan?
A good catering business plan consists of a clear description of your business's functioning, your target market, the services you offer, the size of your company, a pricing strategy, and a well-designed employee management system.
Now you might wonder, where to start from, how to go about writing a plan from scratch, and most importantly how to know if you have written a good one.
Well, you need not worry.
You can easily write a well-rounded business plan either through a pre-designed template or through online business plan software.
Moreover, online business plan software can help you write a flexible business plan that grows alongside your business.
Catering Business Plan Outline
This is the standard catering business plan outline which will cover all important sections that you should include in your business plan.
Executive Summary

Mission
Keys to Success
Objectives
Management Team
Financial Summary

About Kidz Cater

Legal Entity
Management Team
Locations and Facilities
Milestones
Facility Design

Products & Services

Food Product Descriptions

Boxed lunches
Buffet style lunches

Alternative Providers
Sourcing
Technology
Future Products

Market & Customer Analysis

Market Segmentation

Internal Bright Future Customers
Nonprofit External Customers
For-profit External Customers

Market Analysis
Target Market Segment Strategy

Market Trends
Market Growth

Value Proposition
Competitive Edge
Marketing Strategy

Distribution Strategy
Marketing Programs
Pricing Strategy
Promotion Strategy

Competitive Analysis

Competitors

Of Grape & Grain
Cravings Fine Foods
Ariana's Deli
Fettuccini and Co
Napoli Restaurant
Brindiamo Catering
Wild Duck Brewery
Oregon Electric Station
Local and national grocery stores chains
Local and national sandwich fast-food chains

Strategic Alliances

Operations

Organizational Structure
Management Team
Management Team Gaps
Personnel Plan

Financial Plan

Important Assumptions

Other General Assumptions

Fundraising Strategy
Fundraising Programs
Funding Forecast
Start-up Summary
Income Statement (5-Year Projections)
Balance Sheet (5-Year Projections)
Cash Flow (5-Year Projections)
Although your plan will keep changing as your business grows, here are a few key sections that would form the foundation of your business plan:
1. Executive summary
This executive summary section would be the first one on your plan. It provides a summary of all that your business stands for. It can be divided into the following subsections:
Objectives: This segment would consist of the chief objectives of your company. What it aims to achieve, who it wants to serve, and where it wants to reach.
Mission: This segment includes the mission statement of your business, it consists of what market gap you plan on filling with your business.
Financial Summary: This segment will give a summary of the past and present condition of your finances as well as projected gains of your business.
A clear executive summary can come in handy if you need funding.
2. Operational Strategy
The operational strategy section helps you plan how to work toward achieving your business goals. It can be divided into the following subsections:
Day-to-day activities: In this segment, you'll write an overview of the best way of carrying out your business from onboarding clients to fulfilling the services.
Long-term goals: This section would consist of long-term goals like serving a certain number of clients, growing your business to a certain size, and expanding to a certain number of branches, etc.
A good operational strategy would make your business activities less chaotic and prevent them from being all over the place.
3. Market Analysis
In this segment, you'll write down every single detail you can find out about the market. It would include the following segments:
Market trends: Knowing about all the prevailing market trends can help you design a plan that would change as per the evolving market, and also help you maintain the foundation your company stands on. It would also give you an overview of what your competitors are doing.
Target Market: This segment would describe everything about your target market. The locations they prefer, the kind of cuisines they are into, how and when they procure catering services, etc.
This segment helps you understand what you are getting yourself into.
4. Services
This section consists of a detailed description of the services you offer. For example, the events you cater to, the volume of people you can serve, the food options your services have, what additional services you offer, etc.
This segment helps your target audience understand your services better, it helps them in deciding whether you are the right fit for them or not. So, make sure you describe your services in a clear and precise manner.
5. Financial Plan
The financial plan segment includes everything starting from the funds you need to start your business, the funds you need for procuring supplies and employing people, the projected cash flow of your business, expected profit, and loss of your business, pricing strategy, etc.
Download a sample catering business plan
Need help writing your business plan from scratch? Here you go; download our free catering business plan pdf to start.
It's a modern business plan template specifically designed for your catering business. Use the example business plan as a guide for writing your own.
The Quickest Way to turn a Business Idea into a Business Plan
Fill-in-the-blanks and automatic financials make it easy.
Get Started Now!

Write your business plan with Upmetrics
A business plan software like Upmetrics is the best way to draft your business plan. This incredible tool comes with step-by-step instructions, customizable templates, and 400+ sample business plans to help you get started.
So, whether starting a catering business or planning to grow an existing one, Upmetrics is the tool you need to create a business plan.
So what are you waiting for? Start planning today!