Fast Fact
Startup costs: $134,900- $706,300
Industry trend: Growing
Difficulty: Moderate to high
Profitability: $400,000-$1 million p.a.
Time to build: 6-18 months
Commitment: Full-time
Are you a foodie who enjoys cooking for others and now thinking of turning your passion into a successful restaurant?
However, starting a restaurant seems more complex than making a French sauce; searching for a location, applying for licenses & permits, designing the menu, and whatnot is there.
Relax and take a deep breath because we have answered your question about how to start a restaurant with our step-by-step guide. From writing a business plan, and making a sound marketing plan, to hiring a dedicated team, we have covered it all for you.
But first, let us go through the startup costs of a restaurant for a better understanding:
How much money do you need to start a Restaurant?
The average cost to start a restaurant in the USA generally varies between $134,900- $706,300. These costs are greatly influenced by factors such as location, size, concept, cuisine, and licensing requirements.
To better understand the detailed breakthrough of costs, read startup costs for a restaurant.
After considering the costs, I wondered how much profit does a restaurant make? Worry not, we've got your back.
What is the Average Restaurant Profit Margin?
The profit margins in the restaurant industry span between 0-15%. However, the average profit margin for a full-service restaurant falls between 3-5%.
Despite thin margins, the restaurant offers lucrative rewards once you set your foothold in the market. To better understand the market, let us go through the upsides and downsides of the restaurant industry.
Related Restaurant Resources
Pros and Cons of Starting a Restaurant
Having a restaurant is a dream come true for every rookie entrepreneur. But like all industries, it has its own pros and cons:
Pros
Passion & creativity: It helps you show your culinary skills to a diverse audience.
Potential profitability: Restaurants can generate higher profits with effective planning.
Constant demand: People love dining out with their loved ones, so the demand is constant.
Cons
High competition: The restaurant sector is competitive, requiring unique offerings to stand out.
 Long working hours: Restaurants often require extended hours, including weekends & holidays.
Staffing: Hiring, training, & retaining staff is the most challenging part of the restaurant industry.
As a new restaurant owner, you must consider the cons and start your business with the aim of success.
Understood the advantages and disadvantages? Let's move to our step-by-step guide for how to open a restaurant.
Step-by-step Guide to Start a Restaurant
1. Understanding the Restaurant Industry and Market
The food industry is ever-changing depending on societal norms, technological breakthroughs, and customer preferences.
In this dynamic field staying active is important to drive your business towards success.
Here are some restaurant industry statistics and trends you need to know in 2023:
Growth forecast: National Restaurant Association predicted US restaurant sales to reach $898 billion in 2022 which would further grow by 4% yearly to reach $1.2 trillion by 2030.

How much do restaurant owners make? 

According to Payscale.com, restaurant owners can earn anywhere from $31,000-$155,000 annually. Additionally, the yearly national average income is close to $72,000.

Number of employees: The total number of restaurant employees is forecasted to be 15.5 million by the end of 2023.
Technology is everywhere: Automation is helping staff maximize their efficiency by handling orders, deliveries, and communication effectively.
Sustainability & ethical sourcing: Eco-friendly practices such as minimizing food waste, avoiding single-use plastics, and ethical plus local sourcing are encouraged by customers.
Delivery is the new deal: People prefer deliveries over dining out as they are time-saving. So, there is an incline in the number of delivery apps and delivery services providing restaurants.
Kiosks are the preference: The number of people who prefer ordering and paying through kiosks is increasing due to the convenience.
Plant-based options: To satisfy a wider range of dietary preferences, more restaurants are offering plant-based dishes as the demand for vegetarian and vegan menu items is rising.
Now you have a fair idea of industry trends, let's further discuss the types of restaurants.
2. Select a Restaurant Type
Your restaurant type will define your culinary identity, the theme, and the entire dining experience of your prospective customers.
To better understand which kind of small restaurant to open, here are some questions to answer:
What type of cuisine or culinary style are you planning to offer?
Who do you want to cater to: families, professionals, food enthusiasts, or another specific target market?
What will be your signature dish?
What kind of ambiance are you planning?
After answering all the above questions, consider some types of restaurants:
Fine dining restaurants: A fine dining restaurant offers high-quality cuisine, luxurious ambiance, impeccable services, etc. They are ideal for families and special occasions.
Casual dining restaurants: This small restaurant is more relaxed than fine dining. They offer a diverse menu with a family-friendly atmosphere.
Cafes: Cafes are known for serving different types of beverages and light meals. They have a cozy and casual atmosphere making it a preferable spot for youngsters.
Bistros: Bistros are smaller eateries that offer a limited menu generally of locally sourced ingredients.
Other than the above main categorization there are various other types of restaurants you can choose from after studying your target audience.
Note: Conduct a SWOT analysis to understand your competitors better and give unique services.
3. Brainstorm a Restaurant Name
Before you pick a name for your own restaurant, make sure you know what kind of restaurant you want and what it's all about. It helps a lot when choosing a name that represents your restaurant.
A name should be catchy so that people remember it when they think of dining out. Besides catchy here are some points to remember before naming your restaurant:
In sync with the restaurant concept: Make sure the name aligns with the type of restaurant you're opening and the experience you want to offer to customers.
Don't be too specific: While reflecting on your restaurant concept is important, try not to pick a name that's too specific. You want the name to be flexible enough if your offerings change or expand in the future.
Use trendy and timeless names: Be cautious about using trendy phrases that might become outdated quickly. Aim for a name that can stand the test of time.
Check availability: Before you get too attached to a name, make sure it's available as a domain name for your website and on social media platforms. Also, check if it's trademarked from the website of the US Patent and Trademark Office.
Ask for feedback: Get feedback from friends, family, or trusted individuals to see how they react to the name. They might catch things you didn't notice.
Your restaurant name is one of the key differentiators that sets your business apart. Once you pick your restaurant's name and start with the branding, it is hard to change the business name.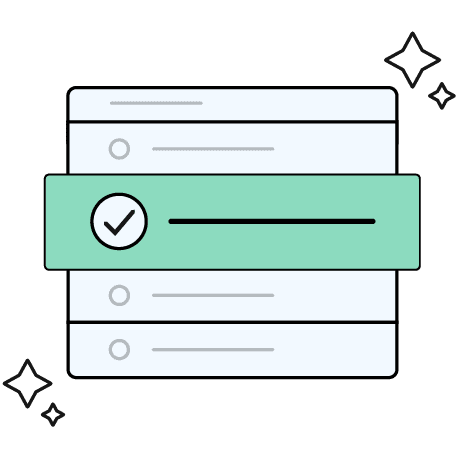 Want a Unique Name for your Restaurant?
Generate a brandable and catchy business name in seconds with our free business name generator for restaurant.
4. Find the Right Location for Your Restaurant
It is a no-brainer how much location affects the restaurant. Thus, choosing a restaurant location with more foot traffic can help you build a new customer base.
Here are some factors you should consider before you open a restaurant:
Foot traffic: High foot traffic provides high visibility resulting in more customers.
Demographics: Your target market should match the location too. For example: if your restaurant serves more students, then open it near a university.
Competition: Check the nearby restaurants, whether are they serving the same cuisines, and what kind of service style they have. If competition is more, then consider changing your location.
Accessibility & Parking: Make sure that both vehicles and pedestrians may easily access the area. It's essential to have enough parking spots.
The local neighborhood: Consider who lives nearby, and which age group is more active in that particular location. It will help you in choosing whether to sell alcohol or not, or what cuisines to include on the menu.
Here is the list of the best states for opening a restaurant:
| Best states | Restaurants per 10,000 residents | Adjusted disposable income |
| --- | --- | --- |
| Texas | 167 | $23,770 |
| Utah | 167 | $20,044 |
| Washington | 208 | $29,830 |
| Minnesota | 190 | $28,169 |
| Tennesse | 173 | $23,587 |
| Arizona | 143 | $18,517 |
| Maryland | 188 | $28,312 |
| Nevada | 197 | $22,547 |
Source: Katom.com
An alternative to a location-based restaurant is to open a virtual restaurant. A virtual restaurant does not function traditionally and solely functions online.
5. Write a Restaurant Business Plan
After considering location, plan to write a solid business plan for your business.
A well-structured restaurant business plan is a roadmap for your business that will also help you impress potential investors and partners.
Thus, before you buy your chef's hat or crack the first egg of the restaurant, consider writing the business plan.
Sections to include in your restaurant plan are:
Executive summary
Company description
Market analysis
Sample menu
Restaurant design
Management team
Operations plan
Marketing Plan
Financial plan
To write all these sections with precision is not a stroll in a garden. It requires long hours, attention to detail, and constant effort.

Write Your Business Plan with Upmetrics AI in no time
Select a Restaurant business plan template, import data directly into the editor, and start writing using Upmetrics AI Assistant.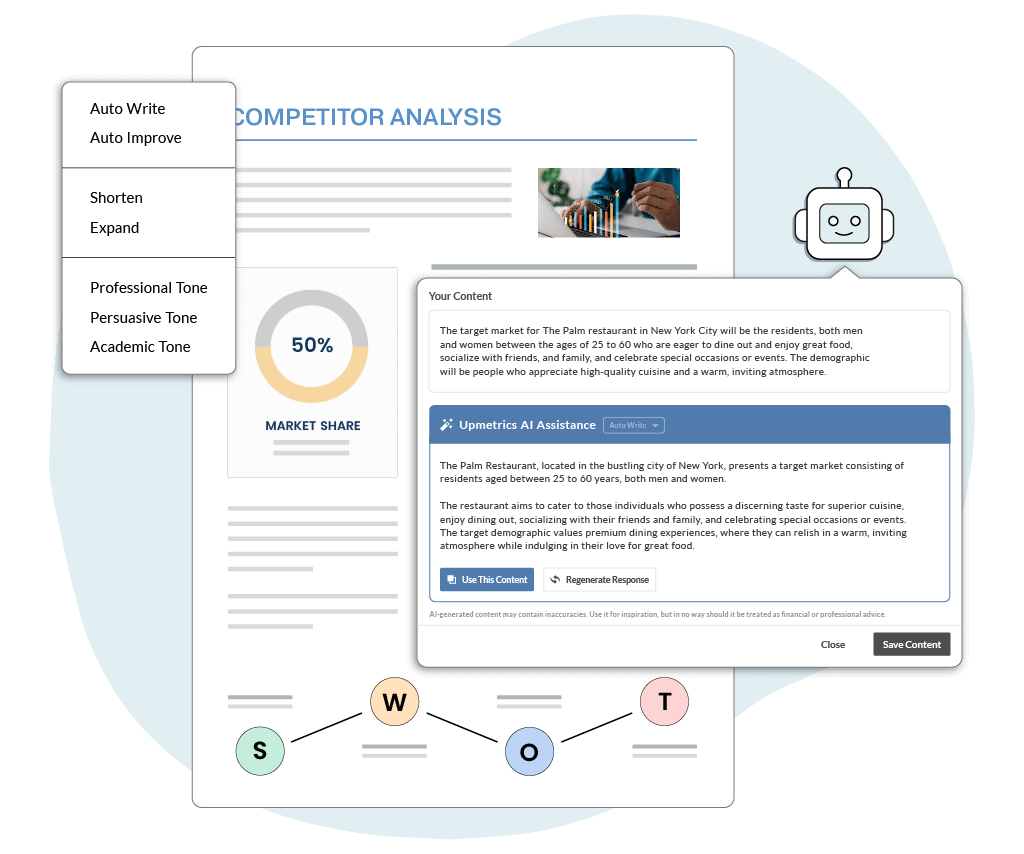 6. Design Your Food & Beverage Menu
The next creative step for building your own restaurant is to design the menu. Decide what to include in your menu and what not to.
Before designing, be sure you know the target audience and cuisine theme of your new restaurant, so it will be easy for you to include the dishes that entice your target audience.
Design the restaurant menu yourself by following the below steps:
Write down all the menu items first
Categorize menu items
Set the food costs
Create menu descriptions (you can hire a copywriter)
Decide a menu color theme in sync with your restaurant concept
Choose menu fonts and spacing
Select the final layout
Now design your menu and keep it all simple
Proofread your menu and print it
Do not add too many dishes upfront to the menu, and expand your categories as the customer base increases. Categorize all the dishes in groups of 3-7 maximum to let people remember them easily.
Keep the golden triangle rule in mind, it's about where people first look at the menu. Usually, they stare in the middle, then the top right, and finally the top left. So, put your specials in the middle.
7. Design Your Layout and Space
Once you have designed your menu, it is time to develop your layout and restaurant space utilization plan.
Designing an effective restaurant layout will help you utilize the maximum commercial space of the restaurant. There are two parts to consider for your layout design:
Front-house space for reception & seating arrangements
Back-house space for the chefs & other helpers
Keep these factors in mind when designing your restaurant's layout:
Work zones
Divide the space into different work zones like the dining room, kitchen, waiting area, reception, bar (if there), and restrooms. Consider the flow of guests and design all the work zones accordingly.
Dining room & seating arrangement
There are various options for seating arrangements: like booths, tables, bar stools, family dining, etc. Visualize the dining room &  arrangement and select the best suit according to your restaurant concept. Keep the seating arrangement flexible for different groups of people. So, you can change immediately when any large group arrives.
Kitchen Layout
Design an efficient kitchen that optimizes the workflow of the staff. Consider the workflow here too before designing it.
The plating platform should be near the seating area to reduce the time taken for serving. Apart from this, warehousing, cleaning areas for dishes, and cold storage should also be in proximity to the food preparation area according to the needs and space.
Waiting area
Create a comfortable waiting space for guests with proper seating and a pleasant ambiance. Include elements like artwork, lighting, or a display of your restaurant's offerings to keep guests engaged while they wait.
The layout of a restaurant must strike a balance between aesthetics, usability, and customer satisfaction. Make a space that reflects your business idea and provides a memorable dining experience.
8. Register Your Restaurant Business
You did all the creative tasks like designing the layout, menu, and interiors of your own restaurant, now it is time to indulge yourself in the legal requirements and documentation for your restaurant.
Here is how you register your restaurant:
A. Select the business structure first 
Choosing a business structure is necessary for your restaurant registration. A business's liability, taxes, filing fees, maintenance, and other regulations depend on the business entity you choose.
There are various business structures for a restaurant, they are:
Sole proprietorship
General partnership
Limited liability company
Limited partnership
Corporation
However, Forbes advises choosing a limited liability company as a business entity for your restaurant.
Read more: Why Does the Legal Structure of a Business Matter?
B. Go for a registered agent
All LLCs and corporations are required to appoint a registered agent. A registered statutory agent accepts and promptly responds to legal mail and official communication on behalf of your restaurant.
The registered agent can be a person or an agency with a physical address in the US state so that they can receive legal documents on your behalf.
C. Register with the state & obtain business EIN
Register your restaurant with your state's Secretary's office. The process and requirements vary by state. You may need to file articles of incorporation or organization for LLCs or corporations.
Apply for an Employer Identification Number (EIN) from the Internal Revenue Service (IRS). This is a unique identifier for your business and is needed for tax purposes.
D. Apply for tax registration
Register with the appropriate tax agencies for federal and state taxes. This includes sales tax, income tax, and employment taxes if you have employees.
Business registration requirements differ state-by-state which is why having a registered agent by your side will help you get through the process without any hustle.
9. Apply for Restaurant Licenses and Permits
Running a restaurant requires various licenses and permits to ensure compliance with local, state, and federal regulations.
Here are certain licenses and permits you should apply for:
Business License
A general business license is required to operate any type of business, including a restaurant. This license is obtained from your local city or state government's website.
Health department approval
Comply with health and safety regulations by obtaining approval from your local health department. Health inspections are crucial to ensure that your restaurant meets sanitation and food safety standards.
The FDA made a handbook for staff health and hygiene to prevent germs from spreading to food.
Food service license
This license ensures that your food handling practices meet regulatory standards.
Liquor license (if applicable)
If you plan to serve alcoholic beverages, you'll need a liquor license issued by your state's ABC (alcoholic beverage control). There are different types of licenses based on the type of alcohol service (beer, wine, etc.).
Fire Department Permit
Fire department permits ensure your restaurant meets fire safety codes and regulations, including emergency exits, fire extinguishers, and sprinkler systems.
Outdoor seating permits
If you offer outdoor dining or seating, you may need a permit to use public space for your customers.
There are many other licenses and permits needed for hosting events, music and entertainment licenses, noise ordinance permits, etc., which you can apply to as per your requirements.
Failing to obtain the necessary licenses and permits can lead to fines, penalties, or even the closure of your restaurant. So, do not skip this step.
10. Get Business Insurance
After applying for licenses and permits, let us move forward to getting insurance for your restaurant.
Business insurance offers much-needed protection against financial losses, helps you manage risks, and focuses on growing your business.
Before getting the insurance for your restaurant, you need to understand the specific risks for your business such as property damage, liability claims, employee injuries, food poisoning any foodborne disease, etc.
Considering the risks you might face; choose one of the types of insurance coverage that are commonly recommended for the restaurant:
General liability insurance
It provides coverage for property damage, bodily injury, or any claims made by customers, suppliers, or any third party. This is a must-have insurance for all restaurants.
Property insurance
This type of insurance covers damages to the restaurant's physical property, including the inventory, furniture, and fixtures. It also protects against any losses incurred due to fire, theft, or any other covered incidents.
Worker's compensation insurance
This insurance is mandatory in most states for businesses with employees. It covers medical expenses and wages for employees who get injured in the restaurant while working.
Moreover, it also protects your restaurant from lawsuits related to workplace injuries.
Liquor liability insurance
Liquor insurance is necessary for restaurants that serve alcohol. It provides coverage for injuries or damages caused by drunk people.
Firstly evaluate the coverage limit you need considering the restaurant's size, location, revenue, and potential liabilities. Then contact an insurance agent or broker.
11. Apply for a Bank Account & Business Credit Cards
Opening a bank account under the name of your restaurant is essential for the personal asset protection of restaurant owners.
Therefore, in however much hurry you are to open your restaurant, do not forget to set up a different bank account.
Here are two quick steps to developing a reliable accounting system for your business finances:
Open a restaurant's bank account
A business bank account keeps your personal and business expenses separate while making the accounting and business tax filing process much easier.
You will need an EIN, some personal documents, and business licenses to open a business bank account.
Get a business credit card
A business credit card can help you build a strong credit history for your business, which can help raise capital through small business loans and grants.
Keep in mind that opening a business bank account and using business credit cards wisely can contribute to your restaurant's financial stability and growth.
12. Fund Your Business
After opening the bank account, it is time to take all the finances seriously. Without finances or at least operating costs in hand, no business is going to start and a restaurant is no exception.
So, here are some ways to raise money for your restaurant:
Business loans: This is one of the most common ways to start a business, but applying for a small business loan from a bank requires a lot more documentation.
The USA Small Business Administration loans: SBA 7(a) loan is popular among restauranteurs. It can be utilized for expenses like real estate, working capital, or equipment.
 Friends or family: Reach out to your family or friends for funding. They would even provide you with loans with the lowest interest possible.
Crowdfunding: The process of supporting a project or business by getting a lot of people to invest in your business, usually online is crowdfunding.This a low-risk option, in which various investors take an interest in your business.
Self-funding your business is always one of the best options apart from all the above options. However, small business loans and SBA loans are also preferable.
13. Build a Team
After getting funding, consider hiring employees. You might not need employees for your virtual restaurant, but for a location-based restaurant, a team is necessary.
An amiable team will always help in retaining customers for your restaurant, and there are many websites that help you hire your dream team.
The list of employees for your restaurant might include three teams:
A. Front-house
Host/hostess
Server
Bartender (if you serve alcohol)
Cashier
B. Kitchen
Chef
Prep cook
Dishwasher
Food runner
C. Management
Restaurant manager
Kitchen manager
Keep in mind that creating a productive restaurant team requires time and effort. You can develop a motivated and committed team that helps your restaurant succeed by cultivating a great work environment, providing opportunities for advancement, and appreciating their efforts.
14. Prepare to Launch Your Business
Before you open the doors of your restaurant for customers, here are some things you need to make sure of:
Purchase necessary restaurant equipment and tools
Make sure to buy all the necessary kitchen equipment your restaurant needs. It includes kitchen appliances, tables, chairs, cooking utensils, decoratives, serving plates, and everything necessary to operate your restaurant. You can ask your chef about all the requirements, or can take him to the shopping together.
Get essential software and tools
This might include point-of-sale (POS) software for ordering and payment, reservation systems for bookings, inventory management tools to track supplies, and AI-powered analytics tools to gain insights into customer preferences and trends.
Develop a marketing plan
Having a solid marketing plan is necessary for customer acquisition and retention. Therefore, consider both digital and print marketing for your restaurant's pre-launch and post-launch.
Build a strong online presence
94% of people check online reviews before dining in a restaurant. Therefore, a strong online presence through a website and social media is necessary for a restaurant.
Final Words
Now that you know the steps to open a restaurant, excited to turn it into the most favorite restaurant in the neighborhood?
Use our restaurant business plan template to ensure you have covered all the aspects of launching your restaurant and making it successful. We hope this was a worthwhile journey for you.
Why Hire Costly Writers? Use Software for Business Plans!
Why pay high fees to consultants? Opt for business plan software, get comprehensive plans, save money, and gain control over your business's roadmap
Get Started Now!