Starting a bakery can be a rewarding way to make money—of course, if you like to bake cakes and pastries and invite friends over to taste.
Wondering how much does it cost to start a bakery? Look no further.
This in-depth guide will provide a thorough understanding of the costs associated with starting a bakery and help calculate costs.
Sounds interesting? Let's dive right in.
What is the cost of starting up a bakery?
Starting a home bakery in the United States generally costs somewhere between $4,800 to $8,800, whereas small bakeries cost around $26,600 to $36,700. These costs vary depending on your bakery type and location. However, you can start with a small menu to reduce the initial investment capital.
Regarding profit margins, they can be between 4% and 9% for small and home bakeries. However, this isn't the case with profitable bakeries—they can earn up to 15% in profit margins.
Average costs for starting a bakery
Before we dive into details, check out this bakery startup cost checklist. It will help you plan your startup budget and know how much financing you need to get started.
Item
Home Bakery
Small Bakery
One-time Expenses
Equipment and tools
$1,500 to $3,000
$6,000 to $8,000
Commercial kitchen (rental/lease)
$0
$6,000 to $8,000
Initial inventory
$400 to $600
$1,000 to $2,000
Website and social media setup
$0
$1,000 to $1,500
Packaging and labels
$100 to $300
$400 to $600
Renovation or construction
$0
$3,000 to $5,000
Legal and professional fees
$400 to $600
$2,000 to $2,500
Business licensing and permits
$100 to $150
$400 to $500
Total one-time expenses
$2,500 to $4,650
$19,800 to $28,100
Recurring Expenses (Per Month)
Ingredients supply
$600 to $1,000
$1,000 to $1,500
Monthly rent or mortgage
$0
$2,000 to $2,500
Business Insurance
$400 to $600
$500 to $1,000
Marketing and advertising
$0
$500 to $1,000
Maintenance and repair
$100 to $150
$4,00 to $600
Payroll
$0
$2,000 to $2,500
Miscellaneous expenses
$100 to $200
$400 to $500
Total recurring expenses
$2300 to $4150
$6800 to $8600
Total
$4,800 to $8,800
$26,600 to $36,700
Disclaimer: Note that these costs are averages and can vary significantly depending on factors such as location, ingredients, equipment needs, and more. It's important to conduct thorough research and planning to get a more accurate estimate of the costs specific to your bakery business.
Use this checklist as a rough estimate to create your startup costs checklist depending on your location, equipment needs, and other requirements.
Let's move ahead and understand how you can calculate the bakery startup costs.
How to calculate the cost of starting a bakery business
You now have a list of potential expenses and a rough estimate of your startup costs. Let's estimate your actual startup costs using these two proven methods.
The first, traditional method involves using a startup costs calculator to estimate the startup costs. However, the second, the Upmetrics method, is an innovative method that uses Upmetrics financial forecasting tool.
Let's understand both methods so that you can choose one that suits your requirements the best.
The traditional method—startup costs calculator
The calculator includes categories such as pre-trading, website setup, marketing, operations, and people. You can enter the estimated costs in each field and let the calculator estimate the costs for you.
Remember that many startup costs fall under recurring expenses, so cover those costs monthly, quarterly, or annually.
Calculate your startup costs using this calculator.
The Upmetrics method—financial forecasting tool
It is an intuitive and efficient method of calculating startup costs. Using Upmetrics will not just help you estimate startup costs but also help with financial forecasting.
All you need to do is enter your sales, costs, and other financial assumptions and let the tool calculate monthly/quarterly/ and yearly projections for you.

Check out the financial forecasting tool for accurate financial forecasting. Once you have an accurate estimate of startup costs, you can easily identify funding requirements for your bakery.
Raising funds for a new startup is certainly a nerve-wracking and time-consuming process, but having a solid bakery business plan can make things a lot easier.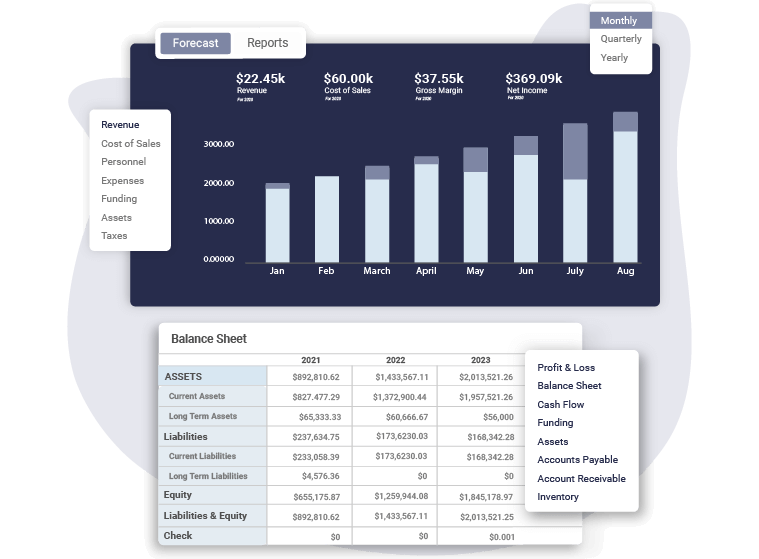 Let's move ahead and discuss the factors that affect your bakery startup costs.
Factors that affect bakery startup costs
A small or home bakery can be a low-risk and low-cost business endeavor, but here are some critical factors that can significantly affect your startup costs.
1. Location and permit costs
It's a no-brainer that location is a critical factor significantly affecting your startup costs. Of course, it won't bother you much if you start a home bakery.
Whether rent, lease terms, licensing, permits, or inventory costs, almost every expense heavily relies on your business location.
Let's understand how geographic location can influence the costs associated with various aspects of your business.
As mentioned before, rental or lease costs of a commercial space heavily rely on the locality. For instance, prime locations in urban cities or prominent neighborhoods often have higher rents.
The same goes for licensing and permitting requirements and all the other startup expenses, such as kitchen equipment, inventory costs, and renovation expenses.
Generally, a bakery's licensing and permitting requirements fall under the following categories: food service permit, zoning and land use, seller's permit, and health & safety regulations.
2. Bakery space
Renting or purchasing is a significant expense for you as a bakery owner when starting up. We know how your location influences your rental, lease, or property costs.
Let's include a few numbers in the same discussion.
Looking at the average price per square foot for offices and retail spaces, it was around $18.09 in the United States in 2020.
However, the average rental cost per square foot for metro New York offices and retail spaces is far above the average—around $81/sq. feet/year.
What if I'm planning to purchase my own bakery space?
Sure, you can always purchase a retail space. However, it requires a lot of cash even before your business starts making money.
So, leasing or renting a space is always a wise choice when starting a new business.
Still, if you can afford and are willing to purchase, you can expect to spend somewhere between $270 to $320 per square foot while buying a retail space.
You can choose any of these options depending on the budget bracket you've decided to spend on a bakery.
3. Bakery kitchen setup
You cannot have a bakery without a complete kitchen setup. Depending on your specialty or type of bakery, you will need a combination of kitchen equipment.
Your bakery kitchen setup and equipment may include commercial ovens, large flour mixers, countertop stand mixers, preparation tables, dough proofers, bread slicers, refrigerators, and deep freezers.
You can choose the size of this equipment depending on your budget and the size of your business.
You can expect to spend somewhere around $15,000 to $25,000 on a commercial kitchen setup. Renting a commercial kitchen and equipment could be a better deal—if you can find such a place.
4. Franchise fees
This one is optional. You will need to pay franchise fees depending on what bakery franchisee you plan to open. Here is a list of some of the popular bakery franchises, their franchise fees, and initial investment costs:
COBS Bread: $487,390 to $838,790 franchise fees, $200,000 initial investment
Panera Bread: $100,000 franchise fees, $942,200 initial investment
Le Macaron French Pastries: $45,000 franchise fees, $84,350 initial investment
You can use franchise directories like Top Franchise to learn more about top bakery franchise businesses and their franchise fees.
5. Furniture and interior design
The atmosphere matters the most for consumers when they enter a restaurant or bakery shop. So you surely want your space to appeal to customers and reflect your brand identity.
Of course, you may not need to spend much on interior design and furniture if you take over an existing bakery or rent a place with a similar business model.
Ask yourself a few questions while identifying the potential renovation costs.
Does the place have any existing furniture you can use?
Does the place need new flooring or fresh paint?
If there's an existing display counter, is it the right size for your needs?
Your renovation costs will depend on the present-day condition of the space. However, you can put aside around $10,000 to $20,000 as a furniture and interior design budget.
Of course, you can go up, if you have big pockets to spend.
6. Initial inventory expenses
We are done discussing bakery space, kitchen setup, and interior designing costs—now let's get into the initial inventory costs.
You will need to stock up your inventory before you open the doors of your bakery to customers. You can estimate the initial inventory costs more accurately if you know your menu, the ingredients you need, and how much you plan to sell each day.
Don't worry if you're feeling overwhelmed. You will get better at inventory management as you grow.
For now, you may expect to spend around $4,000 to $6,000 on your opening bakery inventory.
7. Marketing and advertising expenses
Spending on marketing and advertising may seem like an extra expense, but it's well worth it because they help you get the word out about your business.
As these costs don't influence your business operations, you may choose to spend depending on your budget—and of course, social media's always there for free marketing.
If you plan to spend on marketing, you may expect to spend around $500 to $1000 a month through marketing channels like—social media, print marketing, guerilla marketing, newspaper ads, etc.
8. Professional services fees
Professional services fees can add extra expenses to your startup costs, but these services are essential to ensure compliance with regulations, maintain accurate financial records, and obtain professional expertise.
Here are a few essential professional services for a successful bakery business:
Legal services— for business licensing, EIN registration, and other legal paperwork.
Business consulting—for help in business strategy, market research, operational efficiency, and other business-related services.
Accounting services—for tax planning and preparation, financial analysis and reporting, bookkeeping, and other accounting services.
Legal and business consultants usually offer their services hourly, and their charges can vary depending on their expertise in the domain. Still, these consulting services typically cost between $45 and $150 per hour.
If you hire a business consulting firm, they may charge you for services like—market research, business strategies, and similar services.
It's an optional expense; if you can manage all these things, you may not need to spend on outsourcing these services.
9. Employee salaries and benefits
Every successful business needs dedicated, hard-working employees; your bakery shop is no exception. Determine the number of employees you may need to hire, the benefits you will provide, and the training they require.
The federal minimum wage for employees in the US is $7.25 per hour. So make sure your payroll structure complies with federal and state government regulations.
10. Point-of-sale system and payment processing fees
A point-of-sale system allows businesses to accept payments through various payment methods, manage inventory, and keep track of their sales.
Reliable POS software can cost you around $60 to $500 a month, depending on the plan you choose.
It may seem like an additional expense to bear, but it's well worth it when it comes to helping you efficiently manage your business operations.
Tips for reducing bakery startup costs
1. Buy used bakery equipment
Buying used commercial kitchen setups or bakery equipment is one of the best ways to reduce your initial investment.
It won't just reduce your equipment costs by half, but you'll also be able to afford used equipment of higher quality and reputed brands.
Several suppliers in the US can provide you with quality used bakery equipment in the US. You can do a quick Google search or look within the local business directories to contact such equipment suppliers.
2. Begin small and grow
You don't need a million-dollar investment initially when starting a small bakery. The best thing you can do is—start with a smaller budget, rent a small place, and start with basic infrastructure.
You can invest extra money in upgrading infrastructure, marketing, and scaling your small bakery as you grow.
4. Start with a small menu
Does it sound similar to the previous tip? It may, but it contains a different message. You're just starting out, so you don't need an extensive menu.
Starting with a smaller menu can help reduce inventory needs, limit your daily waste, and simplify your baking or food preparation process.
Identify your best-selling products when you open the doors for customers, and plan your future strategies around them.
5. Rent space from an existing bakery
It may sound unlikely that you can find a ready-made business setup, but with proper research, you surely can find such a space.
Renting space from an existing bakery can help you reduce bakery equipment costs, renovation expenses, and other expenses.
For instance, a bakery at the location was recently closed, so people in the local market may be aware of the existence of it. It means you may not need to spend much on marketing for brand awareness.
However, you should identify any negative impacts of the prior business and differentiate your business from it.
Conclusion
And there you go. We hope now you have a better understanding of the average cost to start a bakery. What's next?
It's time to estimate the actual costs to start a bakery in your region and start budgeting. Put on your apron and share your recipes with the world.
Use Upmetrics for Accurate Startup Cost Projections!
Looking to estimate your startup costs? Dive into Upmetrics! Our business plan software makes financial forecasting a breeze
Get Precise Projections Now