With the majority of parents staying out of the home throughout the day, the daycare (childcare) business has turned into an extremely bankable one in recent years.
If you have the right resources and more importantly, are good with children. If you have ever dreamt of starting a daycare business, then you are at the right place!
Though certain sections are common to all business plans, you'll need to customize the outline as per the needs and requirements of your business.
Industry Overview
The U.S. childcare market size was valued at USD 54.3 billion in 2019 and is expected to expand at a compound annual growth rate (CAGR) of 3.9% from 2020 to 2027.
This rise in demand has come from the increasing number of working parents. Earlier parents had to quit their careers to take care of their children, but that has changed due to better daycare facilities.
Now, if you plan on entering this competitive childcare market, you must know that the daycare business is based on the foundation of trust more than anything. Hence, providing quality services and having a clean image in the market is of utmost importance.
Studies show that a lot of daycare businesses fail in their first three years due to reasons ranging from poor management to lagging finances. You can combat all of these and many more troubles if you enter the industry with a well-rounded daycare business plan.
Say goodbye to boring templates
Build your business plan faster and easier with AI
Plans starting from $7/month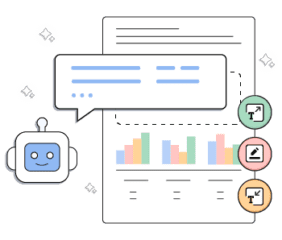 What is a Daycare Business Plan?
A daycare business plan is an equivalent of a roadmap in your business journey. A plan helps you understand what you're getting yourself into.
It helps you understand the market, figure out where you stand in it, know your target audience better, and formulate better marketing and financial strategies.
Overall, it makes your decision-making process faster and more effective and prevents you from feeling clueless at any point in your business journey.
Moreover, it also helps you get investors and helps your employees and partners understand what your business stands for. It gives the people in your business a feeling that you have a vision and know what you are doing with your business.
Also, you get to set clear goals that give you a direction to work and put your efforts in.
Why is a Daycare Business Plan Important?
Everything you do for your business should add value to it. And here's how a daycare business plan can add value to your business:
It gives you a sense of direction

There are several ways you can go with each business decision. A business plan helps you understand what would work best for your business then.

Also, it gives a set of tangible goals to look forward to when you work on your business.

It helps you understand your target audience better

Planning your business gives a better form and structure to your research. Which at the end of the day helps you understand your customers better. It also helps you analyze what it means for your business.

Making and upgrading your product or service for your customers serves the biggest purpose at the end of the day.

It helps you understand your competition better

Imagine there's a popular daycare center in your city and several parents swear by it. Now, this could mean several things for your business.

You'll have to pick a different location, know the daycare service's weaknesses and offer better services by working on that area for your business.

You can also pick the things they are doing right, and inculcate the same in your strategies.

A business plan can help you do all of the above and more through a competitive analysis.

It helps you convince your investors

Though making the right prediction is difficult, having a rough idea of your business's sales and financial potential is important to get investors on board.

Investors want to know the scalability of your business before they invest in it. A good and realistic prediction of returns makes it easier to convince investors.

And a business plan can help you make realistic financial predictions.

It keeps you updated with the latest business trends

A business plan is a living document that grows alongside your business. It also helps you have a foresight of changing trends and act on time for getting the best results for your business.

This also makes it important for you to keep updating your plan as your business grows.
What does a Daycare Business Plan Look Like?
If you are planning to start a new auto or car repair shop, the first thing you will need is a business plan. Use our sample Daycare Business Plan created using Upmetrics business plan software to start writing your business plan in no time.
Before you start writing your business plan for your new auto repairing shop, spend as much time as you can reading through some examples of Children's & Pet business plans.
Moreover, business plans come in different forms to fit the current state of your business.
Apart from that, there are a few major sections that should be included in every business plan.
Daycare Business Plan Outline
This is the standard business plan outline which will cover all important sections that you should include in your business plan.
Executive Summary

Executive Summary
Objectives
Mission
Keys to Success

Business Overview

Company Summary
Ownership

Timothy Bernard Kilpatrick

Start-up Summary
Locations and Facilities

Services

Service Description
Competitive Comparison
Sales Literature
Fulfillment
Technology
Future Services

Market Analysis

Industry Analysis
Market Segmentation
Market Analysis
Target Market Segment Strategy

Market Needs
Market Trends
Market Growth

Service Business Analysis

Business Participants
Competition and Buying Patterns

Main Competitors

Strategy and Implementation

Strategy and Implementation Summary
Value Proposition
Competitive Edge
Marketing Strategy

Positioning Statement
Pricing Strategy
Promotion Strategy
Marketing Programs

Sales Strategy

Sales Forecast
Sales Programs

Strategic Alliances
Milestones

Web Plan

Web Plan Summary
Website Marketing Strategy
Development Requirements

Management & Organizational Structure

Management Summary
Organizational Structure
Management Team

Timothy B. Kilpatrick
Carolyn Steverson
Candice Harris

Management Team Gaps
Personnel Plan

Financial Plan

Projected Profit and Loss
Projected Cash Flow
Projected Balance Sheet
What to Include in Your Daycare Business Plan?
A good daycare business plan consists of a certain number of well-defined sections, the following sections can help you in writing an excellent business plan.
1. Executive Summary
The executive summary section is one of the most important sections of your business plan because it not only forms the first section of your business plan but also acts as a pitch for potential investors who can provide you with funds for your daycare business.
It consists of your company's vision and mission, its USP, objectives, and also expected revenues.
Writing the executive summary section of your plan at the very end, so you can sum up your plan properly is a good tip to remember.
2. Services
In this section, you should give out a clear idea of what your services are and whom it caters to. You should define your target market, your niche, the area your services will be extended to, etc.
As a daycare center, you should have a clear idea of the age group you will cater to, what is the preferred location of your target audience, how you come off as a service to your customers, and so on.
3. Market Analysis
Market analysis can be of great help to any business, it can help you understand what you are getting yourself into, who your competitors are, what your client base expects out of you, and where you stand in the current market situation.
Hence, market analysis immensely improves your understanding of the industry you are getting into. In the case of a daycare center knowing the best practices of childcare that exist in the market can be of great help.
4. Web Plan
In today's internet-based world, most busy parents looking for a daycare center online. Hence, having a strong and reliable web presence is crucial to the success of your daycare business. Thus, including a web strategy in your business plan is necessary.
Always remember, as a daycare service coming off as a trustworthy and reliable institution is crucial for your business to work.
5. Management and Organizational Structure
Having a well-structured management system is especially crucial for a daycare service. It not only helps your business run smoother, but it also makes you look more responsible and reliable in front of the parents or the primary caregivers.
In this section, you should include the structure of your organization, details about people on various levels in your company, a solid system for tracking everyone's work and progress, the areas your team is excelling at, and the areas your team is lagging in.
6. Financial Plan
One of the chief reasons for several daycare services running out of business is poorly managed finances or running out of funds to keep going.
Planning your finances in the early stages of your business saves you from encountering such a problem later on.
Hence, planning your finances is mandatory while writing a business plan.
Download a sample daycare business plan
Need help writing your business plan from scratch? Here you go; download our free daycare business plan pdf to start.
It's a modern business plan template specifically designed for your daycare business. Use the example business plan as a guide for writing your own.
The Quickest Way to turn a Business Idea into a Business Plan
Fill-in-the-blanks and automatic financials make it easy.
Get Started Now!

Daycare Business Plan Summary
In conclusion, apart from having a good image as an organization, a well-managed team, a clearly defined niche, thorough research of the market and an excellent financial plan is crucial to the success of a daycare business.
After getting started with Upmetrics, you can copy this sample daycare business plan into your business plan and modify the required information and download your daycare business plan pdf or doc file.
It's the fastest and easiest way to start writing your business plan.