Waste management is one of the biggest concerns countries around the world are facing. Hence, a dump truck business could turn into an extremely profitable one if you do it right.
And if you are here, chances are that you want to get into the business and have some ideas that can help people change or improve the way they manage their waste.
It is a great initiative that can help the environment as well as become a source of income for you. All you need is a dump truck business plan to help you get started the right way.
Industry Overview
The dump truck business stood at a huge market value of 44.3 billion dollars in 2019 and is growing at a fast pace ever since then.
And if you want to make a place for yourself in the market, you'll need to offer effective and innovative solutions that help people get at least one step closer to solving the problem of waste management.
It can be anything from a better recycling or disposal technique or an idea that helps put waste to good use. All in all, with a little effort you can build a profitable business with just a single truck or a fleet of trucks.
Say goodbye to boring templates
Build your business plan faster and easier with AI
Plans starting from $7/month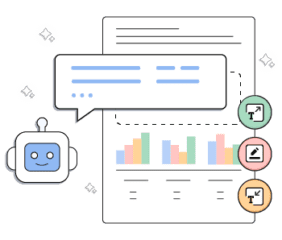 Things to Consider Before Writing a Dump Truck Business Plan
Get the necessary permits and licenses

As the nature of the work requires attention to safety, a dump truck business requires some licenses and permits before you get started. Getting the licenses and permits helps you stay on the right side of the law. To make the process of getting all your legal documents in place easier you can get a checklist of all the necessary documents to ensure that you don't miss out on anything.

Conduct a thorough market research

Thorough market research will help you understand what you are getting yourself into. Try to understand how the industry works, who is your target audience, what are your competitors doing, what are strategies work for them and what don't, and so on.

Decide the size of your business

A dump truck business can be of any size from a single truck to a fleet of trucks. You'll need to figure out what size works best for you based on your resources, finances, and other circumstances. Deciding the size of your business helps you use your resources right and expand your business optimally.

Use technology to your advantage

The dump truck industry has progressed significantly. And the use of technology wherever possible can make life easier for you and your team. It also makes the workings of your business and your daily business activities more efficient. Hence, try to figure out the prevalent technology and how to use it for your business.
Chalking out Your Business Plan
Solid waste disposal is a problem every nook and cranny of this world suffers from. Not only is it a part of debates and discussions at various institutions, but it is also a pressing problem that governments across the globe are trying to find a solution to.
And with pressing, problems come highly profitable businesses, if you offer innovative and effective solutions. The same holds for the dump truck business, the dump truck business stood at a huge market value of 44.3 billion dollars in 2019 and is growing at a fast pace ever since then.
Now, it might sound like a complicated business to get into, but all you need is a truck, a driver's license, and most importantly, a well-written business plan to get started with a dump truck business.
Read on to find out how a dump truck business plan can help you and how to write one.
How Can a Dump Truck Business Plan Help You?
A dump truck business plan can not only help you in formulating a cost-effective and profitable business model, but it can also help you in understanding the industry better.
For example, in a dump truck business knowing the safety procedures, and having the required licenses given the hazardous nature of the work is important. Also, crafting cost-efficient methods which are environmentally friendly too can act as a plus.
A well-written business plan can help you in achieving all of the above.
Apart from that, it can make carrying out the business easier and smoother. This brings us to our next question, how to write a business plan?
How to Write a Dump Truck Business Plan?
Several areas are common to all business plans and certain areas are specific to a dump truck business.
Moreover, dump truck businesses in different regions need different models depending upon various factors like laws regarding waste disposal in a particular area, demographics, the size of the population, etc.
Various resources like pre-designed templates and online business plan software can help you write a business plan. Specifically, online business plan software can help you write a plan customized as per the needs and requirements of your business.
Dump Truck Business Plan Outline
This is the standard dump truck business plan outline which will cover all important sections that you should include in your business plan.
Executive Summary

Mission Statement
Vision Statement
Target Market
Financial Summary

Company Summary

Business Structure
Startup Summary

Products and services
Market Analysis

Market Trends
Target Market
Market Segmentation

Chemical & Construction Material Manufacturing Companies
Mining Industries
Earthwork Companies
Maintenance Authorities

Strategy & Implementations

Advertising Strategy
Pricing Strategy
Sales Strategy

Personnel Plan

Company Staff
Average Salary of Employees

Financial Plan

Important Assumptions
Brake-even Analysis
Projected Profit and Loss

Profit Yearly
Gross Margin Yearly

Projected Cash Flow
Projected Balance Sheet
Business Ratios
What to Include in a Dump Truck Business Plan?
A dump truck business plan consists of several aspects and segments. Here is an overview of segments that'll help you create a well-defined business plan.
1. Executive Summary
The executive summary section is a crucial part of any business plan. It sums up your entire business; its vision, mission, functioning, and target market. It also acts as a pitch for potential investors and can help you get funded if you write this section well.
An easy tip for writing a good executive summary is to write it towards the very end while writing your business plan, so you can sum up your plan properly.
2. Products and Services
In this product and services section, you will include the entities your business is going to serve, your target market, the specialties of your services, your competitive edge, etc.
For example, as a dump truck business owner, you can note down if your business would deal with the waste disposal of the industrial sector, the residential sector, or others. You can also add if your disposal methods are eco-friendly or not, ways you use to provide cost-effective services, etc.
3. Market Analysis
Carrying out a market analysis serves as the main point of writing a business plan. It gives you a clear idea about the industry, helps you spot gaps in the market where your business can fit in, and also in knowing your target audience better.
While carrying out market analysis, make sure you know what your competitors are doing and what all techniques and methods of conducting the business exist in the market. Apart from that, market analysis also helps you in formulating your business strategy.
4. Personnel Plan
Given the dangerous nature of the job, it is important to have well-trained personnel and tools for tracking their performance.
The personnel plan section can help you organize the people in your business and avoid hazards that might occur due to the mismanagement of employees.
5. Financial Plan
Managing your finances well is an essential aspect of any business. It decides whether your business would stand the test of time i.e., periods of recession in the industry or not.
Hence, while writing a financial plan make sure you include a history of your finances, their current condition, and possible resources for obtaining funding for your business.
Download a sample dump truck business plan
Need help writing your business plan from scratch? Here you go; download our free dump truck business plan pdf to start.
It's a modern business plan template specifically designed for your dump truck business. Use the example business plan as a guide for writing your own.
The Quickest Way to turn a Business Idea into a Business Plan
Fill-in-the-blanks and automatic financials make it easy.
Get Started Now!

Dump Truck Business Plan Summary
A business plan can help you achieve good finances, a well-defined marketing strategy, well-managed people, and an excellent progress-tracking system.
Hence, you can get into and thrive in a dump truck business if you go about it with a proper plan. Though it might seem intimidating at first, a business plan becomes your biggest aid in turbulent times.
After getting started with Upmetrics, you can copy this sample dump truck business plan into your business plan to modify the required information, and download your dump truck business plan pdf or doc file. It's the fastest and easiest way to start writing your business plan.
So go on, write your business plan, and get ready to take the dump truck market by storm.