If you are a friendly person and like seeing new people, opening an ice cream parlor might be a good choice for you. An ice cream parlor is one of those rare places which is frequented by people from all age groups.
We all know that people love ice cream. So much so that it has become a 66.64 bn dollar industry in the US and is continuing its sweet journey to the top even now.
Does the prospect of having an ice cream parlor sound delightful yet? If it does, you might need just one more thing before getting started. A business plan.
A business plan can save you from a million worries and make running your ice cream parlor a smoother process.
And if you are ready to spread good cheer through your ice cream parlor, read on to find out how to write an ice cream parlor business plan.
Why do you need an ice cream shop business plan?
You may wonder, isn't being friendly and having a good knowledge of ice creams enough to run a successful ice cream parlor?
The answer is no. Running an ice cream parlor is a lot more than what it looks like on the surface.
You have to manage your finances, market your business, take care of products you need to make ice creams and the other frozen desserts you serve, manage a team, and much more.
But do not let the above things stress you out. An effective business plan can help you manage all of the above and beyond it.
And if you want to know how to write a business plan, read on.
How to write an ice cream shop business plan?
Before you start writing a business plan, ask yourself some questions:
How far do I wish to go with this business?
What kind of ice cream will I serve?
How would my range of products help me stand apart from my competitors?
What are the current market size and market gaps of the product I am going to serve?
With clarity on these few initial questions, you can go on and write an effective business plan with the help of a premade template or online business plan software.
Ice cream parlor business plan outline
This is the standard ice cream parlor business plan outline which will cover all important sections that you should include in your business plan.
Executive Summary

Objectives
Mission
Keys to Success

Business Summary

Overview
Start-up Summary
Funding Required
Company Ownership

Products and Services

Frozen Custard
Italian Ice

Market Analysis

Market Segmentation

Marketing Share
18-24-Year-Olds
First Families
Other

Market Analysis
Target Market Segment Strategy
Industry Analysis

Competition and Buying Patterns
Competitors

Strategy and Implementation Summary

Competitive Edge
Milestones
Marketing Strategy
Sales Strategy

Sales Forecast
Sales Yearly

Management Summary
Financial Plan

Important Assumptions
Brake-even Analysis
Projected Profit and Loss

Profit Yearly
Gross Margin Yearly

Projected Cash Flow
Projected Balance Sheet
Business Ratios
Say goodbye to boring templates
Build your business plan faster and easier with AI
Plans starting from $7/month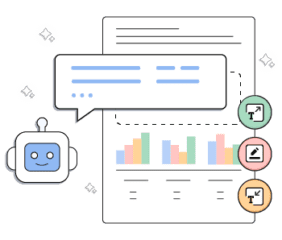 What to include in an ice cream shop business plan?
Though, there are several aspects common to all business plans that need to be included in your ice cream parlor business plan.
1. Executive Summary
An executive summary section would be the first page of your business plan. And if you plan on getting funded, make sure you write a good one. Because the executive summary might be the only page your investor reads.
Sum up your business idea properly and clearly. Include your mission statement, the objective, as well as a summary of your products and financial plan.
2. Products and services
This section consists of a detailed description of your products and services. It would also include the market gap your product seeks to fulfill.
As an ice cream parlor, you can include a description of the variety of ice creams you offer and what is the current market size of the product you are going to offer.
3. Market Analysis
One can not put enough emphasis on the importance of this section. It is the soul of your business plan. Because you cannot write a good plan without conducting a thorough analysis of the market.
While carrying out a market analysis, try to find out as much as possible about the market trends, your target market, the market position of your business, etc.
A thorough analysis of the market comes in handy while formulating the marketing strategy.
4. Marketing Strategy and implementations
After carrying out market analysis, formulating a marketing strategy becomes easier. Now you can take note of the most clear-cut strategies for reaching out to your target audience.
This section would not only consist of your marketing and sales strategy but also of a progress tracking system of how well your strategies are working.
5. Financial Plan
Planning your finances in the initial stages of your business ensures it runs smoothly later on. A good financial plan saves you from feeling lost and helpless.
This section would consist of your financial history, the current state of your finances, and if you would require funding or not. As well as the projected cash flow and profit of your business.
Download a sample ice cream parlor business plan
Need help writing your business plan from scratch? Here you go; download our free ice cream parlor business plan pdf to start.
It's a modern business plan template specifically designed for your ice cream parlor business. Use the example business plan as a guide for writing your own.
The Quickest Way to turn a Business Idea into a Business Plan
Fill-in-the-blanks and automatic financials make it easy.
Get Started Now!

Ice cream parlor business plan summary
All in all, a business plan can help your ice cream parlor business grow by leaps and bounds. It can save you from the chaos and troubles unplanned businesses go through.
With well-managed finances and well-designed and well-tracked strategies, you get to focus on what you like doing the most. It also helps you serve your customers in the best possible way.
After getting started with Upmetrics, you can copy this sample ice cream parlor business plan into your business plan and modify the required information and download your ice cream parlor business plan pdf or doc file. It's the fastest and easiest way to start writing your business plan.
So, what are you waiting for? Go ahead and start writing your business plan.