If you have a knack for making smoothies and juices and can add your unique touch to make it better, you might have thought of opening a juice bar.
After all, in this age of food photographs, there are a few other things people value more than a fancy-looking glass of juice. So it can be your time to shine.
Moreover, the juice and smoothie industry in the US stood at a market size of 2.71 billion dollars and it continues to grow at a fast pace.
We have created this sample Juice Bar Business Plan to get a good idea about what a perfect juice bar business plan should look like and what details you will need to include in your stunning business plan.
Before you start writing your business plan for your new juice bar business, spend as much time as you can reading through some samples of food and restaurant-related business plans.
Things to Consider Before Writing a Juice Bar Business Plan
Before you start writing your business plan, make yourself ready with detailed research so that you do not miss out on important details.
A few points to consider are as follows:
Decide the type of your business

Decide whether your juice bar would be a drive-through or a cafe. A lot of aspects of the business planning process would depend on it.

Do your research

Research is one of the most crucial aspects of the planning process. It helps you collect facts about the business and the industry.

Know your target audience

Knowing your target audience can be of great help to any business. As a juice bar business, knowing what kind of drinks and services your customers prefer, the social media platforms they use, and the way they acquire information can be of immense help.

Get help

A little help, in the beginning, can take you a long way. And you can easily get help while writing your plan through a premade template or an online business plan software. Business plan software can help you write a compact and customizable plan anywhere and at any time.
Why Do You Need a Business Plan?
A juice bar business plan can be useful for all aspects of your business, from marketing to finances.
Some use cases of a business plan are as follows:
It helps you in acquiring funds

Lack of funds never needs to be the reason stopping you from having your own business. A proper business plan helps you sort out your funding requirements and your sources for getting the same. Moreover, a business with a plan based on facts is much more likely to get funded by investors or banks than one without a plan.

It sets out a roadmap for growth

A plan helps you prepare a goal and strategy that would lead to the growth and success of your business. It helps you take well-measured steps while you do your business. It also helps you assess potential risks and grab opportunities that come your way.

It helps you keep a track of your progress

A business plan not only helps you grow, but also helps you keep a track of your strategies. It helps you find out whether your strategies are working or not at the right time. Hence, when things aren't going the way you planned, you can figure out why and make the necessary changes to your plan.
Chalking out Your Business Plan
For starting a juice bar business, you will need a proper plan to grow and promote it. From setting up your juice bar to promoting it, a business plan can help you with everything.
Reading sample business plans will give you a good idea of what you're aiming for. It will also show you the different sections that different entrepreneurs include and the language they use to write about themselves and their business plans.
Juice Bar Business Plan Outline
This is the standard juice bar business plan outline, which will cover all important sections that you should include in your business plan.
Executive Summary

Mission Statement
Vision Statement
Customer Focus
Success Factors
Financial Summary

Company Summary

History
Business Structure
Startup Summary
Store Design

Products and Services
Market Analysis

Industry Analysis
Target Market

SWOT Analysis
Strategy & Implementations

Sales Strategy
Advertising Strategy

Direct Mail
Public Relations
Advertising
Sampling
Ongoing Customer Communications
Pre-Opening Events

Pricing Strategy

Financial Plan

Important Assumptions
Brake-even Analysis
Projected Profit and Loss

Profit Yearly
Gross Margin Yearly

Projected Cash Flow
Projected Balance Sheet
Business Ratios
Say goodbye to boring templates
Build your business plan faster and easier with AI
Plans starting from $7/month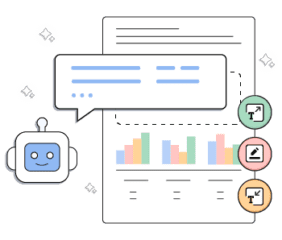 Let's understand what you should write in each section of your juice bar business plan.
1. Executive Summary
The executive summary section sums up all that your business stands for. It forms the first page of your business plan but is usually written towards the very end to help you sum up your business ideas properly.
The executive summary section is usually the only section an investor reads. Hence, if you write a good executive summary, you can get funded.
As a juice bar, your executive summary would consist of the purpose of your business and a summary of all the major sections of your plan.
2. Company Summary
The company summary section consists of the type of juice bar you operate, the period of your business's functioning, the legal structure of your business, and its milestones and achievements.
This helps people understand the structural aspects of your business better.
3. Products and Services
This section would consist of a thorough description of your products and services. Defining your product properly helps you in promoting it in a better way.
As a juice bar, you can define the types of juices and smoothies you offer. Whether you focus more on diet-friendly drinks, breakfast smoothies, or any other specific area.
4. Market Analysis
The market analysis section consists of information about your target audience, your competitors, and your market position. This section helps you make sense of your market research and apply it to your business work.
As a juice bar, you'll include information about your competitors, your customers, the size and growth rate of the juice market, and how you plan on reaching out to your target audience.
5. Financial Plan
A financial plan consists of your business's projected cash flow and profits, as well as your funding requirements. A financial plan helps your business stay afloat during the tough times and make maximum profit during the good ones.
It makes sure that your finances are well managed and you never face a cash crunch.
A juice bar includes the cost of your setup and funding requirements. Also, include your expected cash flow and profits.
Download a sample juice bar business plan
Need help writing your business plan from scratch? Here you go; download our free juice bar business plan pdf to start.
It's a modern business plan template specifically designed for your juice bar business. Use the example business plan as a guide for writing your own.
The Quickest Way to turn a Business Idea into a Business Plan
Fill-in-the-blanks and automatic financials make it easy.
Get Started Now!

Juice Bar Business Plan Summary
In conclusion, a business plan can be very handy while managing your business and making important decisions for it. It helps you identify opportunities and assess risks that the market poses.
It can help you manage your finances and promote yourself better. Also, serve your customers better and optimize your product as per their tastes and preferences.
So, if you want to start a juice bar business, go ahead and start planning.
After getting started with upmetrics, you can copy this sample juice bar business plan template into your business plan and modify the required information and download your juice bar business plan pdf and doc file. It's the easiest and fastest way to write your business plan.