Beautiful and well-maintained lawns are a treat to look at. But with today's hectic lifestyle, few people have the time and energy required to maintain one.
And with more income at their disposal, people like to outsource this task to professionals who can manage their gardens well and design them in a way that enhances their house's beauty.
With artistic lawns cropping up at every corner of our cities, the demand for landscaping architects is at its peak. Be it offices, residential spaces, or public areas, every space needs an aesthetically pleasing lawn.
But not everyone has the amount of creativity and precision that goes into maintaining beautiful gardens. And if you have it, then a landscaping business might be the right choice for you.
All you need is a little bit of groundwork and a proper landscaping business plan.
Industry Overview
According to recent statistics, the landscaping industry employs over 1 million people and has grown 4.9 percent since 2020.
So, if you are a creative individual who can think out of the box, a landscaping business can help you reach your maximum potential. The best part about the landscaping business is that it takes minimum entry conditions and minimal costs to set up.
Now, you may wonder, why do so many landscaping businesses owned by highly creative individuals fail? The reason is as simple as it gets; The lack of a proper business plan.
Although creativity is essential to help you stand out, a landscaping business plan is of utmost importance for the sustenance of your business.
Here, we'll share a few tips to make your setup process smoother.
Say goodbye to boring templates
Build your business plan faster and easier with AI
Plans starting from $7/month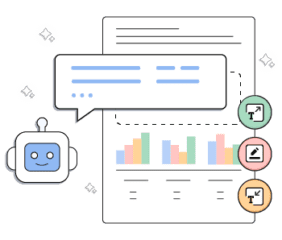 Things to Consider Before Writing a Landscaping Business Plan
Decide what services you want to offer

Landscaping comes with a lot of sub-niches and additional services. Deciding what you can and should offer as per the needs and requirements of your target audience is essential.

It helps you stay prepared for the service, including getting the right equipment and hiring the right people. Picking your niche is also a great help while formulating business strategies.

Get the required permits

Although the landscaping business does not have strict entry conditions, there are a few licenses and permits that you should have before getting started.

The easiest way of doing this is by checking out all the permits required by your state and area and making a checklist for keeping track of what you have got and what not.

Having all the necessary permits helps you stay on the right side of the law.
Develop a pricing strategy

As you have a service that is mostly based on skill and equipment cost, you'll have to give your pricing strategy a serious thought before getting started.

It is essential to ensure that your pricing is neither too much for your customers nor too little for your business to make any profit. There are several ways you can set a pricing strategy, depending on your competitor's pricing, your market position, and the demand for your services.
Know your target audience

Knowing your target audience is crucial to business success. Researching who your target audience is, what are their motivations to avail landscaping services, how they avail such services, what kind of service they prefer  (This can also help in deciding your niche and additional services), what prices they are willing to pay, etc.
How Can a Landscaping Business Plan Help You?
A business plan can become a constant guide in your business journey. It'll aid you while sailing through the roadblocks, prevent you from having chaotic finances, help you in knowing the market and your competitors better, and save you from the trap of having a static business model that becomes irrelevant as the industry changes.
Apart from that, in the landscape business, it would help you in developing your unique style and technique that sets you apart from your peers.
How to Write a Landscaping Business Plan?
As we have discussed the benefits of a business plan, it brings us to our next question.
How do you write one? Moreover, how do you know if you have written a good one?
Don't worry! There are several quick and cost-effective solutions to your problem.
If you find writing a business plan intimidating, there are several options like business consultants, premade templates, and online business plan software which can help you create a complete and evolving business plan anywhere and at any time.
We have created this sample landscaping business plan for you to get a good idea of what a perfect landscaping business plan should look like and what details you need to include in your stunning business plan.
Landscaping Business Plan Outline
This is the standard landscaping business plan outline which will cover all important sections that you should include in your business plan.
Executive Summary

Objectives
Mission Statement
Vision Statement
Financial Summary

Company Summary

Products and Services
Funding Required

Market Analysis

Market Trends
Target Market
Market Segmentation

Strategy & Implementations

Sales Strategy
Sales Forecast
Marketing strategies
Milestones

Management Summary

Personnel Plan
Average Salary of Employees

Financial Plan

Important Assumptions
Brake-even Analysis
Projected Profit and Loss

Profit Yearly
Gross Margin Yearly

Projected Cash Flow
Projected Balance Sheet
Business Ratios
Now Let's Understand How You Should Complete Each Section.
1. Executive Summary
The executive summary is one of the most crucial sections of your business plan, as it is the first and foremost document in it and serves as a pitch to your prospective investors. Hence, this section should sum up your business idea and function with utmost precision.
It should also consist of a mission statement and clearly state your vision for the business. For a landscaping business, it would consist of your growth model, your source of labor and raw material, as well as how your style of design sets you apart from the others.
2. Description of your niche
Next up, you'll need to define the niche your business functions in. As landscaping consists of several areas like,
Commercial Landscaping
Residential Landscaping
Art-based designs(for public and tourist spaces)
It is necessary to define what kind of services you'll offer and who would be your primary client base. So, how can you select a niche? We'll discuss that in the competitive and market analysis section.
3. Competitive and Market Analysis
Before you enter any market, it is the wisest thing to carry out an analysis of the current market situation and the recent trends in the industry. Also, it is a good practice to know what your competitors are doing, because if you are aware of what's going on, deciding what you should do and what gaps you can fill through your services becomes easier. Hence, this helps you in identifying what your niche would be.
For example, if there is a dearth of good landscape architects for office spaces in your area, you can accordingly modify your skills and marketing strategy to serve the purpose of capturing that market.
4. Website Strategy
In today's fast-paced environment, most people prefer getting their work done online. Hence, having a website is necessary for your business to be discovered. Thus, including a website strategy in your plan is essential. Also, as a creative business, your website needs to lean on a more artistic side and represent what your style stands for.
5. Management Summary
In this section, you are supposed to include important information about people responsible for a company's management, the tasks they have been delegated, their roles and responsibilities, etc. As a landscaping business has a large scale of functioning, you need to include this section in your plan.
6. Financial Plan
Writing a financial plan is a necessary step toward creating a well-rounded business plan. A financial plan helps your business in becoming cost-effective and profitable. It also helps you pre-plan and stay afloat in times of recession and instability in the market. Hence, this section is necessary for the sustenance of your business.
Download a sample landscaping business plan
Need help writing your business plan from scratch? Here you go; download our free landscaping business plan pdf to start.
It's a modern business plan template specifically designed for your landscaping business. Use the example business plan as a guide for writing your own.
The Quickest Way to turn a Business Idea into a Business Plan
Fill-in-the-blanks and automatic financials make it easy.
Get Started Now!

Landscaping Business Plan Summary
In conclusion, a business plan can turn to conduct your landscaping business a hassle-free activity. Moreover, a well-planned business with clearly defined goals and dynamic strategies has a higher chance of succeeding than one which doesn't have either of these things.
Besides the above things, in the landscaping business, it is also important to have a thorough knowledge of advanced technology and newly improved techniques to improve the efficiency of your business's day-to-day activities.
After getting started with Upmetrics, you can copy this sample landscaping business plan template into your business plan and modify the required information and download your landscaping business plan pdf or doc file. It's the fastest and easiest way to start writing your business plan.
So, are you ready to reach far and wide in the landscape market with your well-written business plan?