Hours in the traffic or listening along as you work, podcasts are popular for everything from entertainment to education.
And due to the convenience, this form of content offers podcasts, and audio content is bound to grow in popularity in the future as well.
And if you are someone who can speak with the right tempo and have in-depth knowledge about a subject, then you might have thought of having your podcast.
If yes, then all you would need is quality content and a podcast business plan.
Industry Overview
The podcast industry stood at a market value of 11.46 billion dollars in 2020 and is growing at a rapid rate. The biggest benefit of the industry is that it is a growing market and has space for newcomers as people continue to adopt podcasts as a form of content consumption.
The main reason for the growth is the convenience it offers and how it allows people to get content from any subject while they go on about their other activities.
Another major benefit is the ease of setup and less requirement of finances, especially when you are just getting started.
Say goodbye to boring templates
Build your business plan faster and easier with AI
Plans starting from $7/month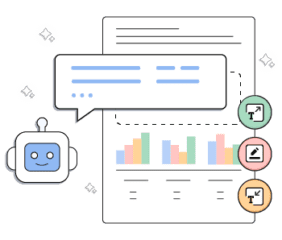 Things to Consider Before Writing a Podcast Business Plan
Know your audience

Knowing your audience is primary to having a successful podcast. Try to figure out what your audience wants to listen to, what are their questions, what are their challenges, how can you help solve them, etc.

It helps you create effective content that your audience wants to listen to and also creates something that adds value to their lives. Hence, as soon as you figure out your niche, try to find out what questions your audience has on that subject.

Choose the right platform

The right platform which attracts the audience in your niche is essential to the success of your podcast. The right content on the wrong platform is a sure-shot recipe for disaster. Hence, it is essential to do your research and pick the right platform to ensure that your efforts don't go to waste.

Get the right equipment

The right equipment can make all the difference for your podcast. And as it is the main primary cost of your business, make sure that you get the best equipment to help you get started on the right foot. Bad sound quality and other disturbances can act as a major turn-off for your audience. Hence, invest in the right equipment to avoid that.

Figure out what your audience would get out of your podcasts

Asking the question "why" is important to help you create the right content for your audience, and also to help you stay on track as your podcast grows. Hence, it is important to ask yourself why you want to start the podcast and what people would get out of it before getting started.
Chalking out Your Business Plan
If you are planning to start a new Podcast Business, the first thing you will need is a business plan. Use our sample podcast business plan created using Upmetrics business plan software to start writing your business plan in no time.
Before you start writing your business plan for your new podcast business, spend as much time as you can reading through some samples of entertainment-related business plans.
Reading sample business plans will give you a good idea of what you're aiming for, and also it will show you the different sections that different entrepreneurs include and the language they use to write about themselves and their business plans.
We have created this sample podcast business plan for you to get a good idea about what a perfect Podcast Business Plan should look like and what details you will need to include in your stunning business plan.
Podcast Business Plan Outline
This is the standard podcast business plan outline which will cover all important sections that you should include in your business plan.
Executive summary

Problem Definition & Validation

Promotion of fixed mindsets at schools.
Work-Place Related Mental Health Conditions

Solution

Strategically Devised Courses by Mindcast
Solution Features

Objectives

Short-Term (1 -3 Years)
Long Term (3-5 years)

Mission statement
Unique Selling Proposition
Financial Highlights

Mindcast – 3-Year Financial Highlights

Business Overview

Company Ownership/Legal Entity
Location
Interior Operating Facilities
Hours of Operation
Startup summary

Products & Services

Podcasts

Learning How to Learn
Coaching Educators
Mental Health Development
Emotional Well-Being at Workplace
Overcoming Imposter Syndrome
Understanding Anxiety, Depression and CBT

Market Analysis

Market segmentation
Market Trends
Target market
Competitor Analysis
Competitive Advantage

SWOT analysis
Strategy & Implementation

Target Market Strategy
Distribution Strategy
Positioning Statement
Sales strategy

Online Marketing Channels
Offline Marketing Channels

Pricing strategy

Operational Plan

Organization Chart
Management Team
Personnel Plan

Hiring plan
Jane Doe
Amanda Doe
Jane Green

Milestones

Financial plan

Important Assumptions
Break-even analysis
Projected Profit and Loss

Profit Yearly
Gross Margin Yearly

Projected Cash Flow
Projected Balance Sheet
Business Ratios
After getting started with Upmetrics, you can copy this sample podcast business plan into your business plan and modify the required information and download your podcast business plan pdf or doc file. It's the fastest and easiest way to start writing your business plan.
The Quickest Way to turn a Business Idea into a Business Plan
Fill-in-the-blanks and automatic financials make it easy.
Get Started Now!

Download a sample podcast business plan
Need help writing your business plan from scratch? Here you go; download our free podcast business plan pdf to start.
It's a modern business plan template specifically designed for your podcast business. Use the example business plan as a guide for writing your own.