John:
Oh, everything looks amazing but Jack, you haven't added the competition section to your business plan.
Jack:
Oh do I need to add it to the business plan?
John:
Well, yes. That's how our investors will know about our competition.
Jack:
Yeah, that sounds right. But
how to write a business plan
? How long should it be?
John:
Oh that's confusing. I understand. But let's read this guide by
Upmetrics
.
What is the Competition Section?
Your business plan includes a lot of operational sections. Every section holds different importance. In that case, competition is one of the most fundamental aspects of your business. And so, it needs to be added to your business plan. The section that explains your competition is your competition section.
While deciding where to add the competition section, pay attention to the flow of your business plan. Moreover, it also depends on the priority. So, it must come next to your objective, problem statement, product/services, and target audience.
Why do You Need a Competition Section in Your Business Plan?
The why of your business plan depends on your purpose-
If your purpose is to direct your business growth:

Your competition status can play as your reference point. Here, the competition section serves as a medium for understanding your competition. So, you can develop strategic positioning.

This can help you and your team to look at comparative strengths and weaknesses exclusively. So, you can easily come to the strategies that work in your favor, and give you a competitive advantage.

If your purpose is to create a business plan to seek investment:

You must add it to inform your investors about your competition, market position, and brand promise.

You need to describe the competition to reassure probable investors that you know and understand your competition. And that you are ready to take advantage of opportunities and avoid the pitfalls.

Apart from this, your purpose also makes a difference in how to write your competition section in your business plan. However, the difference is minor, and the effect of it is profound.
How to write a competition section in your business plan?
Regardless of your purpose mentioned above, you have to include all the steps mentioned below. Wherever there is the need for that 'minor' change, we will include it under the same step.
While following this step, we suggest you take action side by side. So, it becomes easier to implement. Moreover, before putting up your competition section, be ready with your competition data.
Also, make sure that you have conducted a competitive analysis and processed data of at least 5 competition companies. Once you have everything you need, you can go through the following steps-
1. Determining and Documenting Your Business Position
Regardless of your purpose, you will have to follow this step. And there isn't any major difference here. You need to know your business position in the market and document it properly. However, we will first talk about the determining part. And then, document it for the competition part of your business plan.
How to determine your market position?

Gather crucial details for your company and your competitors' company. When you have all the data, you compare them. And put it up on the competition graph.

The details you will need include:

USPs
Sales Figures
Profit margins
Distributors
Users

You can also add the marketing column if you find the need. Here, your goal is to make clear positions with respect to your target markets.

However, there are two most reliable ways to determine your position:
Position Mapping Graph

You can do this for 5 main aspects of your business-

For product characters
For price
The quality of products/services
The number of products/services
For user/customer friendliness

You can either put all the points in the same graph or use a separate graph for each.

How to do this?

Get graph paper and divide it into 4 quadrants
Add your parameter(s)
Start plotting your and your competition's point

Competitive Matrix

A competitive matrix is a method that helps you determine your competitive advantages. Usually, you put together this tool to note your market credibility. It is an industry analysis tool that compares the characteristics of you and your competition.

How to do it?

You draw out a matrix
Position your company and competitors, at the top, the horizontal blocks
Put all the aspects you want to compete with, in the vertical blocks
Put the tick marks to draw the competition
How to document in the competition section for your business plan?

Once you complete the determination, the documentation is quite easy. In fact, you can put the final graphs in your draft. It will not only give color and variety but also make it easy to understand.

While you put all the graphs together, you have to explain your competition and the parameters that you have selected. Moreover, you can go ahead and explain why the companies are your competition. And also explain why you picked particular parameters.

Mention the date and time frame in your graphs. It makes it easier to have a deeper knowledge of your competition.

Basically, the documentation is journaling the process of drawing the graphs. You may not want to add every detail. As that could make the entire section a little longer than expected. But at the same time, don't leave out the important details.

As for the difference, you can follow the same process for both purposes. Only make sure that your draft for your investors has been relatively concise. As for your company draft, you can add as many details as you want.

Why is this step important?

When you follow this step, the process to put the competition section for your business plan is literally half done. It brings you the clarity that you, your team, and your investors need to make your business successful.
2. Determine and Draft Your Competitive Advantages
Determining the competitive advantage

This process may look hard. But it is not. In fact, it just includes one step to the above one. It can be done side by side while you are drawing the comparison and putting them together in different graphs.

Competitive Matrix

and

Position Mapping Graph

tools are the tools that can help you determine your competitive advantages as these tools can reveal your

competitive advantages

. These tools are already explained above in this article.

You have to note and add the points where you are doing better (or can do) better than your competition. And then, note how that bonus point can bring you an advantage(s).

Drafting your competitive advantage

You have to note down your bonus points and explain them in detail. You can use those graphs too for more clarity and variety. It is better that you make this up to the point. If you are writing for the investors, they might just want the rounded points after seeing the graphs.

And if you are using it for directive purposes, even then, it is good to have a well-rounded point. However, you might need the back details along the way ahead. So, you can note it down too.

Why is this step important?

With this step, you became assertive about your success and future in the market.

If brought in front of your investors, they quickly get a clear idea of whether to invest in your business or not. In a way, it helps you store their faith in your business.

And if you are only planning to put the direction of your company's success, it gives you a clear picture of your strengths and opportunities. In a way, it restores your faith in your product/services.
3. Put in the customers' review
This step is just like putting that final nail in the coffin! Plus, regardless of the purpose of your business plan, this step and section remain the same. Even more interesting, it takes less time than the two above-mentioned steps.
Here's how you do it-

Find out the reviews and ratings of all the competitors, you had begun the process with.
Be discreet. Don't only add the good points or the bad points. Add the good, the bad, and the average rating and reviews.
In fact, you can go ahead and make three sections named- The Good, The Bad, and The average.
Add 10-12 reviews in total and put them in the respective sections (3 or 4 in each).
You can find reviews from search engines, social media, websites, forums, and magazines.
If you want even authentic reviews and have enough time and resources, you can even run surveys. Or contact agencies that run unbiased surveys.
Be honest.

How to draft it-

Put them just the way they are, even if they have typos. Try not to tamper with them.
Add them at the end of the competition section for your business plan.

Why is this step important

To add more clarity and favor to your business.
Gives a chunk of customer points to view.
Restores your, your team's, and your investor's faith in your company.
Jack: Oh, that's quite an elaborated explanation.
John: Yes, Jack. I hope you understand now.
Jack: Well theoretically, everything seems clear. But…
John: But what, Jack?
Jack: I was hoping there could be a ready-to-use template for the competition section for the business plan.
John: Oh yes, I know writing the competition section for a business plan could be overwhelming. But don't worry. Upmetrics have got you covered here. Here it is!
Basic Template
And that's all about the competition section in the business plan. We hope we have given you all the information that you needed. However, regardless of how you find notes, we have listed the FAQs for the competition section for a business plan. You can refer to it for questions that look similar to yours.
Jack:
That's fantastic! I think I got what I needed. But, I have one question.
John:
Yes, Jack. Go ahead!
Jack:
How do you know Upmetrics? And why do you trust them so much?
John:
The
Upmetrics
business plan software has helped more than 16K entrepreneurs to write and manage their
business plans
. It offers end-to-end help in writing business plans, performing cash flow forecasting as well as making
business models
and pitch decks.
Jack:
That's pretty cool. If from now onward, I have any problem regarding business plans, models, or pitch decks, I am going to trust Upmetrics! Thanks, John!
FAQs for your competition section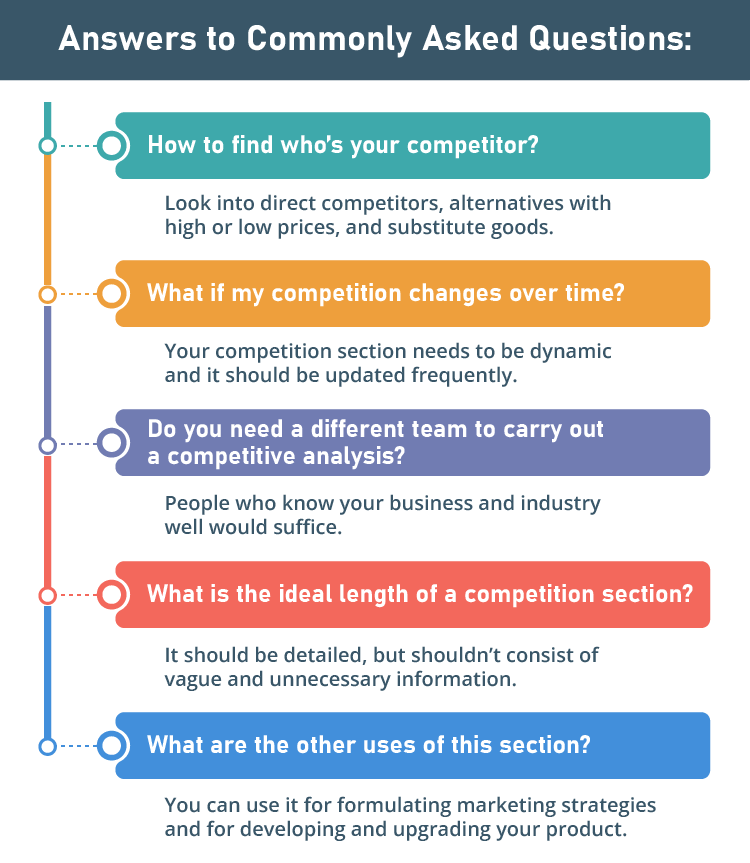 What if we think that our business does not have competition?
Ideally, every business has competition. If not directly, then indirectly. Basically, there are three types of competition- Primary, Secondary, and Tertiary.
Primary: The business that has similar products/services as you and, serves the same target audience.
Secondary: The high-end or low-end services/products as you. There may be a slight change in the target audience, depending on the spending capacity location and more.
Tertiary: They have completely different products/services but satisfy the same need of your target audience.
So, if you think that you don't have primary competition. Look closely, you may have a secondary or tertiary competition.
What if that time my competition changes?

You have to run the test from the start and draft the section from the scratch. It may be the same even when you want to add and remove the parameter.

Do we need a separate team to draw a competition analysis and draft it in the business plan?

Not importantly. However, it is important for everyone involved in your team to be qualified and have adequate experience. If you think that your team doesn't have that, you can form or hire a separate team.

How long should the competition section be in the business plan?

It should be detailed. But it must not take up most part of your business plan. Moreover, it also depends on the number of other sections you are adding. And it also depends on what these other sections are. In any case, there is no harm to be concise. No matter who the reader is, we all prefer a quick read.

Where else can we showcase this analysis?

You can use this analysis in marketing and sales strategies. You can even use it to further research and develop your product/services.