Planning on starting a new business in Wyoming? Great.
Wyoming has the lowest tax burden in the country, so it's an excellent place for new entrepreneurs to start a new business.
Need help getting started? Here is a thorough guide to help you get started.
It covers all the information you need to know about starting a small business in Wyoming—from picking the right business idea, drafting a business plan, registering a business, and preparing for a launch, to seeking funding.
→ Download Now: Starting a Business Workbook
Sounds interesting? Let's dive right in.
Pros And Cons Of Starting A Business In Wyoming
Undoubtedly, Wyoming is a great place to build a successful business, but it has a few disadvantages too. Here are some pros and cons of starting a new business in Wyoming.
Pros
Business-friendly tax environment: no state income tax, corporate income tax, or inventory tax.
Low business costs: relatively low operating costs for businesses with low energy and labor costs.
Robust economy: strong and diverse business economy.
Cons
Low population density: relatively small population may limit the customer base for some businesses.
Harsh weather: heavy snowfall and extreme winters can disrupt business operations at certain times of the year.
Geographic isolation: relatively remote location can make accessing markets and suppliers difficult.
As an entrepreneur, you must consider your business's unique requirements and align them with the advantages and challenges of the state.
Understood the advantages and disadvantages? Let's move to our step-by-step guide.
Step By Step Guide To Start A Business In Wyoming
1. Pick the Right Business Idea
The first step in starting a business is picking the perfect idea for your Wyoming Business.
When choosing a business idea, you must consider leading industries, business trends, startup costs, and other crucial business aspects.
Find a niche, product, or service that needs to be added to the market and aligns with your values and interests.
Some of the best businesses to start in Wyoming:
Short-term property rental
Product manufacturing
Glassware manufacturing
Touring company
2. Plan Your Business
You've already got a business idea; now it's time to plan your business. We have divided this section into three steps: business name, location, and business plan.
1. Name your business
People will recognize your brand by its name, so it must reflect your vision and core values. If you plan on starting a sole proprietorship, you may name your business after your name.
Still, when establishing an LLC, you may need to file for a trade name certificate with the necessary legal documents.
Before registering for a business name, you can do a quick business name search to determine whether another business is operating with the same name. It helps you avoid future conflicts when filing for an assumed business name.
You can also consider doing a trademark search with the US Patent and Trademark office.
2. Choose a business location and check the zoning laws
Your business's accessibility, growth, and expenses depend highly on location. Here are a few questions to ask yourself while choosing a business location in Wyoming:
What type of business are you operating? Online/Offline?
What would be your employee size?
Do your customers visit your office/store?
How much competition is in the area?
Apart from these factors, You should also consider checking zoning regulations and calculating business costs, including rent and utilities, before finalizing a business location.
Verifying that the location is zoned for your business type is also important. You can find more zoning regulations by contacting your town's zoning or planning department.
3. Create a business plan
Do you have a business plan? The research says businesses that don't plan have higher chances of failure than those who plan.
A well-structured business plan can help you better understand the startup costs, competition, and marketing efforts to help you maximize your potential growth.
A business plan is a document that includes the following key elements:
Business Overview & goals
Industry outlook
Description of products and services
Competitive landscape
Operational structure
Sales & marketing plan strategies
Funding requirements and
Financial plan
A business plan is a structured and polished presentation of your business idea. We have prepared a collection of business plan examples for every industry so you can get an idea of how to write one. Writing a business plan made easy with our business plan builder.
Need help creating a business plan?
Turn your idea into an actionable plan 2X faster with Upmetrics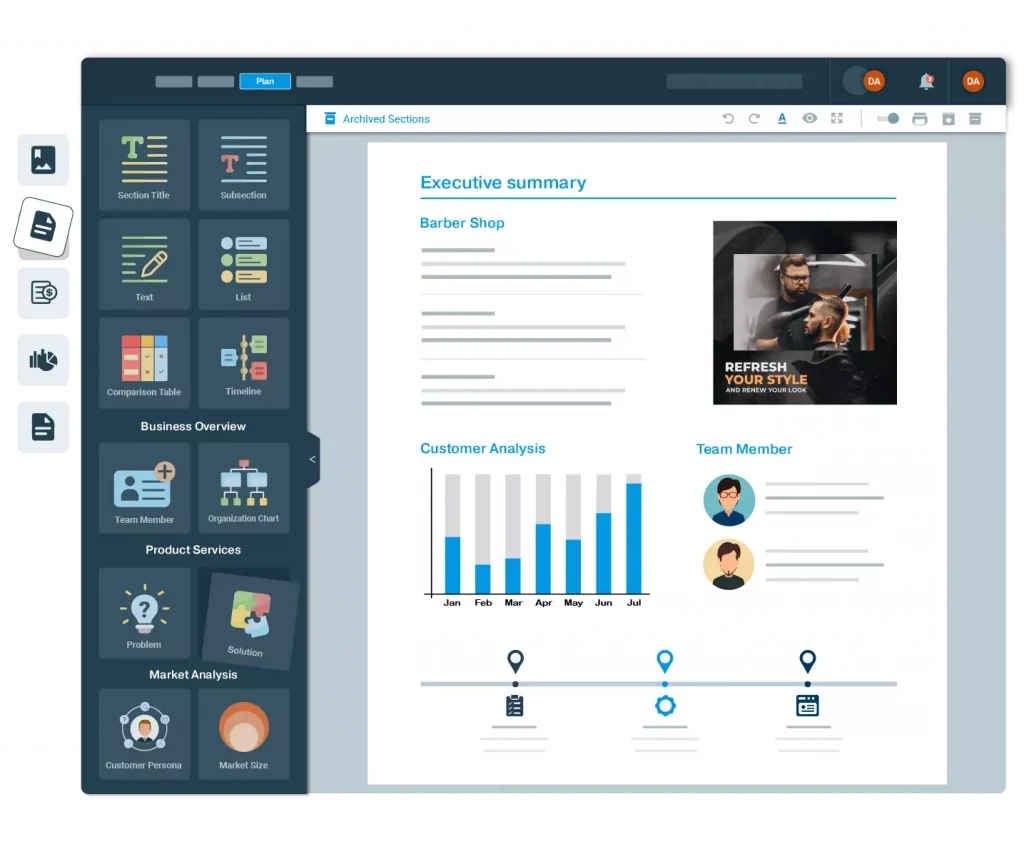 3. Register your Wyoming business
You did all the strategic thinking and brainstorming to come up with the business idea and a perfect name; now it's time for some legal documentation.
Let's register your Wyoming business in three quick and easy steps:
1. Select a business entity (Business Structure)
Selecting a business entity or structure is crucial to register your business. Business's liability, taxes, state taxes, filing fees, and complexity of maintenance; all depend on your business entity.
When choosing the best business structure, understanding the advantages and disadvantages of the options depending on your specific scenario is necessary. Your business structure should match your business purpose.
Let's understand the types of these legal business entities:
Sole proprietorship:

It is one of the simplest forms of business structure. Only one person engages in business activities. If you are running your business under any name (other than your surname), you need a trade name certificate, aka DBA.

General partnership:

When two people associate and carry on the business for profit is known as a general partnership. It generally works under a partnership agreement.

Corporation:

A corporation is a legal entity whose owners are shareholders. Filing the certificate of formation with the Wyoming Secretary of State is necessary. You can register the corporation through the Wyoming Secretary of State's website.

Limited liability company:

A limited liability company is neither partnership nor a corporation but is a combination of both. Members of an LLC are the owners of the company.

Wyoming's Secretary of State requires you to file your formation documents online with a $102 fee to obtain the Articles of Organization.

You can file it via mail for a $100 filing fee.

Limited partnership:

A limited partnership in Wyoming is a partnership formed by two or more people with one or more general partners and one or more limited partners.

Limited liability partnership:

It limits the liability of a general partner and protects them from unlimited liability.
You can register a business entity online by visiting the Wyoming Secretary of State's website.
Here is our in-depth business structure guide for more detailed information.
2. Find a registered agent
All LLCs and corporations require to appoint a registered agent. A registered statutory agent accepts and promptly responds to legal mail and official communication on behalf of your firm.
The registered agent can be a person (aged above 18) or an agency with a physical address in the US state so that they can receive legal documents on your behalf.
3. Apply for tax registration & business EIN
Tax registration in Wyoming depends on the industry and your business type. You must register with the Wyoming Department of Revenue (DOR) to sell goods.
You can download the Sales & Use tax license application from DOR's official site.
A federal employer identification number is necessary if your business needs to hire employees or is taxed separately. You can apply for a business EIN through the IRS portal.
Your Federal Employer Identification Number (EIN) makes it easier to open business bank accounts, apply for a loan, and submit taxes.
EIN applications can only be made by those who have a Social Security Number or Individual Taxpayer Identification Number.
4. Apply for Licenses and Permits
Business licenses and permits ensure the operation of the business is legal and safe. The type and number of these local business licenses & permits depend on your business structure, location, and the industry you serve.
Here is the list of business licenses and permits your business may require to operate in Wyoming:
Federal Licenses & Permit:

Your business will need a federal license or permit if a federal agency regulates your business activities. You may apply for a federal license through the SBA portal, depending on the industry and location of your business.

Wyoming State Business Licenses:

Your business must obtain the appropriate sales and use tax licenses or permits if it does an activity governed by the state agency.

For example, businesses that sell alcoholic beverages or perform transportation and logistics must obtain necessary licenses and permits from the Wyoming Department of Revenue.

Local Business License:

Depending on your location and industry or customers you serve, you can obtain a local business license from the local county or city clerk's office.

Professional Business License:

The professional business license is required for businesses that require special training or education, e.g., Doctors, Lawyers, Architects, etc.
5. Apply for Bank Accounts & Business Credit Cards
Setting up a separate accounting system is essential for personal asset protection. When you mix your personal finances with business, you put your personal assets (home, car, and other valuable assets) at risk.
Here are two quick steps to developing a reliable accounting system for your business finances.
1. Open a business bank account
A business bank account keeps your personal and business expenses separate, which is important to protect your savings. Furthermore, it makes the accounting and business tax filing process much easier and more efficient.
2. Get a business credit card
A business credit card can do much more than separate personal and business expenses. Furthermore, It can help you build a strong credit history for your business, which can help raise Capital through small business loans and grants.
6. Identify Your Business Employer Requirements
Business employer requirements are specific to the type of business you're starting in Wyoming and whether you will hire employees.
Additionally, employees must comply with various labor, tax, and safety laws, such as the Americans with Disabilities Act and the Equal employment opportunity act.
It's recommended to hire a business attorney to make sure your business is compliant with state laws.
Get a business insurance
Business insurance offers much-needed protection against financial losses, helps you manage risks, and focuses on growing your business in Wyoming.
The most common & must-have business insurance types to consider
General Liability Insurance: All US online, offline, and home-based businesses must have insurance.
Workers Compensation Insurance: Businesses with one or more employees must obtain workers' compensation coverage.
Professional Liability Insurance: Businesses offering consulting services must apply for professional liability insurance.
Depending on your business industry and activity, you may also like to consider obtaining one or multiple of the following business insurance plans:
Commercial Property Insurance: Offers protection against damage to the business's physical structure
Business Owner's Policy: Offers protection against customer injuries and damaged customer/business properties.
Commercial auto insurance: Best for theft, accident, or damage involving your business vehicle.
7. Fund Your Wyoming Business
It's a no-brainer that every business needs funding to operate successfully. We discussed starting and registering your business; it's time to look for some funding options.
But, before you start seeking funding, you must calculate your startup costs and business expenses. This simple exercise lets you choose the right funding resource for your business.
→ Download Now: Startup Fundraising Checklist
Here are a few top funding options you may want to consider:
1. Raise capital
If you don't have enough capital, consider raising Capital through these sources.
Angel Investors:

An Angel investor is an individual who provides Capital to new startups or businesses, usually in exchange for equity in the business or convertible debt.

Venture Capital:

Venture Capital (VC) is financing investors provide to startups and small businesses, seeing their recent performance and long-term growth potential. VC generally comes from well-off financial institutions, investors, and investment banks.

Family and Friends:

This is the easiest way to raise Capital for your business. Ask your family and friends if they can invest in your business or borrow money to help you get started.
2. Bootstrapping
Bootstrapping is the best if you have enough Capital to establish and manage your business. When you bootstrap a business, you hold 100% ownership of your business—and can make the most out of your business profits.
3. Small business loans
Banks and money lenders in Wyoming may help you get your business up and running through small business loans. You must pay back business loans with interest, so calculate your startup costs and Capital before applying for business loans.
4. Small business grants
A company, state, or federal government generally gives grant money. Small business grants are free—you don't need to pay them back.
They provide small business grants to help small business owners grow. You can get a small business grant by applying to a federal government website.
8. Hire Employees and Build Your Team
A solid team is the foundation of a successful company. Hiring a bunch of employees might seem easy, but it takes a lot to build a strong team.
Here are a few actionable tips for building a strong team:
Hire an initial team or founding members who align with your future vision.
Build a team around your founding members.
Focus on creating a better company culture.
Hire people that share the same vision.
Lead by example.
That's it, you take care of your employees, and they'll take care of your business.
Make sure you know your employment requirements before starting to hire people. You will need the IRS's federal employer identification number to hire people.
9. Prepare to Launch Your Business
We are almost done with our "How to start a business in Wyoming checklist." It's time to prepare for a big launch. Consider a few things while preparing to launch your business.
1. Get the essential software and tools
Managing a business can be resilient as the business grows. A set of the right business software and tools streamlines your business operations and helps you efficiently run day-to-day operations.
Here are a few must-have software/tools for small businesses:
Accounting Software:

Freshbooks, Quickbooks, Xero, ZohoBooks.

Payroll Software:

Gusto, Onpay, Paychex.

Customer Relationship Management (CRM):

Hubspot, Zoho CRM, Salesforce.

Project Management Tool:

Asana, ClickUp.

Recruiting & HR:

Workable, BambooHR, Workday.
2. Create a marketing plan
How will people know your brand or product until you promote it? It will help to have a full-proof marketing plan to market your business effectively.
Conduct market research and ask yourself these questions before creating a marketing plan:
How much budget do you want to put aside for marketing?
Where will you market your product (Billboards, social media, TV commercials, print ads, etc.)?
Which social media channels does your target audience use the most?
Drafting a marketing plan with this checklist will make things a lot easier for you.
3. Create social media handles
Once you're ready with your marketing plan, create social media handles and build your profile. Create content that appeals to your target audience, engage with them, and leverage social media to bring sales.
4. Develop your website
A business's online presence has a huge impact on its success. It makes developing a business website a crucial step in launching your business.
You've already finalized the business name, so search for available domain names for your business, and purchase it. You can purchase a domain and hosting from Godaddy, Bluehost, Hostinger, or any other hosting site.
We recommend building your website on WordPress, but you can also choose other website builders like Weebly, Wix, and Squarespace for ease of use.
Once your website is live, you can create a Google My Business profile, set up Google Ads, and work on SEO to promote your business online.
Conclusion
Now you have all the information to start a business in Wyoming. What next? It's time to kick-start your entrepreneurial journey.
Follow these steps, build a successful business, and work on it until you succeed.