Enthusiastic about starting your own eCommerce business? No doubt, it is one of the most flexible businesses.
But before you start your business, you will need all the information about how much does it cost to start an eCommerce business. Worry not, we have got you covered.
This in-depth blog will guide you through the costs of starting an eCommerce website.
Let's dive right in.
What is the cost of starting up an eCommerce business?
An individual can start an eCommerce business for a small amount of $500-$1,000, but if you want to thrive in it with proper marketing and advertisement, then it will range from $12,479-$39,800.
According to Shopify, the average profit margin can be around 10% for an eCommerce business in the USA. These profits can rise to 20% too with a proper plan and management depending on the industry you are dealing in.
Average costs for starting an eCommerce business
Before we dive into details, check out this eCommerce business startup cost checklist. It will help you plan your startup budget and know how much financing you need to get started.
Item
Average Cost
One-time Expenses
Website development
$2,500-$10,000
Annual web hosting & domain registration
$100-$500
Inventory & product costs
$1,000-$5,000
Licenses & permits
$500-$1,000
eCommerce plugins & apps
$100-$500
Hardware & software
$500-$2,000
Payment gateway setup
$50-$300
Packaging & shipping materials
$200-$500
Initial marketing
$3,000-$6,000
Initial photography & product images
$500-$1,000
Annual insurance
$500-$2,000
Professional fees
$500-$1,000
Total One-Time Expenses
$9450-$29,800
Recurring Expenses (Per Month)
Inventory restocking
$500-$1,500
eCommerce platform subscription
$29-$500
Website maintenance
$100-$1,000
Marketing & advertising
$2,000-$5,000
Utilities
$200-$500
Software subscriptions
$100-$1,000
Customer support
$100-$500
Payment gateway fees
2.5-3.5% (per order)
Total Recurring Expenses
$3,029-$10,000
Total
$12,479-$39,800
Disclaimer: Note that these costs are averages and can vary significantly depending on factors such as location, type of legal services, equipment needs, and more. It's important to conduct thorough research and planning to get a more accurate estimate of the costs specific to your eCommerce.

Use this checklist as a rough estimate to create your startup costs checklist depending on your location, equipment needs, and other requirements.
Let's move ahead and understand how you can calculate eCommerce startup costs.
How to calculate the cost of starting an eCommerce business
You now have a list of potential expenses and a rough estimate of your startup costs. Let's estimate your actual startup costs using these two proven methods.
The first, traditional method involves using a startup costs calculator to estimate the startup costs. However, the second, the Upmetrics method, is an innovative method that uses Upmetrics financial forecasting tool.
Let's understand both methods so that you can choose one that suits your requirements the best.
The traditional method—startup costs calculator
The calculator includes categories such as pre-trading, website setup, marketing, operations, and people. You can enter the estimated costs in each field and let the calculator estimate the costs for you.
Remember that many startup costs fall under recurring expenses, so cover those costs monthly, quarterly, or annually.
Calculate your startup costs using this calculator.
The Upmetrics method—financial forecasting tool
It is an intuitive and efficient method of calculating startup costs. Using Upmetrics will not just help you estimate startup costs but also help with financial forecasting.
All you need to do is enter your sales, costs, and other financial assumptions and let the tool calculate monthly/quarterly/ and yearly projections for you.
Check out the financial forecasting tool for accurate financial forecasting.

Check out the financial forecasting tool for accurate financial forecasting. Once you have an accurate estimate of startup costs, you can easily identify funding requirements for your e-commerce business.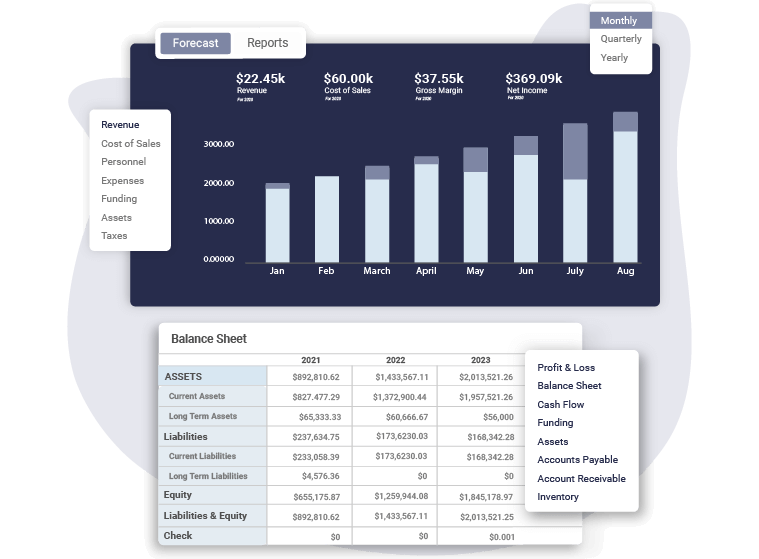 Once you have an accurate estimate of startup costs, you can easily identify funding requirements for your eCommerce business.
Raising funds for a new startup is certainly a nerve-wracking and time-consuming process, but having a solid eCommerce business plan can make things a lot easier.
Let's move ahead and discuss the factors that affect your eCommerce business startup costs.
Factors that affect eCommerce startup costs
Starting an eCommerce requires a thorough consideration of various aspects. Let us now understand the factors that can substantially affect eCommerce startup costs.
1. Website development & design
The complexity and design of your website affect the cost of developing an eCommerce website.
If you want your website to be customized, then you will have to hire a web development agency to create a fully customized eCommerce store. Whereas custom design can cost anywhere from $5,000-$20,000, template design might cost around $500-$5,000 depending on the level of complexity.
The cost of eCommerce site development also depends on the functionalities it provides. A website with the functions like personalized recommendations, multi-currency support, wishlist, or customer reviews would cost around $10,000 or higher, while a basic eCommerce site might cost around $5,000 or less.
The UI/UX of your eCommerce business should be in balance along with the functions. Thus, it is your choice to go with website developers or with certain platforms like BigCommerce, Shopify, Woocommerce, etc.
2. eCommerce platform
Choosing an eCommerce platform for building your business is a cost-effective way. There are various platforms like Shopify, WooCommerce, or BigCommerce with different features, levels of customization options, or pricing structures.
These platforms range between $29-$500 per month depending on the theme, template, and plan you choose.
Apart from monthly subscriptions, you have to pay transaction fees that are 2.5-3.5% per transaction for online credit card payments. These transaction fees can range from 1-3%.
Some platforms have various free themes and even premium themes which might range from $50 to $200.
If you are choosing to go with eCommerce platforms, then select one after exploring all the options, features, and pricing structures.
3. Product Inventory
Product inventory constitutes a significant part of your eCommerce business startup costs. The cost of product inventory will depend on the quality and quantity of the products that you will want to sell on your eCommerce.
If you are launching your eCommerce website from home, then you will need storage to store all the inventory which will cost around $500-$2,000.
Apart from main products, there will be expenses for packaging & labeling. Well, the cost of packaging also mainly depends on the material you use, but still, it can range between $0.5-$5 per unit.
In short, expect somewhere to spend around $1,000-$5,000 for product inventory.
4. Shipping & fulfillment
Shipment and fulfillment occupy a huge part of an eCommerce store business. Whenever a customer orders something from your eCommerce website, then you will need to ship the product to their location.
Shipping costs depend on location, package weight, and delivery days (fast-track or regular shipping). On average, shipping costs range between $3-$10 per order.
If you choose a fulfillment center to do the packaging, picking, and delivering for you, then they will charge you accordingly. Fulfillment center services will charge around $10-$15 per order.
To manage your startup costs shipping yourself is advisable.
5. Payment gateway fees
The payment gateway is convenient, but there are charges to set it up and maintain it every month. For instance, a payment gateway might charge 2.5-3.5% per transaction depending on the type of transaction (debit card, credit card, etc).
Apart from the transaction fee, the monthly subscription fees of a payment gateway can range from $0-$30, depending on the provider of your services.
Payment gateway setup fees can be between $0-$200, but it is a one-time setup charge.
If someone returns the products and you have to provide them with a refund, then the chargeback fees can vary from $15-$50 per such transaction.
Overall, expect somewhere spending $100-$300 a month on payment gateway after a one-time setup.
6. Marketing & advertising
All you need is for people to be aware of your eCommerce website to officially launch your business and make it profitable.
But how do you do that? Well, with a little bit of marketing and a referral discount you can achieve it. You can start spreading the word of "coming soon" before actually launching your eCommerce.
It is important to spend more on initial marketing and product photography for creating hype for your business.
On average, businesses spend around $1,000-$10,000 on digital marketing of eCommerce businesses. It includes running ads on social media, Google Ads, creating a strong presence on social media, etc.
For spreading the word for your eCommerce business: influencer marketing is also a great idea, which might cost around $500-$1,000 per post for macro influencers.
Social media management, email marketing, content marketing, and SEO are all important for eCommerce business branding and marketing.
Generally, B2C companies with products spend around 9.6% of their revenue on marketing. Hence, expect somewhere to spend between $2,000-$5,000 or higher per month.
7. Legal, business registration, & insurance
Legal compliance is essential to successfully set up and operate an eCommerce business. You may need to register your business structure with the state authorities, which can cost around $50-$250 depending on the state.
If you plan to create a unique brand name or logo, then you would want to trademark it. The trademark registration might cost from $225-$400.
The cost of creating legal documents that protect both your business and customers too will range from $500-$1,000.
To protect your business against risks, insurance is necessary for your eCommerce business. The cost of insurance depends on the type of coverage it provides, yet it might cost you around $500-$2,500 per year.
8. International selling
Statista projected global online cross-border eCommerce sales of physical goods at 22% of all online sales in 2022, reaching over $3.5 trillion, which is why overlooking international selling is a mistake.
The cost of an international shipment will be more due to longer distances. In fact, shipping to certain places might also require some documentation or customs fees. These might range from $20-$100 or higher per order.
Apart from the shipping costs, the cost of currency exchange and processing fees is also there. The fees range from 1-3% per order.
Understood the factors that affect your eCommerce store startup costs? Let's learn a few handful tips to reduce these costs.
Related Ecommerce Resources
Tips for reducing eCommerce business startup costs.
Reducing the startup costs for your business can help you efficiently launch your business. Here are certain tips that will help you lessen your eCommerce business:
1. Home-based business
Start an eCommerce business from your home to avoid paying rent & regular office expenses. Average monthly savings can be done for around $500-$1500 if you choose to start your eCommerce business from home.
Apart from rent, you can cut the cost of taxes too; if you start your business from your home.
2. Dropshipping
In the dropshipping business model, you don't need to hold inventory which is why the cost of holding inventory can be avoided. It also avoids storage costs.
Dropshipping lowers the risk of withholding the inventory if the products are not sold. Hence, opt for this model for your eCommerce business.
3. DIY website development
Hiring a website developer and customizing your website accordingly might cost you more, rather than utilizing website builders and creating a website yourself.
This approach can save you the cost and also provide you with a lot of options for your eCommerce.
4. Go for an eCommerce platform
Instead of developing an eCommerce site yourself, you can choose a platform like WooCommerce, Shopify, or BigCommerce for your business.
They provide you with several functionalities and themes. They are cost-effective and easy to use. Once your eCommerce store grows, you can then invest in developing it in your manner.
5. Start with a limited product range
Start small and sell a limited product range in your initial stages. Instead of attempting to launch with an extensive catalog, focus on a curated segment of products.
It will help reduce inventory costs and it will help you in market testing. As your eCommerce store gain traction you can start expanding your product range.
6. Outsource
For the start of your business rather than employing full-time employees, you can give the work to freelancers and cut the cost.
Delegate non-core tasks like bookkeeping, content writing, and even customer support. You can freelance the work to the experts in the particular field instead of hiring freshers.
Conclusion
That concludes our discussion on eCommerce business startup costs!
We hope that this blog has provided you with valuable insights and guidance, empowering you to make informed and strategic choices for your startup.
Best of luck in building your eCommerce business!
Use Upmetrics for Accurate Startup Cost Projections!
Looking to estimate your startup costs? Dive into Upmetrics! Our business plan software makes financial forecasting a breeze
Get Precise Projections Now