If you are looking for a primary or secondary source of income, you might have come across dropshipping as an option at least once.
After all, dropshipping is closely tied to eCommerce which is again one of the fastest-growing industries today. That combined with the low cost of setting up and running this business makes it a preferred choice for many.
But at the same time, it takes effort and time to set up a dropshipping business. And if you want to put your efforts into setting up a dropshipping business in the right direction, you'll need a dropshipping business plan.
If you are planning to start a new dropshipping business, the first thing you will need is a business plan. Use our sample Dropshipping Business Plan created using Upmetrics business plan software to start writing your business plan in no time.
Before you start writing your business plan for your new dropshipping business, spend as much time as you can reading through some examples of transportation-related business plans.
Industry Overview
The dropshipping industry stood at a whopping value of 102.2 billion dollars in 2018 and owing to the rising popularity of online shopping and global trade it is bound to grow at a rapid rate.
With the growth of eCommerce, several people want to take their business online but lack the resources and time to market it and look after customer management. As a dropshipping business, you can help business owners with this by charging a commission on every sale.
A lot of people opt for a dropshipping business because you don't need to own premises for it, and can get started from any corner of the world. All you need to do is market the product, exchange shipment details with the manufacturer or wholesaler, manage the customers, and help them with the process of placing the order.
Say goodbye to boring templates
Build your business plan faster and easier with AI
Plans starting from $7/month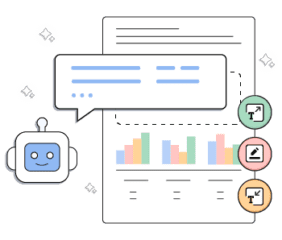 Things to Consider Before Writing a Dropshipping Business Plan
Pick your niche

As there are several products and services you can choose from, you have to pick a niche that suits you the best for you, has in-demand products, and are profitable. This will help you have a combination of products that interest you and are worth working on as needed in the market.

Know your competitors

After you pick your niche, it is essential to do your research about both direct and indirect competitors. It will help you get an insight into their business strategies, USP, etc. It'll also help you take lessons from their mistakes and inspiration from what worked for them. Above all, it'll help you figure out how you can stand apart from your competitors.

Find good suppliers

Although marketing is essential, a good product helps you retain customers. Hence, finding good suppliers who provide quality products or services is foundational to your business's success. So, you should find good and reliable suppliers before getting started.

Work on your online store and marketing

Building your online presence is another essential step that you should work on before getting started. It helps you engage with your audience and build your brand's reliability. It also gives you a head start with promoting your business.
Chalking out Your Business Plan
Reading sample business plans will give you a good idea of what you're aiming for and also it will show you the different sections that different entrepreneurs include and the language they use to write about themselves and their business plans.
We have created this sample dropshipping business plan for you to get a good idea about what a perfect dropshipping business plan should look like and what details you will need to include in your stunning business plan.
Dropshipping Business Plan Outline
This is the standard dropshipping business plan outline which will cover all important sections that you should include in your business plan.
Executive Summary

Business Overview
Management
Customers
Business Target

Company Summary

Company Owner
Why the business is being started?
How the business will be started?
Funding Required

Products and Services
Market Analysis

Market Trends
Marketing Segmentation

Market Share
Women
Men
Businesses

Market Analysis
Business Target
Product Pricing
Competitive Advantage

Strategy

Competitive Analysis
Sales Strategy

Sales Yearly
Sales Forecast
Detailed Sales Forcast

Personnel plan

Average Salary of Employees

Financial Plan

Important Assumptions
Brake-Even Analysis
Projected Profit and Loss

Profit Yearly
Gross Margin Yearly

Projected Cash Flow
Projected Balance Sheet
Business Ratios
After getting started with Upmetrics, you can copy this sample business plan into your business plan and modify the required information and download your dropshipping business plan pdf or doc file. It's the fastest and easiest way to start writing your business plan.
The Quickest Way to turn a Business Idea into a Business Plan
Fill-in-the-blanks and automatic financials make it easy.
Get Started Now!

Download a sample dropshipping business plan
Need help writing your business plan from scratch? Here you go; download our free dropshipping business plan pdf to start.
It's a modern business plan template specifically designed for your dropshipping business. Use the example business plan as a guide for writing your own.