With the expanding popularity of street food and drinks, trying global cuisine, and busy schedules, the street vendor culture is increasing. The interesting thing is you are going to join this market in the period when the demand is growing.
With the selection of the food truck, buying equipment, and hiring the right people, have you forgotten to plan your business thoroughly? If yes, then here is our food truck business plan template with examples that will help you plan yours.
From industry trends to various examples; we have covered it all. So, let's wait no more and proceed.
Key Takeaways
A business plan offers strategic direction for your food truck business, helping you set and achieve your goals.
The executive summary is an important part, so keep it briefly engaging.
Conducting a thorough industry analysis is crucial to understanding the food truck market, including its size, trends, key players, and local demographics.
With high competition in the food industry, you need a robust marketing plan.
Keep your financial projections practical and do not have extravagant expectations.
Food Truck Industry Highlights
Before diving right into the business plan guide, let's go through some food industry trends and statistics:
The industry size of street vendors in the USA was around $2.29 billion in 2021.
In the US, there were 67,271 food trucks in 2022, growing at an average annual rate of 18.1% per year over the five years 2017-2022.
The popularity of plant-based diets as in vegan options is growing.
From Thai food to spicy Mexican food, food trucks are serving everything and anything showcasing the popularity of street food.
Food trucks are not limited to evenings, they are exploring new markets like corporate campuses, universities, and residential areas for breakfast and lunch time too.
How to Write a Food Truck Business Plan (Description + Examples)
1. Executive Summary
An executive summary is the summary of the whole business plan. It is the first section of the business plan and probably the only section your readers will go through.
It is normally the part that business owners prefer to write at the end because, till then they will have a keen understanding of the whole business plan.
Start your summary with a brief introduction to your business (about who you are and what services you will provide). After that, mention the other things like:
Products and services
Business goals
Food truck objectives
Mission statement
Market Opportunity
Target market
Food truck business concept
Financial summary
Financial projections
Here is an example of a mission statement: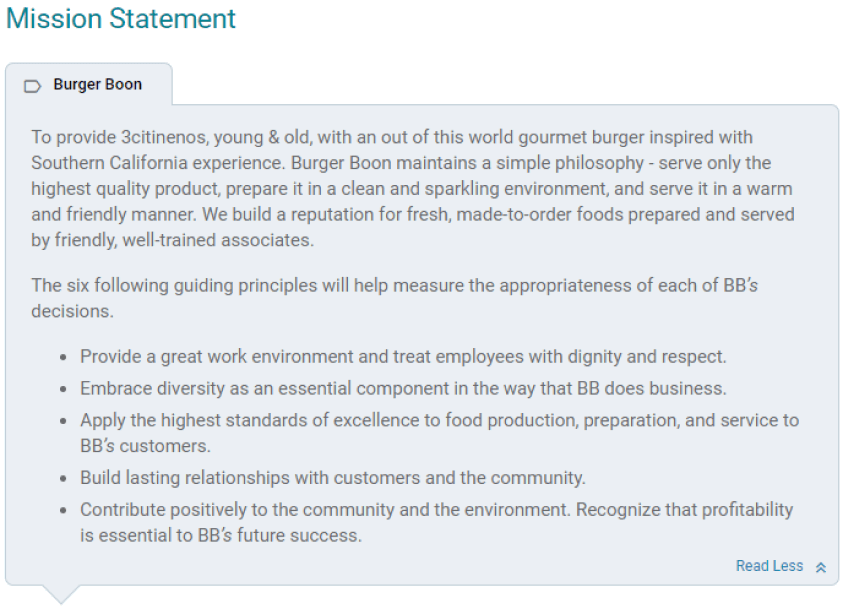 Tip: the executive summary is a quick overview, so keep it simple and engaging.
Say goodbye to boring templates
Build your business plan faster and easier with AI
Plans starting from $7/month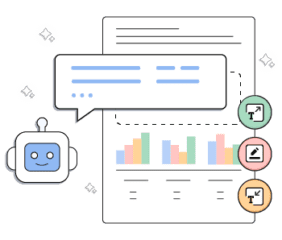 2. Company Overview
Provide detailed information about your food truck business in this section. It includes the food truck concept, name, location, legal structure of your business, and everything else about your business.
Here is an example of a business description made by the use of Upmetrics:

Also, do not forget to mention the type of food truck you are going to start, for instance, your business might be the one from below: 
Gourmet food trucks 

Taco trucks 

Pizza trucks 

Burger and sandwich trucks 

Dessert trucks 
If you already have another local food truck and this is the other one, then write the business history about your food business.
After that, mention the vision and mission of your food truck business along with the future goals. Include the names, qualifications, and specializations of the owners.
3. Industry Analysis
The industry analysis will give you all the details about the food industry you are going to enter. It will support you in a better understanding of your business.
Here are some types of questions you might ask while conducting a food industry analysis:
What is the current size of the food truck industry in the USA?
What are the major trends in the food truck industry?
Who are the huge players in the industry and what is their market share?
How is technology affecting the food truck industry?
What is the average price range and spending limit of the customers?
In short, industry analysis will help you have a better understanding of the market and support you in making informed decisions.
4. Competitive Analysis
Competitive analysis will help you to know the price point and positioning of your business in the food industry. This way you will also get to know about your direct and indirect competitors, as in other food trucks in your location.
Start your competitive analysis section by listing all your competitors with all their plus points and negative points. Some of the questions you might ask to know your competitors are:
What food items does their menu include?
What is their market share?
What are their USPs and what do their customers like about them the most?
How much does a food truck cost?
What is their pricing strategy?
What are the weaknesses through which you can have a competitive advantage?
After getting all the above answers, analyze your strengths, weaknesses, opportunities, and threats to get a better understanding of your USPs.
This way you can get to know the USP of a food truck business. Once you get the USP, flaunt it in your own business plan.
5. Market Analysis
Competition in the restaurant industry is high, and to get a small gap to enter the market is a huge opportunity. Once you enter the market, it is time to define and mention your target market first.
Your target audience will depend on the type of food truck services you provide and the location of your food truck.
Once you know who you are going to serve, then understand the market by knowing the current trends and customer preferences. For example, some of the market trends for a food truck are:
Health conscious diet
Local sourcing
Food transparency
Kiosks (contactless ordering and payment)
Creative menu items
At the end of the market analysis, do mention the regulatory environment a food business needs to follow in the particular location.
6. Sample Menu
One of the most necessary steps to launch your food truck business is designing the sample menu. Generally, food truck businesses provide fast-preparing meals.
A sample menu forces you to think about what will you make and serve your customers. Consider where you will store uncooked food, what you will need to prepare that food, and what you will use to serve that food to your customers.
Your menu should be in coordination with your target customers; for example, if you have students around the corner then design your menu with fast-serving dishes.
The menu is also a part of your branding, so keep the color and design of the menu the same as your food truck. Here is an example of including your menu in the food truck business plan: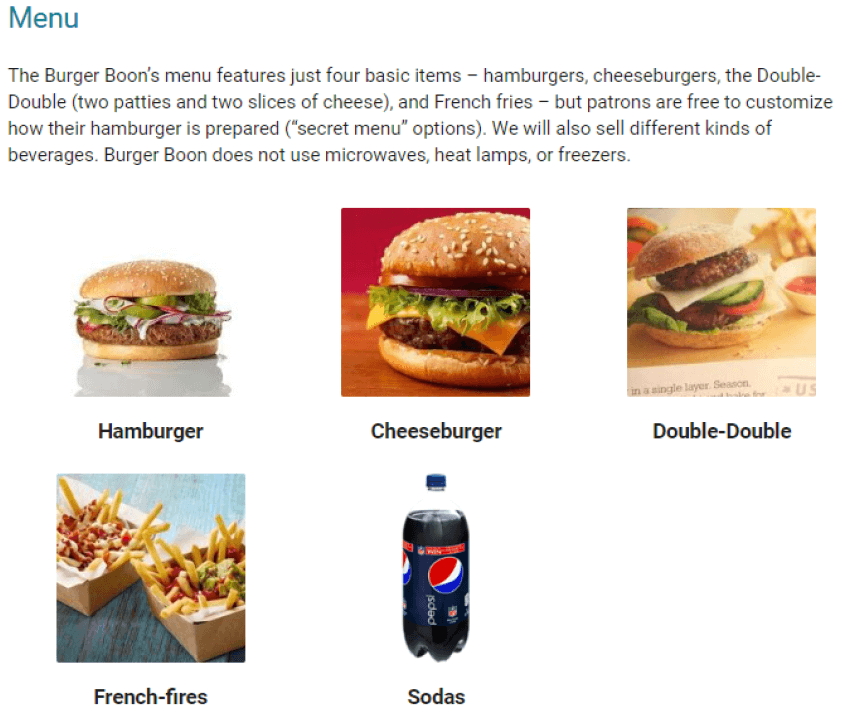 7. Sales and Marketing Plan
You can see a food truck in the corner of every alley, so you need to reach customers and not wait for them to come to you. For that, you will need a food truck marketing strategy in place. Some of the strategies are:
Website
Create a professional and mobile-friendly website including your location, contact information, and images of the food items you offer. This will help local customers find you online.
Social media marketing
Maintain active profiles on TikTok, Twitter, FaceBook, Instagram, and all other major social media platforms to spread your reach. It will help your target market to recognize you and will interest them to visit your food truck.
Loyalty programs
Think of implementing a loyalty program to reward your existing customers. You can offer free food dishes, BOGO offers, discounts, or any other such thing. These programs can help you increase the customer retention rate and encourage them to visit your business more.
Community engagement
Participate in food truck gatherings, local events as a stall, and other fun food festivals. Engage with the local community by sponsoring or collaborating with local organizations. Building a strong local reputation can help you reach a wide customer base.
Email marketing
Send regular newsletters, special offers, discounts, and event invitations to everyone whose details you got from your website. Email marketing can be a powerful tool for customer retention and engagement.
8. Management team
Letting your readers or investors know who is behind your food truck will allow them to understand your business more.
The management team is all about who is behind the wheels of your food truck and what are their roles. If you are starting a new food truck, then showcasing your experienced managers or head chef will make your business look stronger.
Here is an example of a management team: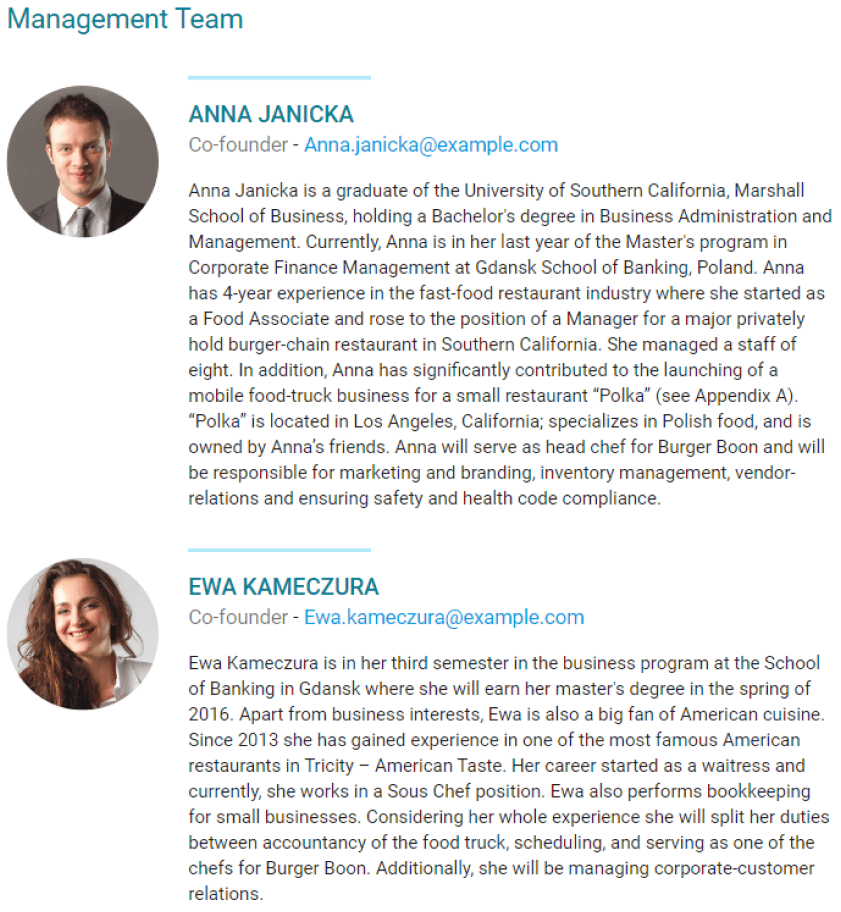 9. Business Operations
In the entire business plan we have talked about goals, but here is the point where you have to mention what will you do to fulfill those goals.
Everyday goals
They are the heart and soul of your food truck business. From buying the most qualitative food items to fulfilling customers' needs and everything in between is included.
Long-term goals
It's all about milestones: the moments that make you pop the champagne. Picture celebrating your 10,000th delivery, hitting that milestone sales figure you've dreamt of, or expanding your team.
10. Financial Plan
For a successful food truck business, you will need a proper financial plan with realistic financial projections. In this section add the financial statements like income statement, cash flow statement, and balance sheet for 3-5 years.
Income statement
An income statement is also known as a profit and loss statement, which describes the profitability of the business by deducting expenses from revenue.
The income statement is one of the important things your investors will focus on. So, don't be greedy and display huge impractical numbers.
Balance sheet
Balance sheets display your assets and liabilities. Although they can contain a lot of details, like equity, goodwill, other intangible assets, etc.
Cash flow statement
Your cash flow statement helps you see how much money you need to start or grow your business and avoid running out of money. This cash flow should be maintained even for certain months after launch that is before you start making profits.
Surprisingly, you can make a profit but still face financial problems that could lead to bankruptcy. Therefore, you will need proper cash flow planning to avoid such circumstances. Here is an example of a 5-year cash flow statement: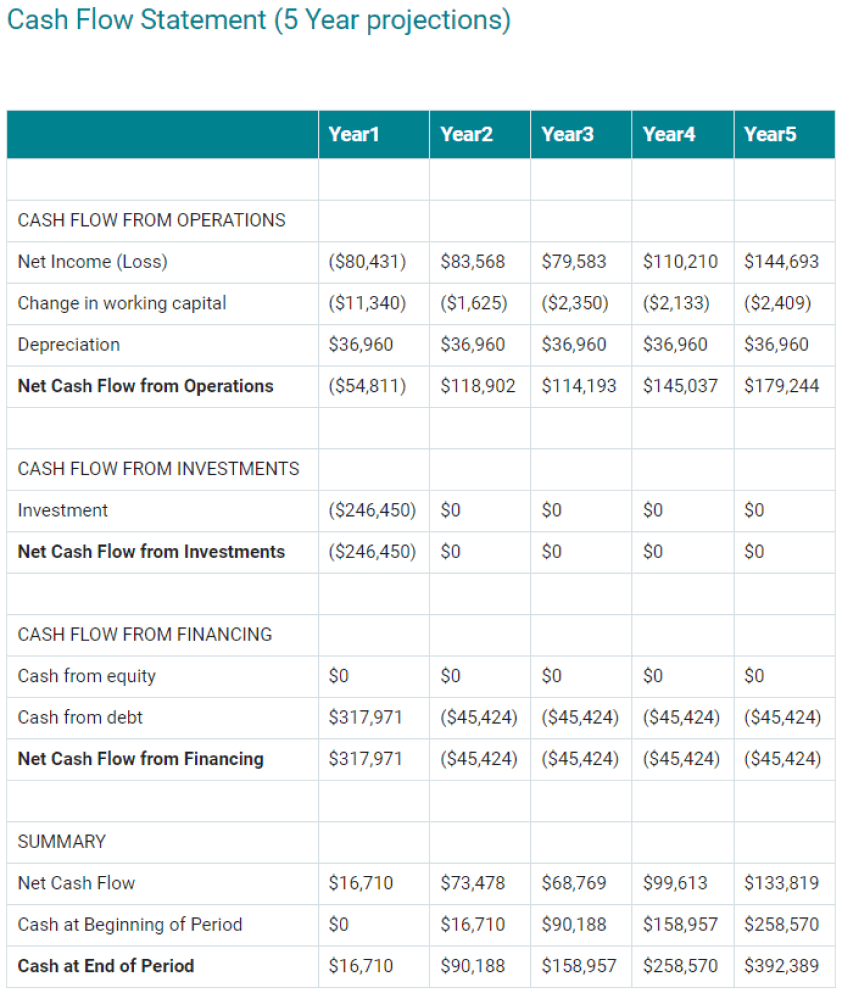 Why Do You Need a Business Plan for Your Food Truck?
If you are wondering why there is a lot more voice for a business plan, then consider this:
A food-truck business plan offers a strategic direction to your business goals and helps you achieve them.
A business plan will also help you understand the finances of your business and help you to secure funding.
It will clarify the vision of your food truck, so you can focus on the daily operations.
Also, it allows you to know specific risks you might face in the future, as a result, you will be prepared.
Now that you have plenty of reasons to have a food truck business plan, start writing one.
Download a Food Truck business plan template
Ready to kick-start your business plan writing process? And not sure where to start? Here you go, download our free food truck business plan pdf, and start writing.
This intuitive, modern, and investment-ready template is designed specifically for food truck businesses. It includes step-by-step instructions & examples to help in creating your own food-truck business plan.
The Quickest Way to turn a Business Idea into a Business Plan
Fill-in-the-blanks and automatic financials make it easy.
Get Started Now!

Write Your Business Plan with AI
Lastly! With the help of our food truck business plan template, you know how to write a business plan. So, you are a step closer to starting or expanding your food truck business exciting, right?
You know what else is exciting? Making your business planning process a lot smoother than this; yes, it is possible with the AI assistant of Upmetrics.
So, take a deep breath as we will take care of your business plan, and focus only on your business operations.