Have a keen eye for distressed properties and a knack for renovations?
Well done! You've stumbled upon a cool business idea. It's time for you to start an exciting journey into the world of house flipping!
However, you need to think about resources and funding for navigating the ins and outs of flipping houses.
Also, you need to specify if there's a prominent market for your business to be successful, what potential patrons expect from businesses like yours, and how many competitors you'll encounter.
Surprisingly, answering all these questions is all part of writing a thorough business plan. Here is the house-flipping business plan template, which will surely help you!
In this guide, you can explore the essential elements you need to know for a well-written business plan. It will provide business strategies and insights to kickstart your flipping houses business plan writing.
Let's jump in together and discover the secrets to crafting a house flipping plan.
Key Takeaways
Write an impactful executive summary that outlines your marketing approach and team expertise to attract potential investors or partners.
Conduct comprehensive market analysis to highlight industry trends, target audience needs, and customer preferences.
Consider potential contingencies & emergencies while making realistic financial plans for sales revenue, costs, and profit forecasts.
Use tools for SWOT analysis to evaluate your strengths, weaknesses, opportunities, and threats for informed decision-making.
Highlight your flipping business services and elevate your property values in the market by incorporating strategic USPs.
Clearly add flipping houses business descriptions to ensure efficient project management and consistent, high-quality renovations.
Scrutinize the competitive landscape, and identify competitors, to create strategies that support your business's competitive advantage.
Why do you need a house-flipping business plan?
A well-crafted business plan is a foundation for planning, managing, and growing a house-flipping business. It provides a detailed roadmap that confidently navigates you to the complexities of the real estate industry.
Here are a few benefits you must know:
A professional plan guides your flipping-house business in a strategic direction and gives clarity to your business idea, outlining business strategies, goals, and steps to enhance your credibility.
It can crystalize your vision for the house-flipping venture and ensure that you clearly understand the target audience, including trends, customer preferences, and competitors.
An actionable plan offers a comprehensive view of your business's operational aspects and helps you identify potential risks and challenges in the house flipping industry.
You can plan to seek funding or partnerships with the estimated startup costs, operational expenses, and profit margins.
A detailed business plan is a legal armor that prompts you to consider legal requirements and obtain necessary permits.
So, having a flipping house business plan is a game changer in the ever-evolving real estate landscape. Now, let's move forward to create an interesting business plan without any further ado:
How to write a business plan for your house-flipping business?
1. Get a business plan template
Before you start writing a business plan for your house-flipping business, consider using a business plan template first.
It serves as a structured format and helps you cover all the necessary elements in your business plan, saving you time and effort.
However, it is an effective way to organize your thoughts and cohesively prepare a professional document. It guides you on what to include in each section according to your business needs and preferences.
If you are new to business planning or searching for a well-presented template, choose Upmetrics' business plan template today. It is the best-suited and valuable tool for your flourishing house-flipping business!
2. Write an executive summary
An executive summary is a brief overview of your entire house-flipping business plan.
It is the initial section of the professional plan and highlights the key points of your house-flipping business, from mission-vision statements to financial projections.
This executive summary section should be clear, concise, and engaging as it attracts readers to delve further into your plan.
Start your summary with a quick introduction of your house-flipping business, including who you are and what type of house-flipping business you are running.
Here is an example of a business introduction using Upmetrics: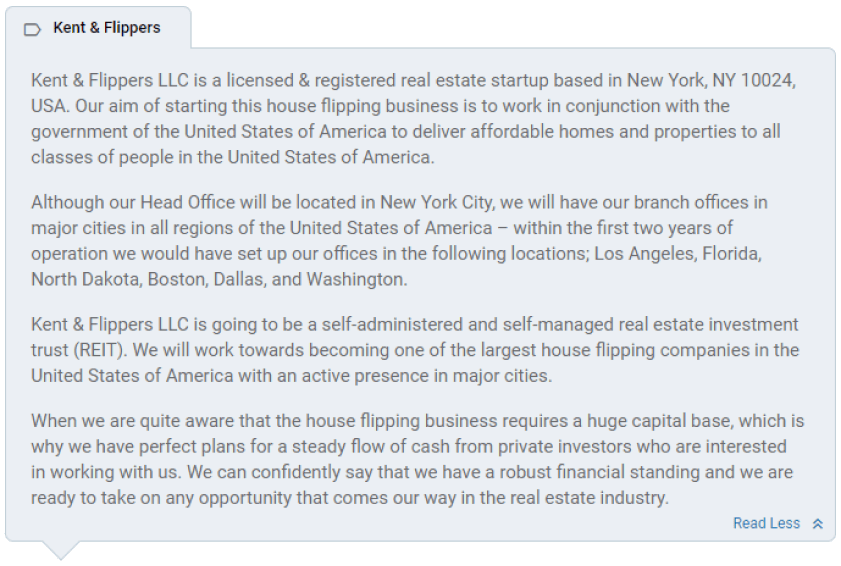 After that, discuss below key elements in the summary:
Mission & Vision Statement
Market Opportunity
Services Offered
Management Team
Financial Summary
Call to Action
Drafting the executive summary is often easiest when done last once you have simply gone through and penned all the important sections of your business plan.
3. Prepare a business overview section
Now, provide detailed information about your house-flipping business. It includes ownership, legal structure, office location, business history, and other such business-related facts.
Initially, introduce what type of business you are operating. For example, it will be one of the below types of house-flipping businesses:
Single-family Home Flipping: It emphasizes on renovating and selling a single property acquired at a lower cost for a profit.
Multi-unit Complex Flipping: It focuses on multi-unit properties where house flipper rehabs all the units in the multi-unit complex, with an option to sell units individually or the entire complex
Multi-investor Flipping: It includes house flipping among multiple investors before moving to the fix-and-flip stage.
Provide the history of your house-flipping company. You can also add business goals and milestones you have achieved. Take the below as an example,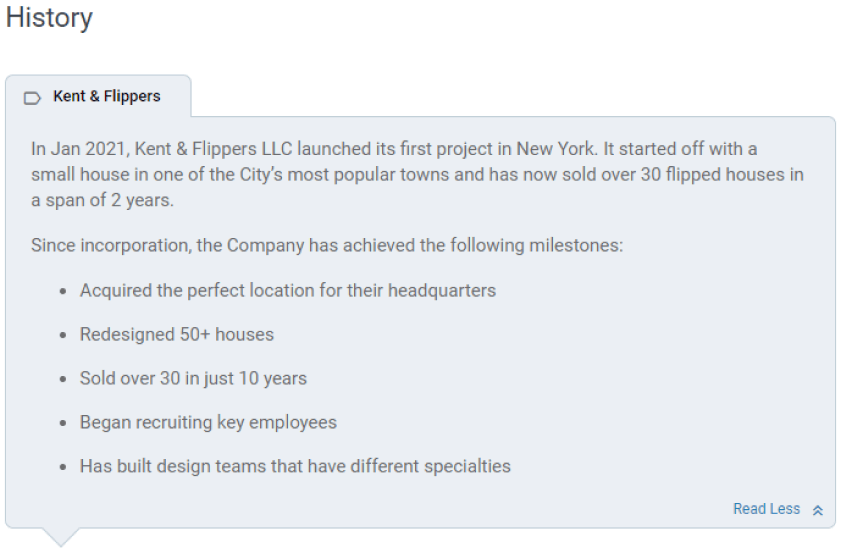 Do not forget to include the names of your business owners/partners and your future goals as this section gives an in-depth overview of your business.
4. Conduct a market and industry analysis
Starting a house-flipping business requires a strategic roadmap, and the key to developing that roadmap lies in a comprehensive industry and market analysis.
This chapter highlights the clear picture of your house-flipping industry. It serves the broader real estate market, which is affected by economic trends, market conditions, interest rates, and regional factors.
Here are certain key components to include:
Market share and growth potential
Identify your Targeted Available Market(TAM) and measure the viability of your business.
Consider market growth factors and financing availability to analyze the potential shares in the real estate market.
Industry trends
The dynamics of the housing market and emerging trends can potentially influence buying and selling patterns.
Technological advancement in the real estate market such as virtual tours and online property platforms has helped house flippers to reach a wider audience and upgrade property visibility.
Navigating the ideal target market
In this section, you can give details of the customers you serve or expect to serve. House flippers, prospective homeowners, contractors, and real estate agents are a few examples of customer segments.
Do proper market research and try to create a buyer's persona by exploring the psychographic and demographic details of the ideal customer.
Navigate their needs, preferences, and behaviors to customize your strategies, property selections, and renovation decisions to align with market demands. Here is an example written using Upmetrics' AI writing assistant:
For Kent & Flippers house-flipping business, our target market cuts across people of different classes and people from all walks of life. We are coming into the real estate industry with a business concept that will enable us to work with the highly placed people in the country and at the same with the lowly placed people who are only interested in putting a roof under their heads at an affordable price.
Our target market is the whole of the United States of America and we have put plans in place to recruit freelance agents (brokers) nationally to represent our business interests wherever they are located in the United States of America.
Below is a list of the people and organizations that we have specifically designed our products and services for:
Families who are interested in acquiring a home
Corporate organizations who are interested in acquiring their own property/properties
Home Owners who are interested in selling off their home
Properties Owners who are interested in selling off their properties
Foreign investors who are interested in owning properties in the United States of America
The government of the United States of America (Government contracts)
Managers of public facilities
Competitor analysis
Now, it's time to identify the top competitors in the house-flipping businesses. Get details of their businesses, and monitor their strengths and weaknesses.
It is a very important part of market research that helps you evaluate the real estate competitive landscape. Conduct a SWOT analysis to find your business position.
Demonstrate your competitive edge and present to potential stakeholders that your business is set for success in the challenging market.
5. Describe your house-flipping services
After understanding the market trends, give details about your house-flipping services. These services enclose a range of activities aimed at buying, renovating, and selling properties for a profit.
Your house-flipping services might be any of the following:
Property Assessment
Renovation Project Management
Design Consultation Services
Project cost evaluation
Broker opinion of valuation
Marketing property for lease/sale
Effectively communicate your services to the customers by sharing precise pricing plans and service descriptions with project timelines. For instance,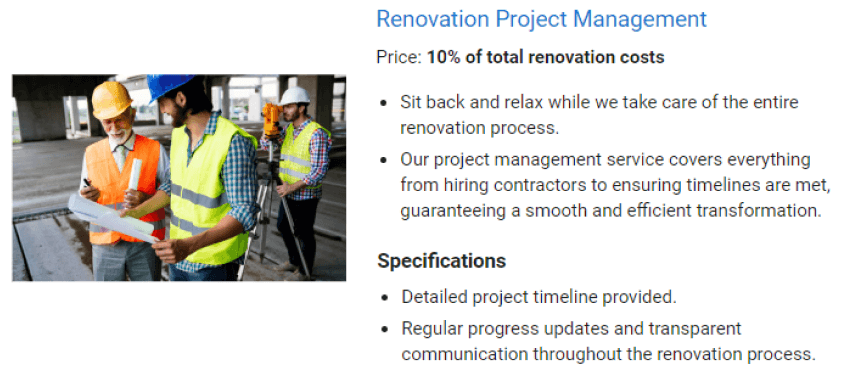 Additionally, state other additional services that you execute for house flips or property management.
6. Prepare marketing and sales strategies
Developing the sales and marketing section involves summarizing the strategy to entice new users and retain existing ones.
It describes the methods and approaches to gaining and keeping customers for the house-flipping business. Some of the sales and marketing strategies for property-flipping companies are:
Unique Selling Points (USPs)
Specify the USPs of each property that set you apart from the other house-flipping businesses. Emphasize a few aspects such as historical features, energy-efficient upgrades, or a prime location.
Professional Branding
Having a website and a memorable logo can establish a strong and professional brand that spreads a wider reach. It builds trust among potential customers. Showcase all your services with virtual tours and 3D imaging.
Social media advertising
Leverage social media channels (Facebook, Instagram, Twitter) to target particular audiences. Generate visually appealing ads and content to draw interest and drive traffic to your property listings. It helps you generate leads.
Email marketing
Create an email list of your potential clients. Regularly give updates on new property, renovation progress, and recent offers. This marketing tactic can nurture leads and keep your target market engaged.
Networking and partnerships
Always try to build strong relationships with real estate agents, mortgage brokers, and other professionals. Networking can help with referrals and partnerships that improve your reach.
Organizing open houses and events
Allow potential buyers to experience the property firsthand by hosting open houses and events. It gives an opportunity to answer queries, address concerns, and build a sense of urgency.
7. Introduce leadership or management team
A powerful management team is essential to showcase your house-flipping business's ability to thrive in the industry.
Letting your readers or investors know about your business leadership or key managers will help them have a clear idea of who is running your house-flipping company.
Highlight your key managers' and project managers' backgrounds, including those skills and experiences that ascertain their ability to grow a business. Here is an example of mentioning the management team using Upmetrics: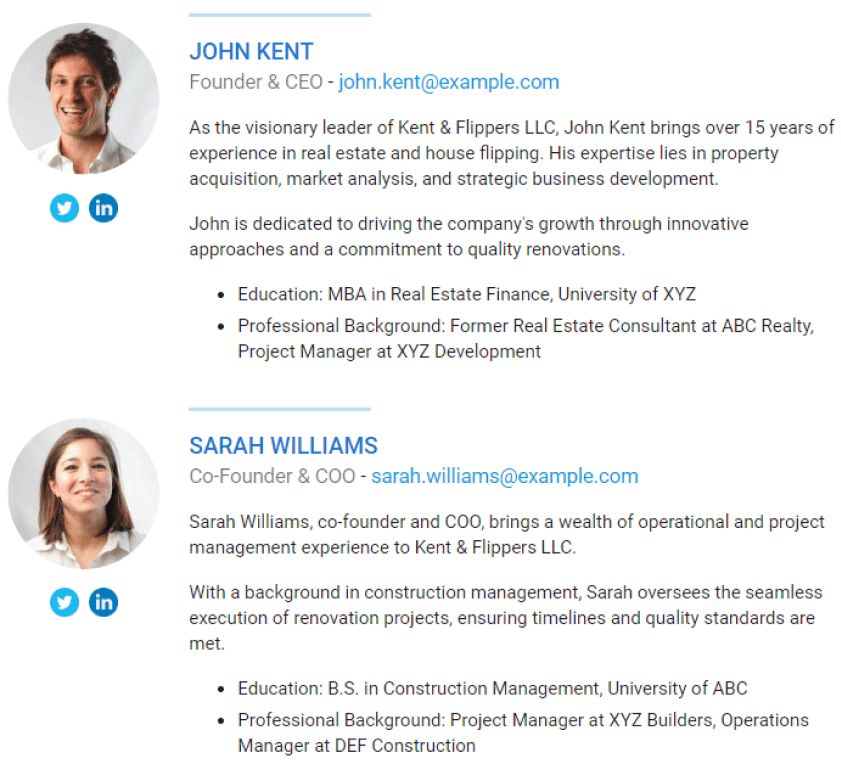 Also, discuss the compensation plan in this section and it includes salaries, incentives, or employee benefits. Not only that, mention any key advisor or consultant who adds credibility to your business idea.
8. Outline your operational plan
Now it's time to emphasize an effective description of a business operational plan as this section highlights key areas such as staffing, operational processes, and facilities/technology.
Operational excellence is essential for fulfilling your goals and commitments to clients and ensuring optimal results. Briefly outline operational planning, underscore how it directly impacts the quality of services, and pique the reader's interest.
Wondering what to add to your house flipping operational plan? Well, here is a distinct section:
Staffing
Start by introducing your dedicated team and their roles for seamless operations. Also, describe your recruitment procedure, training sessions, and methods for fostering a collaborative and skilled workforce.
Here is an illustration of a house-flipping company's staffing requirement using Upmetrics: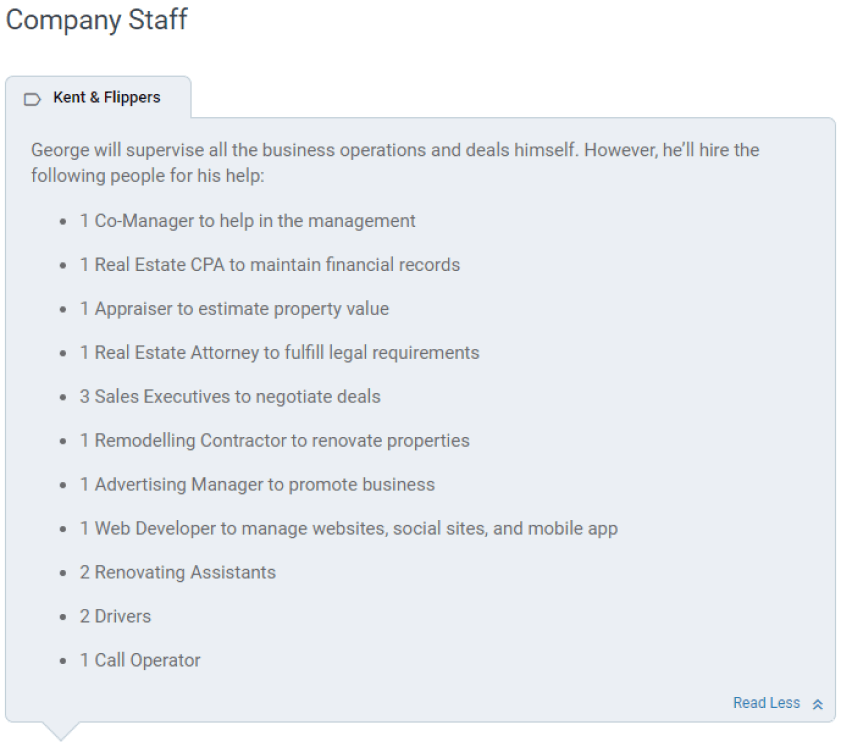 Operational process
Detail the intricacies of your property acquisition, renovation, and sales processes. Define the operational framework and delve into the systematic approach to project management, quality control, and timeframes.
Quality assurance
Discuss the inspection protocols, compliance verifications, and ongoing improvement initiatives to show your commitment to high standards and quality control measures.
Facilities/Technology
Describe how innovative tools and platforms improve your efficiency in project management, real estate property scouting, house flips, designs, and communication.
9. Create a financial plan
A well-structured and in-depth financial plan comes last in the house flipping plan but is the most exciting section for investors.
It is a detailed blueprint of all the cash flow and revenue streams, initial startup costs, and how these expenses will be covered through the earned profits.
This financial projection has a significant value in terms of whether you secure funding or not. So, mention all the below key components in your plan:
Profit and loss statement
Sales forecast
Cash flow statement
Balance sheet
Break-even analysis
Financial needs
Tax considerations
Business ratios
Exit strategy
From the above, you can identify the funding requirements and evaluate the funding resources for your house-flipping company, including bank loans, SBA-guaranteed loans, real estate investors, and personal savings.
However, calculating all the financial statements from scratch can be an overwhelming task. In addition to that you have to work on graphs and visuals for the clarity of your financial plan.
Not to worry; here is an easy way. Use Upmetrics' financial forecasting tool to formulate all the financial aspects for starting a real estate flipping business.
This tool guides you through the projected financial statements and helps you generate key reports and graphs that can be easily downloaded. Here is an example of a projected cash flow for 3 years with the help of Upmetrics: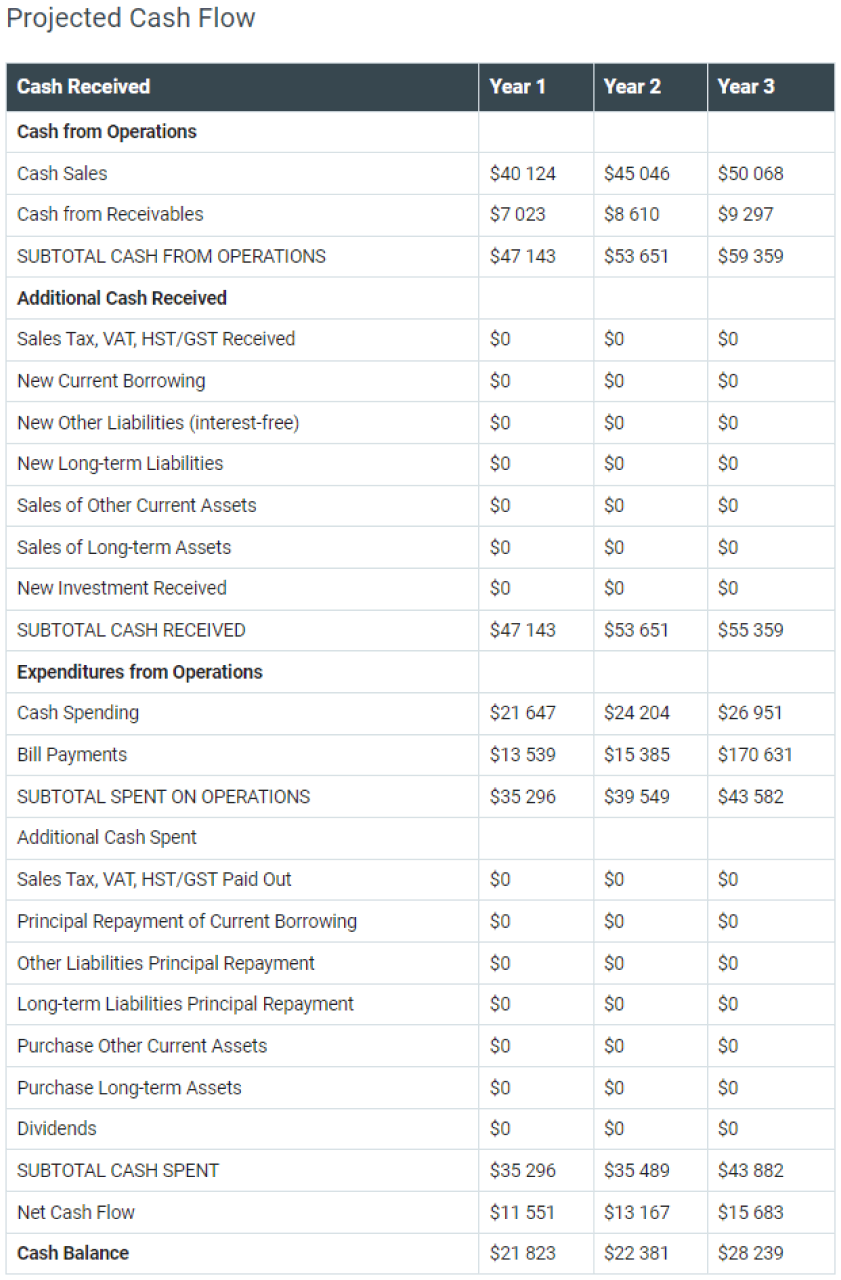 Additionally, you can offer stakeholders a transparent view of your business's fiscal health and growth potential with a deeper exploration of your financial strategy.
Well, having realistic financial projections at your hand can help you evaluate the financial sustainability of your property-flipping business.
House flipping Industry Highlights 2024
Flipping houses continues to be a money-making strategy for a real estate investor. So, let's go through some house-flipping industry trends and statistics:
According to Forbes, the housing market will shift positively by the year's end. The talk of decreased mortgage rates will provide more opportunities to invest in real estate, whether for home flipping or renting.
Fix-and-flip profits aren't as high as in 2022, but house flippers can still make great returns in the next few years. They generated an average gross profit of 22.5% compared to the first quarter of 2023.
A home-flipping report in the U.S. shows that 84,350 single-family homes and condominiums were flipped in the second quarter of 2023. It is significantly higher than the first quarter of the year.
In the U.S. market, Texas and Florida are the two major hotspots for flipping houses and are most popular among house flippers.
Depending on location and other external factors, successful house flips can yield returns varying from 10% to 100% or even more of the initial real estate investment.
Refine and present a house-flipping Business Plan
Once you have drafted your entire house-flipping plan, read and re-read your documented plan to make sure that it is error-free. You have to feel confident about your flipping business plan before presenting it to your audience.
In addition, tailor your documented plan to serve different audiences to enhance communication. For instance,
Real estate Investors: For seeking funding, keep a professional tone in your plan and include all the growth potential, profitability, and ROI data.
Banks: Showcase thorough financial details and emphasize economic stability. Also, address potential risks and indicate risk mitigation plans.
Business partners or lenders: Highlight collaboration benefits and how they can add value to their personal growth. Focus on goals for mutually profitable partnerships.
Well, don't forget the importance of visual aids and digital representation here. Use engaging visuals, graphs, interactive elements, and multimedia to demonstrate property transformations.
Thus, integrate all the above things in a clutter-free and visually appealing manner to create a digital presentation of your plan.
After that, it's time to final check and email your plan to the intended audience. And celebrate your efforts and dedication to drafting a captivating narrative.
Download sample house-flipping business plan
Are you ready to start a house-flipping business plan writing? And want to get help with your business plan? Well, here you can download our free house-flipping business plan pdf and start writing.
This advanced investor-friendly template has been crafted with house-flipping businesses in mind. With step-by-step instructions and examples, this flipping business plan template assists you in developing your own plan.
Import data into your editor and start a house-flipping business plan writing.
The Quickest Way to turn a Business Idea into a Business Plan
Fill-in-the-blanks and automatic financials make it easy.
Get Started Now!

Write your business plan with Upmetrics
With Upmetrics, you will get easy-to-follow steps, 400+ sample business plans, and AI support to streamline your business planning approach.
Our financial forecasting tool will help you create accurate financial forecasts for 3 or more years if you're not good at finances.
Whether you're venturing into a new business or aiming for expansion, Upmetrics provides resources and valuable insights to build successful and professional business plans that perfectly align with your objectives.
Let's embark on a journey to real estate triumph!