6 Essential Milestones to Achieve in Your Business Roadmap
Entrepreneurs start their businesses envisioning the success they wish to see. But just having a great idea is not enough. What's needed is a long-term roadmap with appropriate business milestones. This helps break down long-term goals into bite-sized objectives.
Through these milestones, you get a birds-eye view of where your business is and where you want to be in a given timeline. Think of it as a guiding principle for your business. It gives you direction, clarity, and the means to track, measure, and compare your progress.
In this article, we will see what are business milestones, why they matter, and how you can set them for your business. We will also share with you six of the most essential business plan milestones you need to create your own roadmap.
What Are Business Milestones and Why Do You Need Them?
Milestones are the indicators in your business journey that help you identify how far you've come and what you need to do to reach your targets. They help simplify your actions into manageable and perceivable day-to-day activities.
Writing SMART goals and setting milestones is essential for your business to succeed. Milestones help you:
Map out your goals with relevant metrics to track progress
Adjust trajectory in case of any deviations
Predict when you will reach your set goals
Goals without milestones lack direction. And to be able to follow the right direction, you need the right strategies that follow the right timeline.
A business roadmap, much like a business plan, is an overview of your business landscape. It consists of the milestones that you need to achieve to get to your destination. However, it does not include specific everyday tasks.
How to Create Business Plan Milestones
Creating clear, accurate, and distinct milestones is essential to reach your goals. An effective milestone has four key elements:
Description (What): List down the details of your milestone. For instance, instead of writing 'increase sales', you can write 'increase sales by 30% percent'. Add as many details as necessary to understand your objectives.
Date (When): Mention a deadline for the task. Without one, it can be difficult to achieve goals on time. Set up a timeline for each task. This helps you manage and complete tasks as per your business requirements.
Budget (How much): Before you start any task or project, plan your budget and how much of it you want to allocate to each task. This helps you stay within your budget, avoid wastage, and save time.
Delegation (Who): Assign the responsibility to the relevant talents. Make sure to keep adequate supervision on the progress made to ensure a consistent outcome.
Conduct team meetings at the end of each month to review the progress made so far in reaching your next milestone. This helps you stay on the right track and make necessary adjustments in case of any deviations.
6 Must-have Business Milestones to Achieve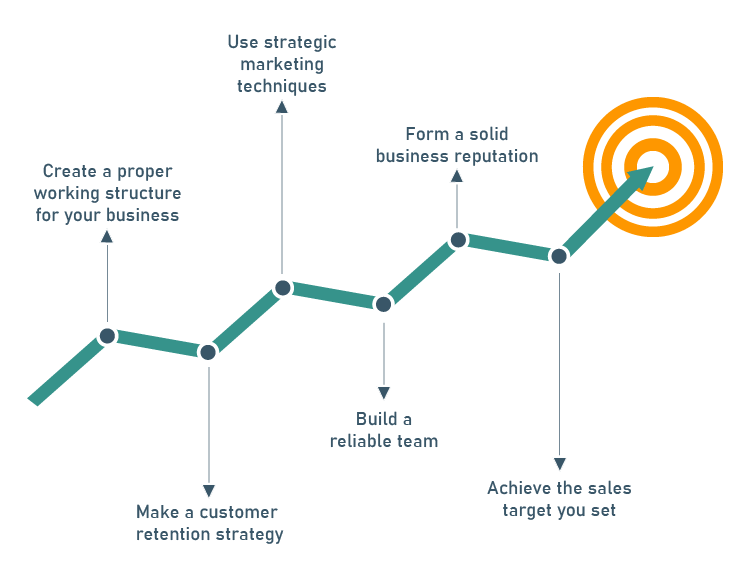 Inspired by a brilliant business idea, you decided to set up your company. You also took it upon yourself to create a custom business plan, acquire capital, secure all permits and licenses, and other paperwork. Good job!
The next step is to set yourself apart from your competitors to establish authority. A well-made roadmap can help you get there and make sure that your business stands the test of time.
Keeping that in mind, here are 6 milestones to include in your business roadmap:
Create Your Roadmap to Success
Starting a business comes with all sorts of obstacles. Some are easy to overcome, some take months. Regardless, setting milestones helps you maintain a clear vision of where you want to go.
A profitable business model, loyal customers, a realistic marketing strategy, a reliable team, a good repute, and an achievable sales target—all combine to ensure your long-term success.