The idea of opening a restaurant and bar is constantly growing. Is operating a bar or restaurant profitable? The answer is yes if you employ the proper resources, effective business procedures, and a thorough marketplace business plan.
Are you confused between a restaurant and a bar? Before beginning your business, you should be aware of a few significant differences. There are standalone bars and restaurants, yes, but is there a distinction between the two?
Here, we'll go over the similarities and differences between bars and restaurants as well as how to succeed in this eatery business.
What Is a Bar?
An establishment with a permit to serve alcoholic beverages is a bar. The name of the particular drink is taken from the counter or bar where it is served.
A bar business manager is a title given to the person in charge of operating a bar.
If you already run a bar, the definition might be simple to understand.
However, it might be very perplexing for someone trying to get into the field. Why? Because "bar" is now a catch-all term for pubs, clubs, and occasionally even restaurants. Therefore, asking someone if they want to go to the bar tonight could lead you to any of the locations listed above.
If you want to draw in a certain niche market, you must be able to recognize what a bar is and the kind of bar you want to operate.
What Food And Drinks Does a Bar Serve?
Numerous menu options are there in the bar business. Depending on the type of bar you run, and what you serve. For example, a cocktail bar, wine bar, juice bar, or local bar might solely serve drinks and have no food options.
On rare occasions, you might stumble onto a bar with a limited selection of appetizers. But in most cases, that won't be the case.
In contrast, a sports bar offers a wide selection of entrees and finger foods that go well with sporting events, such as wings and fast food. Don't forget to factor in the additional expense of food if a sports bar appeals to you.
You can conduct some research to learn how to price your food menu in comparison to other bars with a similar atmosphere. Then you can also add it to your bar business plan.
Environment In a Bar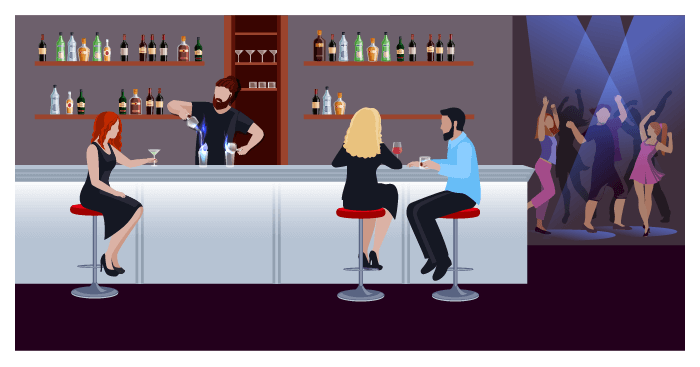 A bar's age restriction ranges from 18 to 21 years old. The typical age of a bartender is 21, but different states have varied age restrictions, so keep that in mind when hiring.
In addition, different bars have different policies regarding entrance for patrons under the age of 21.
The majority of bars will have loud music, a dance floor, and little to no wait staff when it comes to the standard bar atmosphere.
However, you may anticipate seeing more bar workers than usual on busy nights.
Additionally, customers frequently hop from one pub to another or bar. Bar hopping is less common in clubs and karaoke establishments, though.
What Is a Restaurant?
A restaurant business, as opposed to a bar, is a place where the general public can buy food and drinks (which may or may not contain alcohol).
The main distinction is that restaurants don't offer alcohol or entertainment; they're meant to sell meals.
But this does not preclude an eating house business from serving alcoholic beverages. In actuality, the vast majority of eateries provide a liquor menu.
Restaurant menus typically include a variety of alcoholic beverages, including drinks like wine, margaritas, and well-known craft beer brands. If you want to know how to start a restaurant business, then visit Upmetrics.
What Food And Drinks Does a Restaurant Serve?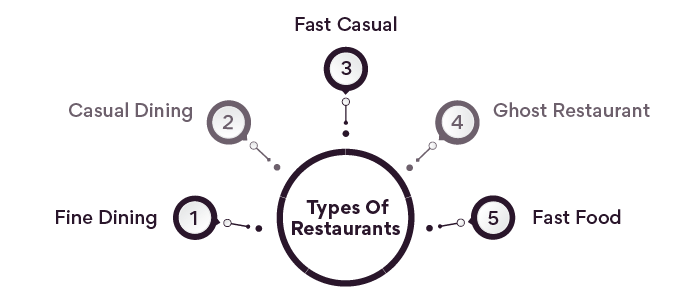 Similar to bars, depending on the type of restaurant business you want to start, the food will differ. The five main types of restaurants include fast food, quick-casual, fine dining, and ghost restaurants.
Fine Dining

Expect to discover luxury meals with multiple courses in a fine dining establishment, such as a salad, appetizer, entree, and dessert

Creating an elegant and refined ambiance is the goal of fine dining. As a result, you have to pay for both the experience and the food.

Casual Dining

The ideal bridge between fast casual and exquisite dining is casual dining. It provides a more relaxed environment while yet providing the sit-down experience that many people enjoy.

A casual dining establishment typically offers the following:

Indoor seating
Reasonably priced food
A relaxed atmosphere
Special food items

Fast Casual

While still offering quick service, fast casual restaurants nevertheless provide you with tasty, satisfying meals. You may anticipate meals that are cheaper than casual and fine dining, yet healthier than fast food.

Additionally, fast-casual restaurants typically offer counter service rather than waiter service.

Ghost Restaurant

A restaurant that only accepts phone and internet orders from clients is known as a "ghost restaurant" or "ghost kitchen."

It is not an outlet business because there is no storefront as it is a virtual restaurant format (i.e., decor and seating). A ghost restaurant solely employs cooks and delivery people.

Fast Food Restaurant

The most common kind of restaurant is one that serves fast food or a pizzeria.

Customers are drawn in by the affordable costs, ease of use, and quickness. To meet demand, the majority of fast food restaurants though not all use frozen and reheated meals.
Environment In a Restaurant
Restaurant settings are typically relaxed. However, it also depends on the kind of restaurant you're in. While upmarket fine dining offers a more formal setting, fast casual dining is more relaxed.
Restaurants occasionally provide a fantastic middle ground as well. You could see a dance floor and outdoor patios that give a different experience if the restaurant you're at includes a bar.
The fact that you can select the atmosphere you want to provide as a restaurant owner is a good thing. There is an option of a food truck also available if you want to start providing food service on a small level.
Finally, there are typically no age restrictions at eateries. To sit at a bar, though, you must be at least 21 years old.
Key Difference In a Restaurant and a Bar
The distinctions between a restaurant and a bar are rigid overall. It's true to state that a restaurant can double as a bar, but the reverse is not true of the other.
The following are some crucial distinctions between a bar and a restaurant:
Restaurants have waiters, whereas bars have bartenders.
In a bar, your visitors can interact with each other. In contrast, you're expected to interact with people at your table only in a restaurant.
Restaurants typically offer table seating, whereas bars don't.
A bar's primary function is to provide alcohol, whereas a restaurant's primary thing is food service operation.
Whether your goal is to open a restaurant, a bar, or both, your success depends on your ability to recognize the differences between each.
In the end, being aware of these distinctions can help you create a restaurant business plan and identify prospective growth areas. Visit our sample cafeteria business plan to know how to start with your business plan.
Business Risks Bar and Restaurant Face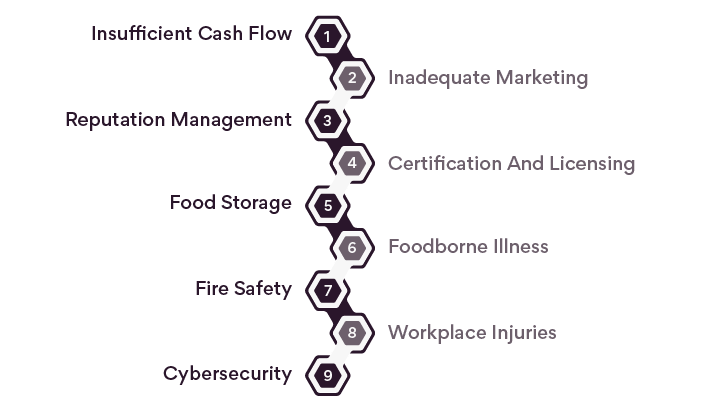 Restaurant or pub business owners always carry some level of risk.
Identifying and tackling the biggest risks facing their business is a worry that no owner can afford to ignore, from accumulating the funds required to cover operational costs until a restaurant is ready to start producing a profit.
The list that follows identifies some of the most prevalent and expensive problems that could jeopardize a restaurant's ability to remain in business.
Insufficient Cash Flow

The single biggest error new owners can make is underestimating the amount of time a restaurant needs to establish itself to become profitable. Even though starting expenditures can be high, not having enough funding can be nothing short of disastrous.

Even the most promising eateries might have to continue serving customers for months or even years before they begin to make enough money to cover their operating expenses.

Inadequate Marketing

For any new firm, promotional efforts are essential. Particularly in cases when owners neglect to prioritize advertising, restaurants that must contend with several rivals may soon find themselves lost in the crowd.

A successful marketing or promotional campaign can be a valuable asset that no business owner should undervalue. It's crucial to get the word out about your Irish pub or food truck as soon as possible.

Poor Brand Or Reputation Management

Finding strategies to effectively manage a company's brand or reputation can also significantly increase the likelihood that restaurants will be successful.

Business owners would be wise to steer clear of concerns like negative news, bad word-of-mouth recommendations, and past unhappy clients.

A new company's ability to succeed or fail depends on its ability to manage its reputation effectively. Online foodies reviews are a key source of business for restaurants as they are used to increase foot traffic.

Certification And Licensing

A calamity may result if the necessary permissions and licenses are not up to date. Businesses that choose to ignore such issues frequently suffer severe repercussions in the form of possible penalties and other issues.

Company owners would be advised to make sure that their documentation and licenses can be kept up to date without trouble, from a business or food handler's permission to an alcohol license.

Many of these necessary considerations will come up while speaking with an experienced risk manager.

Food Storage

To cut down on daily expenses, make sure that all food purchases may be stretched as far as feasible.

Dealing with equipment stores and restaurant suppliers who have access to the complete spectrum of food preservation and storage options is frequently a worthwhile endeavor.

The tools required to ensure that all goods and supplies can be properly and conveniently stored, such as walk-in freezers and serving stations, can help restaurant operators avoid numerous possible problems that might otherwise arise.

Foodborne Illness

Even seemingly minor foodborne illnesses can endanger patrons' health and well-being and do lasting damage to a restaurant's brand and image.

The risk of contracting a foodborne illness can be significantly increased by tainted food, incorrect handling, or dangerous storage techniques. Owners of businesses have to be wise to put safety first.

It can be wise to evaluate current food-handling policies. Also, make any necessary modifications, as well as collaborate with restaurant suppliers that have the equipment alternatives and other resources that may be needed.

Fire Safety

A restaurant fire is never a little problem. It can be of utmost importance to take action to prevent fires or to make sure that all staff and employees have received the necessary training to handle a fire.

Even a tiny fire that might start after business hours in a deserted restaurant could cause significant harm.

No restaurant owner can afford to ignore their obligation to ensure fire safety and risk their restaurant or bar inventory.

Workplace Injuries

Business owners would be well to steer clear of any legal issues that could arise from workers' compensation claims for injured associates.

To help business owners lower the risk of an accident or injury, restaurant suppliers are frequently able to offer a full range of safety equipment.

Even the most diligent business owners might not be able to detect and handle every possible hazard. So strong regulations and safety equipment can make a significant difference.

Cybersecurity

Another issue that business owners frequently neglect is digital security. A data breach can frequently have serious repercussions on customer relations.

Digital security is no longer a problem that restaurant operators can afford to ignore, affecting everything from websites and online payment portals.

You might need to take cyber insurance into account if your company processes credit card transactions.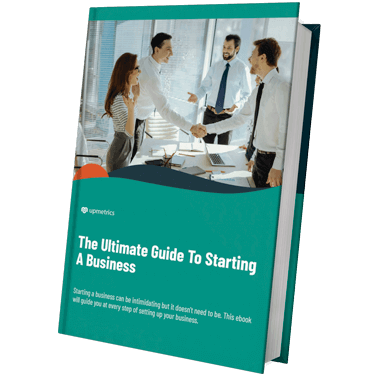 Are You Ready For Your Restaurant Or Bar Business?
From, either you want to include nonveg on your menu, to your cocktail menu, you need to decide everything.
Whether you open a restaurant or a bar, you will need an attractive business plan for both. Get started with our sample business plans and download them now.