If you are a book lover, having your bookstore might be no less than a dream. After all, what's better than being around thousands of books daily and helping people to find their favorite books?
And you also must have wondered about the book clubs and readings that you can organize. But then again, no matter how much you love books, if you make a business out of it, making a good profit is at least one of its goals even if it's not the only one.
If you are planning to start a new bookstore, the first thing you will need is a business plan. Use our sample bookstore business plan created using Upmetrics business plan software to start writing your business plan in no time.
Before you start writing your business plan for your new bookstore business, spend as much time as you can reading through some examples of retail store-related business plans.
Industry Overview
The global book market stood at a massive value of 132.1 billion dollars in 2020 and is expected to grow at a rapid rate moving forward as well.
With the increase in reading for self-improvement, growing love towards poetry books, and the advent of audiobooks and ebooks the book market has grown at a rapid rate.
Also, increased spending on hobbies and interests has contributed to the growth of the book market.
Readers and sellers alike have got to get firsthand experience of the industry's growth. And with the development of technologies like virtual reality, the market is bound to change even more.
Say goodbye to boring templates
Build your business plan faster and easier with AI
Plans starting from $7/month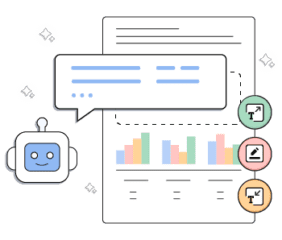 Things to Consider Before Writing a Bookstore Business Plan
Choose a good location

A good location is essential for a bookstore. Be it for making your store more accessible or more visible for people, choosing a good location for a bookstore is foundational. Also, make sure that the surroundings of your bookstore aren't too noisy.

Plan for additional attractions

Although most of us are used to seeing quiet bookstores in which people walk in, roam around, and go out. But what if we told you there's a way to keep them there longer and leave with a good book or experience that makes them return?

From book cafes, open mics, and book clubs you can organize anything that might grab your book-lover friends' attention.

Have handy sources to keep up with the latest popular books

Keeping your bookstore well stocked up with books belonging to the latest trending topics to current popular culture is the lifeline of your bookstore.

Have a reliable source to keep up with all the trending books and topics, and have alternatives to trending books that your customers might like.

Develop a marketing strategy

In today's digital age, it is important to have a proper online and offline marketing strategy to make your business visible. Register yourself with popular e-commerce sites like Amazon and Flipkart, which can become a major driver of sales for your bookstore as a huge number of people buy books online nowadays.
Chalking out Your Business Plan
A lot of movies and dramas have led us to believe that all that exists in a bookstore are books and crickets.
Well, that isn't true if you open a bookstore armed with a well-rounded bookstore business plan.
Reading sample business plans will give you a good idea of what you're aiming for and also it will show you the different sections that different entrepreneurs include and the language they use to write about themselves and their business plans.
We have created this sample bookstore business plan for you to get a good idea about what a perfect bookstore business plan should look like and what details you will need to include in your stunning business plan.
Bookstore Business Plan Outline
This is the standard bookstore business plan outline which will cover all important sections that you should include in your business plan.
Executive Summary

Mission Statement
Vision Statement
Customer Focus
Success Factors
Financial Summary

Company Summary

History
Business Structure
Startup Summary
Store Design

Products and Services
Market Analysis

Industry Analysis
Target Market

SWOT Analysis
Strategy & Implementations

Sales Strategy
Sales Forecast
Advertising Strategy

Direct Mail
Public Relations
Advertising
Ongoing Customer Communications
Pre-Opening Events

Pricing Strategy

Financial Plan

Important Assumptions
Brake-even Analysis
Projected Profit and Loss

Profit Yearly
Gross Margin Yearly

Projected Cash Flow
Projected Balance Sheet
Business Ratios
After getting started with Upmetrics, you can copy this sample bookstore business plan template into your business plan and modify the required information and download your bookstore business plan pdf or doc file.
It's the fastest and easiest way to start writing your business plan.
The Quickest Way to turn a Business Idea into a Business Plan
Fill-in-the-blanks and automatic financials make it easy.
Get Started Now!

Download a sample bookstore business plan
Need help writing your business plan from scratch? Here you go; download our free bookstore business plan pdf to start.
It's a modern business plan template specifically designed for your bookstore business. Use the example business plan as a guide for writing your own.