Nail art is one of the most Instagrammable trends of this decade. From French manicures to striking gel nails, people are going gaga over this fashion trend.
And if you possess the right blend of creativity and style, then starting a nail salon business might be right for you.
Industry Overview
With the rise of K-pop and influencer culture, the nail industry is growing by leaps and bounds. It stood at a massive market value of 42.8bn dollars as of 2021, and it isn't going to shrink anytime soon.
And though out-of-the-box creative ideas are central to your success in the nail salon business, entering the industry without a proper plan might prove disastrous.
The reason is, that the highly trending markets are the most competitive ones. And to last in such industries long enough to reap the rewards of your work you need to have a competitive edge that only a well-written business plan can give you.
Now you might wonder, how can a business plan help you gain a competitive edge? How can you juggle between honing your skills and formulating a business strategy? Most importantly how to write a nail salon business plan and what to include in it?
Don't worry, we've got you covered. Before that let's understand why it is important to have a nail salon business plan in the first place.
Key Takeaways
Highlight your nail salon business, its ambiance, your service offerings, and any USPs of your salon in your business plan.
Consider SWOT analysis to identify your strengths and weaknesses.
Craft an effective executive summary section that overviews your nail salon business plan.
Conduct thorough market research to understand market trends, consumer preferences, and your target market.
Research and analyze your direct and indirect competitors to determine where your business stands against them.
Outline your operational plan and provide details about staffing needs, inventory control, and customer service.
Prepare accurate financial forecasts for sales, revenue, and expenses. It's the most crucial aspect of your business plan.
How Can a Nail Salon Business Plan Help You?
As we have discussed earlier, the nail salon industry is a highly competitive market and to flourish in it you need strategies only a business plan helps you achieve.
A business plan helps you in defining realistic and achievable goals.
Moreover, it also helps you decide how various aspects of your business, like marketing, operations, and finance would function. It helps you know the industry better and helps you decide what to spend on and where to control your experiences.
Also, if you are planning on acquiring funds for starting your business, it can help you decide on which funding method works the best for you and what are your options in the current market.
Things to Consider Before Writing a Nail Salon Business Plan
A nail salon business plan includes several areas that are specific to it. Most importantly a nail salon should have a strong social media presence and a great marketing and advertising strategy.
Apart from that, there are several aspects like finances, operations, and market analysis that a nail salon business has in common with other businesses.
For writing a nail salon business plan there are several options like pre-designed templates and online business plan software. Business plan software can help you design a customizable plan that suits your individual needs.
Nail Salon Business Plan Outline
This is the standard nail salon business plan outline which will cover all important sections that you should include in your business plan.
Executive Summary

Mission statement
Vision statement
Customer Focus
Management Team
Success Factors
Financial Summary

Company Summary

History
Products and Services
Salon Design

Market Analysis

Market Trends
Target Market

Strategy & Implementations

Advertising Strategy

Local Publications
Major Publications
Community Events/Organizations
Commute Advertising
Customer Loyalty Programs
Direct Mail
Ongoing Customer Communications
Pre-Opening Events

Pricing Strategy

Management Summary

Management Team Members
Hiring Plan

Operations Plan

Functional Roles
Service Functions
Administrative Functions
Milestones

Financial Plan

Important Assumptions
Brake-even Analysis
Projected Profit and Loss

Profit Yearly
Gross Margin Yearly

Projected Cash Flow
Projected Balance Sheet
Business Ratios
Say goodbye to boring templates
Build your business plan faster and easier with AI
Plans starting from $7/month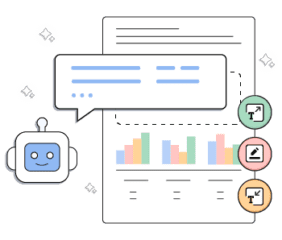 Let's understand each section in detail.
1. Executive Summary
If you are planning on getting funded, this would be the most important section of your business plan as it acts as a pitch to investors. This section forms the first page of your business plan and should sum up your business idea in a complete and precise manner.
It should include areas like the targeted customer base, your vision and mission, your financial strategy, and also your potential profit in the coming years.
2. Company Summary
This section consists of everything your company stands for including its history, present condition, and future prospects.
As a nail salon business, it would also consist of your salon design, the size of the company, the number of outlets, etc.
3. Market Analysis
Conducting a market analysis helps you understand your position in the market and what client base you should aim for. Not just that, it also helps you in understanding your competitors better, if you know their tactics it becomes easier for you to get ahead of them.
Hence, the market analysis section is a crucial aspect of your nail salon business plan.
4. Strategy and Implementations
In this section, you'll include strategies for growth in all aspects of your business. In a nail salon business, it is of utmost importance to have a strong social media strategy and also ideas to introduce new forms of nail art that have the potential of turning into a trend in the future.
Apart from that, you'll also include your target client base and strategies for reaching out to them in this section. For example, if your client base consists mainly of YouTubers and influencers then influencer marketing might work for your business, but if you have a more general client base then posts and reviews from your actual customers might work better for you.
Apart from that, it is also important to have strategies to manage customer relationships so your salon gets regular customers. Discount offers and packages for potential and present customers might work wonders for your business.
5. Management Summary
This section is especially important for nail salons as it includes everything about your employees. Having skilled nail technicians is essential to the success of your business.
Hence, in this section jot down all the skills and services your team has to offer and devise ways of tracking their progress and work.
6. Financial Plan
Financial forecasting or planning is the most important aspect of your nail salon business plan. A well-crafted financial plan helps you estimate your startup and operational costs and optimize your expenses.
Balance sheet, income statement, cash flow statement, and break-even analysis are key components of your financial plan.
Besides these statements, here's what you should consider while forecasting financials:
Sales projections
Revenue projections
Expense projections
What-if scenarios (sensitivity analysis)
Forecasting accurate financials may sound like a lot of maths, but it's easier than ever with a financial forecasting tool like Upmetrics.
All you need to do is provide the information you have, let the tool project financials, and prepare visual reports for you. No manual data entry, remembering Excel formulas, or preparing graphs—nothing.
Here's an example of a 3-year profit forecast prepared using the #1 business planning app—Upmetrics: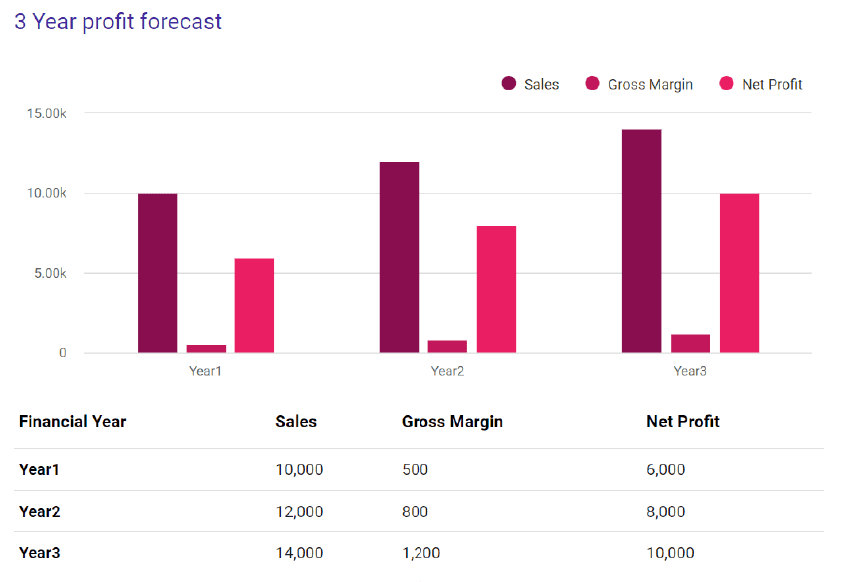 Download a sample nail salon business plan
Need help writing your business plan from scratch? Here you go; download our free nail salon business plan pdf to start.
It's a modern business plan template specifically designed for your nail salon. Use the example business plan as a guide for writing your own.
The Quickest Way to turn a Business Idea into a Business Plan
Fill-in-the-blanks and automatic financials make it easy.
Get Started Now!

Write your business plan with Upmetrics
Using a business planning app like Upmetrics is the best way to draft your business plan. This incredible tool comes with step-by-step instructions, customizable templates, and an extensive library of business plan examples to help you get started.
So, whether starting a new nail salon or planning to grow an existing one, Upmetrics is the tool you need to create a business plan.
Check out our other beauty salon & fitness business plan templates.