Simple Business Plan Template for Startups
The simple business plan template is based on Ash Maurya's lean canvas. If you need to write a business plan quickly or if your business is fairly simple and straightforward to explain, use our simple business plan template to write your business plan easily.
Each section of a simple business plan is a quick summary and should not be longer than one page.
This simple business plan is not the detailed business plan that is being used to secure funding or loan. This simple business plan avoids long-worded summaries and detailed information about the business.
This simple business plan is not even a document. It's a collection of lists, tables, and bullet points of important aspects of your business strategy and management.
However, whenever there is a need for a formal business plan, this simple business plan can be an excellent first draft. Add descriptions and fill in the required information, make sure you have all the key business plan components, and you have the formal business plan ready that you need.
This simple business plan template contains nine essentials blocks that every business needs, and nothing else. It's just a core summary plan for running the small business, not a document or detailed plan which should be presented to investors or lenders.
It is to optimize administration and emphasis finding customer problems worth solving — specifically by building a solid foundation on the customer, problem, and solution assumptions before anything else. This promises an actionable and entrepreneur-focused business plan.
Preview our simple business plan example, Let's start writing your own business plan.
It's easy and fun with Upmetrics.
No matter how short and sweet your structure is, a simple business plan must contain the following elements:
Value proposition: The value that your business brings into its particular market and should be written in a clear statement.
Key partnerships, resources, and activities: More information about the partners working alongside your business, strategies for gaining a competitive advantage, and resources, such as intellectual property or capital, used to create value for your target audience.
Customer segments, channels, and relationships: Who is your audience? Where can you reach them? How will you build a lasting relationship together? Define your target market, methods for being able to talk to them, and strategies for establishing the customer experience.
Revenue streams, and cost structures: Explain and list out the revenue streams your business has for making money. Make sure to include a quick section that defines your cost structure strategy too.
Use this template as your guideline and start filling in the blanks.
It's easy and fun with Upmetrics.
Simple business plan outline
This sample business plan template includes the following sections:
Problem
Customer Segment

Customer Segment
Early Adopters

Unique Value Proposition

Unique Value Proposition
High-Level Concept

Solution
Channels
Cost Structure
Revenue Streams
Key Metrics
Unfair Advantage
After getting started with upmetrics, you can copy this simple business plan template into your business plan and modify the required information and download your business plan pdf and doc file. It's the fastest and easiest way to start writing a business plan.
Customize your Business Plan
All businesses are different. So, don't hesitate to customize your business plan according to your requirements. Even though our sample business plans aim to help you create the perfect presentation for your clients and investors, it is finally up to you to decide how you're going to present your ideas in the best light.
Get started with upmetrics and use this business plan template to write your plan in half of the time.
Use This Template Now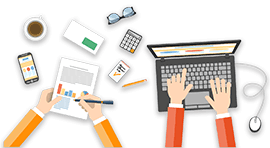 Business Plan Software
How you would you like to rate this template?
Thank you! We have received your rating.
Our upmetrics business plan software can help you to customize your business plan and provides you a step-by-step guide to write your business plan. You can save your plan online and update it any time, or download it as a PDF or DOC file. You can share business plan online with investors or any other important person with upmetrics easily.
DISCLAIMER: The business plans, templates, and articles contained on upmetrics.co are not to be considered as legal advice. All content is for informational purposes, and upmetrics makes no claim as to accuracy, legality or suitability. The site owner shall not be held liable for any errors, omissions or for damages of any kind.