People are increasingly opting for a healthier and better lifestyle these days. And for the same reason, there is an increasing demand for better skin care products as well.
Also, the rise of YouTube and the popularity gained by skincare has led to increasing demand for skin care products.
→ Download Now: Free Skin Care Business Plan

If you have innovative ideas to make skincare better, are a beauty enthusiast yourself, and can keep up with the changing beauty trends and demands then a skincare business might be your perfect match.
If you are planning to start a new skincare business, the first thing you will need is a skin care business plan. Use our skin care business plan example & start writing your business plan in no time.
Skin Care Business Plan Outline
This is the standard format of a business plan for a skincare business, and it includes all the key components that your plan should have.
Executive Summary
An executive summary part comes first in a business plan's introduction.
Give a brief description of the skincare company, an introduction of all your skincare products, the concept, business models, goals, long-term and short-term plans, marketing strategy, & your direct competitors in the executive summary of the beauty products business plan.
The executive summary should catch the attention of your audience or investors to want to invest in your company.
1) Problem Definition & Validation
Here are a few questions to answer for validation:
What issue (or group of issues) is your audience having related to your business industry?
Which options are most feasible and have the biggest market value?
Who are the people affected by these issues?
2) Solution
Now you know the problems and the audience you will serve, search for the solution you will provide for the problem.
3) Objectives
Describe the skin care business in detail. When an organization grows, its business objectives are the specific, quantifiable results that it wants to achieve. There are two types of goals: short-term (1-3 years) and long-term (3-5 or more years). Some of the goals might include: for instance
Hiring 50+ employees in 3 years (short-term)
200+ customers in a year (short-term)
1 million repetitive orders in 5 years (long-term)
10 million sales in 5 years ( long-term)
4) Mission Statement
Your company's mission statement outlines what it delivers, how it accomplishes this, and who it assists. It encapsulates the total worth of your product or service. Your company will achieve its vision if it stays true to its mission.
It's important to keep your mission statement concise, precise, and explicit when you write it.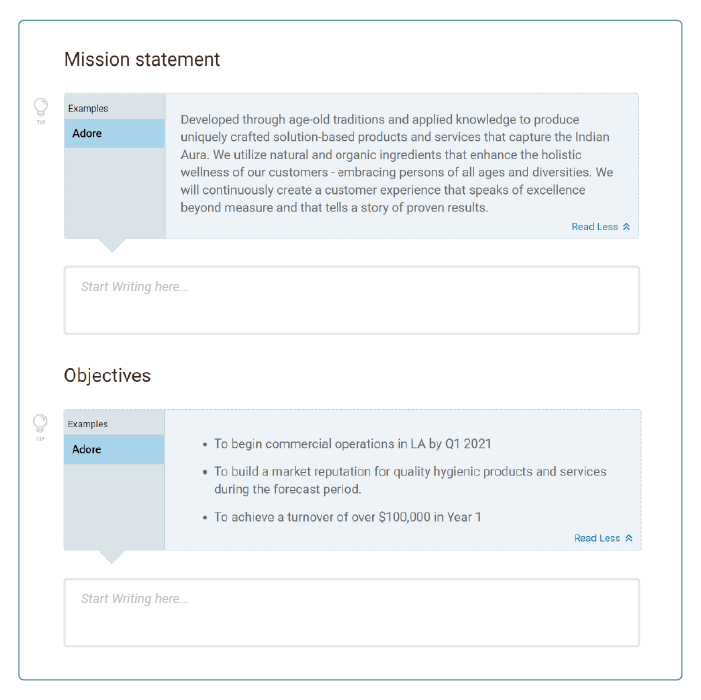 5) Keys To Success
Mention all of your company's unique selling points. Check that your products are market-fit or not, look after your audience, and give them the exact solution that no one else is providing.
6) Financial Highlights
It describes a company's historical financial situation (if available) as well as its future financial projections. This area of the plan includes supporting documents such as budgets and financial records, as well as funding requests.
Numbers are introduced in the financial section of the skin care business plan presentation.
Business Overview
A section of a business plan called the business overview gives a broad description of your skincare business. This part provides information about your business's organization, values, mission, and products to the public. It can also show what distinguishes your business from rivals. This portion of the business plan is referred to as the "company description" or "summary".
Products & Services
Provide information about all the products & services your skincare company will offer. Mention any plans you may have for all of the services and goods.
Your skincare business plan should also include any extra services you plan to offer. For example, "Free delivery above 50 or 100$ orders" or "Offer of 1+1 free products on certain days".
Market Analysis
Educating yourself about the skincare sector is the first step. It helps in your understanding of the skincare industry.
The second benefit of market analysis is that it might enhance your marketing plan, especially if your analysis reveals market trends.
Your skin care business plan's market analysis section has to address the following inquiries:
How much money is invested in the skin care industry?
The market is either growing or shrinking.
Who are the market's major rivals?
Who are the main market suppliers?
What patterns are influencing the sector?
Relevant market size
By estimating the size of the market and then relating that number to your local population, you can gather the target audience.
SWOT Analysis
Make sure you've taken into account all of your company's strengths and weaknesses, as well as the opportunities and threats it faces in the market, as SWOT analysis can help you develop a solid business plan.
For the skincare business also doing a SWOT analysis and defining its solutions is necessary. Using Upmetrics, you will be able to write and analyze every aspect of your skincare business plan.
Operational Plan
How you will carry out the objectives you outlined in the preceding areas is explained in your operations plan.
Describe the management team who is going to lead, along with their experience & expertise. How many personnel together can achieve those goals, and how many new ones you need to hire should also be mentioned here.
Mention all your goals and strategies for how to achieve them.
Financial Plan
Your 5-year financial statement should be broken out monthly or quarterly for the first year and then annually in the financial plan even with the comparison with past data (if any).
Your income statement, balance sheet, cash flow statements, and financial forecasts are all parts of your financial statements.
Use our business plan app to forecast your financials for 5 years so that you can plan your long-term goals too.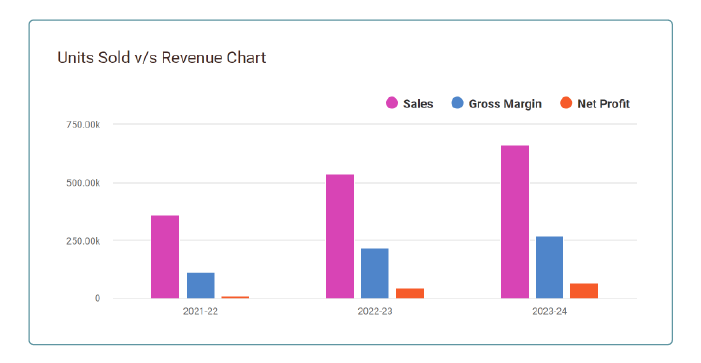 Download a sample skin care business plan
Need help writing your business plan from scratch? Here you go; download our free skin care business plan pdf to start.
It's a modern business plan template specifically designed for your skin care business. Use the example business plan as a guide for writing your own.
Summary
To impress investors or to predefine your business strategies: write a skin care business plan for your business. Using this skin care business plan template (pdf), you will have a better understanding of the skincare market, your rivals, and your target audience.
Ready To Start Planning Your Business?
Write your business plan swiftly & rapidly with Upmetrics. You can write, customize, forecast, collaborate, make a pitch, & ideate all in the same platform, so what are you waiting for?
Start writing a skincare business plan with us today.
Customize Business Plan
Using our business plan app, one can customize business plans per their requirements.
Use the top-notch business plan creator to impress investors, & achieve your dream of a successful skincare business.