A lot of people like fine and customized wines, but not everyone has the talent to whip up wines that'll suit the tastes and preferences of different people.
Moreover, with people valuing experiences more than products, the popularity of wine-tasting and making sessions is growing every day.
If you are planning to start a new winery business, the first thing you will need is a business plan. Use our sample winery business plan created using Upmetrics business plan software to start writing your business plan in no time.
Before you start writing your business plan for your new winery business, spend as much time as you can reading through some examples of manufacturing-related business plans.
Industry Overview
The wine industry stood at a market value of 417.85 billion US dollars in 2020 and is expected to grow at a rapid rate going forward.
Also, according to Glassdoor, the average winemaker salary across the nation stands at $84,015 per year, being $43,000 on the lower end and $132,000 on the higher end.
The rising consumption of wine across the globe is one of the major reasons for market growth.
Alongside the growth of wine consumption across different cultures, the way people shop for wines has grown too. Most people prefer to buy wines from retail stores and online.
Also, with increased changes in people's lifestyles, everyone prefers beverages with lesser or no alcohol content. This has led to an increase in the popularity of wines.
Say goodbye to boring templates
Build your business plan faster and easier with AI
Plans starting from $7/month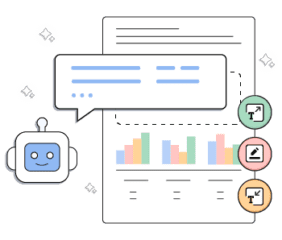 Things to Consider Before Starting a Winery Business
Decide upon your distribution method

Although you can always make the switch, it is advisable to study and pick the most profitable distribution channel for your winery business.

A winery has several distribution channels like stores, eCommerce sites, restaurants, hotels, etc., with stores and online sites being the most popular ones nowadays.

Hence, you should conduct a thorough analysis of various factors and pick the channel that fits the best for your business.

Pick a favorable location

A good location is important for a winery business. Not only should the weather and atmosphere be favorable for your winery, but it should be accessible as well.

It helps you make your business more cost-effective in terms of transport costs and also more reachable for your distributors.

Have a list of equipment and machines you'll need

From farming equipment to tools and machines for extracting and storing wine, a winery needs a bunch of equipment.

Hence, figuring out the functioning of all the systems and tanks before you start is essential for smooth procedures and working of your winery.

Decide on a brand name and message

Though the brand building is an ongoing process, picking a memorable name and brand message is essential. It gives your customer base to remember you something by.

Also, a message that you follow through with can become a strong mark of effort and quality.
Write Your Business Plan
If you can make unique and innovative wines know how to juggle proportions and blend to suit the tastes of different people or would like to have a scenic vineyard that can also become a source of income for you, then a winery business might help you have a fulfilling and profitable profession.
Reading sample business plans will give you a good idea of what you're aiming for. It will also show you the different sections that different entrepreneurs include and the language they use to write about themselves and their business plans.
We have created this sample Winery Business Plan for you to get a good idea about what a perfect winery business plan should look like and what details you will need to include in your stunning business plan.
Winery Business Plan Outline
This is the standard winery business plan outline, which will cover all important sections that you should include in your business plan.
Executive Summary

Mission Statement
Vision Statement
Customer Focus
Financial Summary

Company Summary

History
Business Structure
Startup Summary

Products and Services
Market Analysis

Industry Analysis
Market Trends
Target Market

SWOT Analysis
Strategy & Implementations

Sales Forecast
Advertising Strategy

Direct Mail
Public Relations
Advertising
Sampling
Ongoing Customer Communications
Pre-Opening Events

Pricing Strategy

Management Summary

Functional Roles

Service Functions
Administrative Functions

Milestones

Financial Plan

Important Assumptions
Brake-even Analysis
Projected Profit and Loss

Profit Yearly
Gross Margin Yearly

Projected Cash Flow
Projected Balance Sheet
Business Ratios
After getting started with upmetrics, you can copy this sample winery business plan template into your business plan and modify the required information and download your winery business plan pdf or doc file.
It's the fastest and easiest way to start writing your business plan.
The Quickest Way to turn a Business Idea into a Business Plan
Fill-in-the-blanks and automatic financials make it easy.
Get Started Now!

Download a sample winery business plan
Need help writing your business plan from scratch? Here you go; download our free winery business plan pdf to start.
It's a modern business plan template specifically designed for your winery business. Use the example business plan as a guide for writing your own.