A business plan is a blueprint for your business. No matter if you're running a startup or a well-established company, every entrepreneur needs to create a business plan. It helps you have a clear idea of your goals, and objectives, the execution of your strategies, and tracking progress.
Business plans come in all shapes and sizes.
You can create a plan based on your unique requirements and goals. Often, businesses require different types of plans for different situations and to tackle different problems. Having just one standard business plan is not enough.
A meticulously crafted business plan will efficiently serve its intended purpose. In fact, business plans are categorized based on the type of audience, the scope of the plan, and the purpose and format of the plan.
Understanding the basics of each type will help you pick out the right one for your business requirements. In this article, you will learn the different types of business plans and when and where they are used.
Based on Audience

Business plans are broadly categorized into two types based on the type of audience. They are:
Internal business plans:

As the name suggests, an internal business plan is solely for the people inside the company. These can be specific to certain departments such as marketing, HR, production, etc. Internal business plans focus primarily on the company's goals, and the personnel and processes aimed to achieve them.

External business plans:

On the contrary, external business plans are intended for people outside the company, such as investors, banks, partners, etc. These plans usually contain detailed information about the company's background, finances, and overall operation of the business.
Based on the Scope

Similarly, business plans are classified into two types based on their size and the depth of information they encompass. They are:
Standard business plans

A standard business plan is a bulky document that contains every detail of the company. Most external plans slide into this category as they often need to be detailed for presentation to people outside the company.

A standard business plan contains these sections:

Marketing Plan
Supporting documentation

A standard plan is usually presented to banks and any potential investors as it provides a complete view of the company, and future financial projections, and helps attain funding. But oftentimes, drafting a traditional business plan can be a tedious task as it takes a lot of time and effort.
This is the reason why modern entrepreneurs choose the smart way to plan their business by opting for lean plans.
Lean business plans

A lean plan is a condensed version of the standard business plan. It includes the highlights of a standard business plan and summaries of all the sections. It is a compact document that emphasizes achieving milestones and tracking finances.

Drafting a lean business plan is easier, faster, and is considered to be more efficient compared to a standard plan. It is flexible and can be revised effortlessly as many times as needed, which provides room for adjusting milestones, and improvising.

A lean business plan is apt for situations where you are uncertain about the process of creating a business plan, and it can be the essential first draft for your business. Everything in a lean business plan should be concise and represented in bullet points or short texts.

These are the elements that a lean business plan focuses on:

Strategies
Tactics
Metrics
Finance
Based on Purpose and Format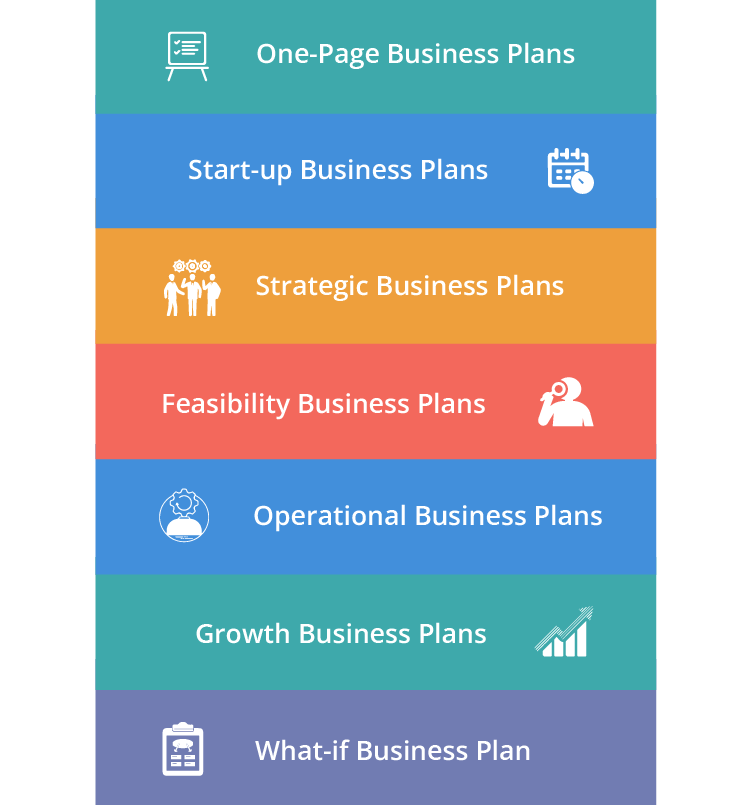 Business plans are further classified based on their purpose and format into seven types, they are:
One-page business plans

A one-page business plan can be described as an outline of a lean business plan. It is also called a business pitch or a quick summary. It is sometimes used to present a quick overview of your business to your vendors, partners, and employees and as a summary to banks and investors.

This encapsulates all the essential parts of a business plan on a single page. This summarizes the target market, business offering, main milestones, and essential sales forecast.

Startup business plans

A startup business plan can be defined as a lean plan with elements of a standard plan included to seek investors. The primary purpose of a startup plan is to put forth the steps required to get a business up and running. Later on, it should also serve as a plan that will help score investment.

The steps of establishing a new company include acquiring licenses and permits, setting up an office or store, getting equipment, and hiring and managing employees. All of these should be included in the startup business plan.

A startup plan should include information about the company, its products, and services, a detailed analysis of the industry, market, competition, SWOT, the bios of management, their responsibilities and roles, complete financial details and analysis, and projections of the usage of funding.
Strategic business plans

A strategic business plan is a lean business plan that contains details of the strategies and their implementation to achieve the goals and objectives of a company. These are internal plans that will focus entirely on the strategies with almost no inclusion of finances.

Conduct SWOT (Strengths, Weaknesses, Opportunities, and Threats) analysis to begin an effective strategic business plan. This will help you better understand the factors that play a role in the decision-making process of a business.

A SWOT analysis will help you decide the strategies that will best suit your company and accomplish the goals, utilizing the available resources. Every strategic plan should contain these five elements:

Mission statement
Vision statement
Factors that determine success
Strategies to achieve goals
Implementation process

Feasibility business plans

You require a feasible plan in case the business is stepping into a new market or introducing a new product or service. It is more a decision-making plan than a business plan as it focuses on two primary concerns:

Determining the existence of a market
Determining the profits of the initiative

A feasibility plan is a quick analysis of the practicality of a business idea.

This type of business plan usually excludes all the other sections and solely focuses on the scope of the initiative, its profitability, analysis of the market and competition, and acquiring the funding for it.

It is mostly crafted for internal management and ends with recommendations on whether the decision of entering a new market or introducing a new product or service is viable or not.

Operational business plans

An operational plan is a type of lean plan that focuses on the implementation process, achieving milestones, project deadlines, and the responsibilities of management, departments, and employees. It also focuses on the funding required to accomplish the milestones.

This business plan is called an annual plan, as businesses often use it to plan and specify milestones and their implementation for the coming year.

Some of the key elements every operational plan should contain are:

Objectives for the operations
Activities required to achieve objectives
Resources required
Staffing requirements
Deadlines for implementation
Tracking progress
An operational plan, at its core, focuses on implementation processes like production, delivery of the product or services, and tracking progress.
Growth business plans

Draft a growth business plan when a company looks to expand its business into new markets. It is essentially a startup plan for a new segment of your business. This is also known as an expansion plan as it focuses on the long-term goals of a business.

This business plan can be both external and internal.

An external growth plan includes complete financial details and a funding request. On the other hand, an internal one contains details of the forecast of sales and expenses of the upcoming venture.

What-if business plan

Use a what-if plan when a business is taking a risky decision and needs a plan if the outcome turns unfavorable. This plan is usually less formal unless a funding request is included.

It entails a contingency plan that considers the worst-case scenarios.

This plan provides a glimpse into the possible outcomes of taking that risky decision and its effects on the company. It makes sense when taking a major business decision, merging with another company, raising the prices of products, etc. These are all the different types of business plans from which you can hand-pick the best fit for your company.
A Plan for Every Priority
Planning is essential for every business, without one a business is not likely to sustain itself in the long run. Although daunting sometimes, choosing the right plan for your business requirement can help you achieve your goals faster and with smart use of resources.
Every situation needs a unique approach to tackle effectively. Fortunately, there's a plan for every purpose to help your business stand the test of time. Feel free to pick one that suits your business the best. Make sure to update it regularly.