If you are a people person who enjoys cooking and cleaning and is fond of historic and elegant houses, a bed and breakfast business would be perfect for you.
A bed and breakfast business not only allows you to work for yourself, but also to challenge your creative side. You get to pick the decor, the food menu, the serving style, and everything that'll make you stand apart from the others.
Industry Overview
The bed and breakfast industry stood at a market value of 1.65 bn dollars at the beginning of 2021 and is picking up pace after being hit by the COVID-19 pandemic. Hence, with a lesser number of competitors now is the right time to enter the industry.
However, to know what you are getting yourself into, you need a well-written business plan. Also, planning your business well in its initial stages saves you from a lot of troubles later on.
Read on to find out how a business plan can help you and how to write one.
Say goodbye to boring templates
Build your business plan faster and easier with AI
Plans starting from $7/month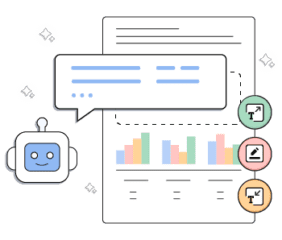 How can a bed and breakfast business plan help you?
Writing a business plan before starting a bed and breakfast business can help you in managing your finances and budget better. It'll also help you understand what your targeted client base expects out of you, it would also help you select the right location, formulate a good marketing strategy, and cater to the needs and demands of your customers better.
It can also help you steer clear of roadblocks and avoid hiccups in your business journey.
Moreover, it can make navigating through your daily business activities and your business milestones easier.
How to write a bed and breakfast business plan?
Though writing a business plan might seem intimidating at first, it doesn't have to be. You can easily write a well-rounded business plan through a premade template or through a business plan software that'll help you in every step of writing your business plan.
Apart from that, a good business plan focuses on every facet of your business and has clear and flexible goals and strategies. In the following section, we'll discuss all the things you can include in your business plan to make it a good one.
Bed and breakfast business plan outline
This is the standard bed and breakfast business plan outline which will cover all important sections that you should include in your business plan.
Executive Summary

Business Overview

Services
Customer Focus
Management Team

Keys to Success
Objectives
Financial Overview

Company Summary

Who is The Manola Inn?
Manola Inn's History
Manola Inn's Services
Bed and Breakfast Design

Industry Analysis

Industry Statistics & Trends
Market Segmentation

Geo-graphics
Demographics

Target Market Segment Strategy

Vacationers
Honeymooners
Drop-ins
Service Business Analysis

Customer Analysis

Profile of Target Market
Customer Segmentation

The U.S. Leisure Travel Market
The U.S. Business Travel Market

International Tourists

Competitive Analysis

Direct & Indirect Competitors

The Madison Concourse Bed and Breakfast
The Edgewater Bed and Breakfast
Doubletree Bed and Breakfast Madison

Competitive Pricing
Competitive Advantage

Marketing Plan

The Manola Inn Brand
Promotions Strategy

Phone Prospecting
Public Relations
Advertising
Ongoing Customer Communications
Pre-Opening Events

Pricing Strategy

Operations Plan

Functional Roles

Administrative Functions
Bed and Breakfast Services

Milestones

Management Team
Financial Plan

Revenue and Cost Drivers
Capital Requirements and Use of Funds
Key Assumptions & Forecasts
Income Statement (5 Year projections)
Balance Sheet (5 Year projections)
Cash Flow Statement (5-Year projections)
What to include in a bed and breakfast business plan?
Several sections can make your business plan a well-rounded one. The major ones are as follows:
1. Executive summary
This document forms the first section of your business plan. It is useful while explaining your business ideas to your investors and can get you funded if written properly.
The executive summary section consists of the following sub-segments:
Objectives: This segment would cover the objectives or the goals you wish to accomplish with your business.
Business Overview: This section provides an overview of every aspect of your business.
Key to success: In this section, you should mention practical reasons why you believe your business would be a successful one.
2. Customer Analysis
The customer analysis section helps you in knowing your target market better. It not only provides you with a detailed description of your customer base but also helps you in formulating marketing strategies surrounding them.
It can be broken down into the following subsections:
Profile of target market: In this section, include details about your target audience like their preferred holiday destinations, their food habits, leisure activities that they prefer, etc.
Customer segmentation: This segment helps you know the needs and preferences of different groups of customers and how to serve them better as per their differences.
3. Competitive Analysis
In this section, include a detailed analysis of your competitors, ranging from who they are to what they are doing and how your business stands apart from theirs.
Include the following subsegments in this segment:
Direct and indirect competitors: Make a list of all your direct competitors, like the other B&Bs, and indirect competitors like inns, motels, hotels, etc.
Competitive Advantage: In this section include all the advantages you have over your competitor including better or more accessible location, better customer reach, better services, etc. This will help you find your USP.
4. Marketing Plan
For your business to succeed, people need to know it exists. Hence, a marketing plan is a crucial part of your business. It would consist of a market analysis followed by an advertising strategy.
5. Operations Plan
This section is crucial especially for a B&B as it helps you plan your daily activities from how you would manage your customers to business milestones like expanding your services, growing to a certain size, etc.
6. Financial Plan
Having a good financial plan can help your business stay afloat during difficult times and earn maximum profits when the market condition is good. It can be broken down into the following segments:
Revenue and cost drivers: Include the aspects that generate revenue and the ones that incur costs, so you can manage them better to reduce costs and increase revenue wherever possible.
Capital requirements and use of funds: in this section list down the capital requirements of your business and the sources you can acquire funds from.
Projected profits: In this section, include the short-term and long-term profits your business would make according to your calculations.
Download a sample bed and breakfast business plan
Need help writing your business plan from scratch? Here you go; download our free bed and breakfast business plan pdf to start.
It's a modern business plan template specifically designed for your bed and breakfast business. Use the example business plan as a guide for writing your own.
The Quickest Way to turn a Business Idea into a Business Plan
Fill-in-the-blanks and automatic financials make it easy.
Get Started Now!

Bed and breakfast business plan summary
In conclusion, with the right amount of planning and thorough execution, a bed and breakfast business can be extremely profitable.
After getting started with Upmetrics, you can copy this bed and breakfast business plan example into your business plan and modify the required information and download your bed and breakfast business plan pdf or doc file.
It's the fastest and easiest way to start writing your business plan.