With globalization and the growth of eCommerce, the freight business is growing faster than ever. And with increased reliability on deliveries and convenient payment options, this mode of buying isn't about to slow down anytime soon.
And if you are looking for a business that is profitable and has a less complicated setup, then freight brokerage might be your thing.
If you are planning to start a new freight brokerage firm, the first thing you will need is a business plan. Use our sample Freight Brokerage Business Plan created using Upmetrics business plan software to start writing your business plan in no time.
Before you start writing your business plan for your new freight brokerage business, spend as much time as you can reading through some examples of transportation and logistics-related business plans.
Industry Overview
The freight brokerage market in the US stood at a value of 1.164 billion US dollars in 2020 and is expected to grow at a staggering rate due to the rapid switch people are making towards online shopping.
Also, due to the pandemic and various safety measures many people have adopted a new way of shopping, and that has contributed massively to the growth of the freight brokerage industry.
Not just that, many sellers also prefer to set up eCommerce stores, as they are easier to set up and give their business a wider reach. Which again contributes to the size and expansion of the freight brokerage business.
Say goodbye to boring templates
Build your business plan faster and easier with AI
Plans starting from $7/month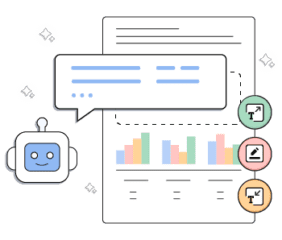 Things to Consider Before Writing a Freight Brokerage Business Plan
Select a legal structure for your business

The legal structure of your business not just decides the taxes you'll pay. It also decides the amount of paperwork you'll have to do, the liability on your assets, and so on. Hence, it is important to go through all of your options and choose the right one for your business. And although it might seem intimidating at first, with a little help it is quite a simple process. And figuring out early on helps you avoid unnecessary hassles as well.

Get to know the industry

Before you get started, it is important to know what you are getting yourself into. Try to understand the details of how the industry works, how people get projects and clients, how they manage their business, who are your competitors, and so on. You can do this by studying the market or by working under someone for a while as you set up your business. This helps you start and grow your business in the right way.

Acquire necessary skills

Having the right skill set, be it the primary skills of the business, or soft skills like communication and time management, can take you a long way. So, get to know what skills you'll need and find out ways to develop them.

Figure out a method of pitching to potential clients

It is always a good practice to market your business and grow an audience even before you get started, as it builds anticipation for your business amongst people. And while you are at it, figure out a way to pitch to potential clients and get deals. This helps you get a head start with your business.
Chalking out Your Business Plan
Reading sample business plans will give you a good idea of what you're aiming for. Also, it will show you the different sections that different entrepreneurs include and the language they use to write about themselves and their business plans.
All you need is a little research into what the industry is all about and a freight brokerage business plan. Through this article, we'll take you through all of the above and more.
We have created this sample freight brokerage business plan for you to get a good idea about how perfect a freight brokerage business plan should look and what details you will need to include in your stunning business plan.
Freight Brokerage Business Plan Outline
This is the standard business plan outline which will cover all important sections that you should include in your business plan.
Executive Summary

Mission Statement
Vision Statement
Customer Focus
Management Team
Success Factors
Financial Summary

Company Summary

History
Products and Services
Startup Summary

Market Analysis

Industry Analysis
Market Trends
Target Market
Market Segmentation

Strategy & Implementations

Sales Strategy
Advertising Strategy

Billboards
Referrals
Local Publications
Customer Loyalty Programs
Direct Mail

Milestones
Pricing Strategy

Operations Plan

Functional Roles

Functional Roles
Administrative Functions

Personnel Plan
Milestones

Financial Plan

Important Assumptions
Brake-even Analysis
Projected Profit and Loss

Profit Yearly
Gross Margin Yearly

Projected Cash Flow
Projected Balance Sheet
Business Ratios
After getting started with Upmetrics, you can copy this sample business plan into your business plan and modify the required information and download your freight brokerage business plan pdf or doc file. It's the fastest and easiest way to start writing your business plan.
The Quickest Way to turn a Business Idea into a Business Plan
Fill-in-the-blanks and automatic financials make it easy.
Get Started Now!

Download a sample freight brokerage business plan
Need help writing your business plan from scratch? Here you go; download our free freight brokerage business plan pdf to start.
It's a modern business plan template specifically designed for your freight brokerage business. Use the example business plan as a guide for writing your own.