If you are planning to start a new home health care business, the first thing you will need is a business plan. Use our sample Carewell - Home Health Care Business Plan created using upmetrics business plan software to start writing your business plan in no time.
Before you start writing your business plan for your new home health care business, spend as much time as you can reading through some examples of healthcare-related business plans.
Reading sample business plans will give you a good idea of what you're aiming for and also it will show you the different sections that different entrepreneurs include and the language they use to write about themselves and their business plans.
We have created this sample Carewell - Home Health Care Business Plan for you to get a good idea about how perfect a home health care business plan should look like and what details you will need to include in your stunning business plan.
Industry Overview
The home healthcare industry stood at a massive value of 299 billion dollars in 2020 and is expected to grow at a rapid pace going forward too.
The major reason for this growth is the increase in the size of the geriatric population. Also, many people prefer to stay at home, be it because of the expenses, the comfort it offers, the long-term convenience, and so on.
It is also less expensive and helpful for the government and institutions to better arrange the healthcare sector and make it more cost-effective.
Hence, this sector has massive growth potential for years to come.
Things to Consider Before Writing a Home Healthcare Business Plan
Figure out the type of your healthcare services

As home healthcare provides both medical and non-medical services, you'll have to figure out what kind of services you want to offer before you start planning. As both businesses require different skills, resources, teams, and procedures, deciding what you want to do helps you plan better and more specifically.

Hence, figure out what kind of services you want to offer.

Decide your legal structure

Your legal structure decides the amount you'll pay in taxes, the number of legal documents you'll have to prepare, the liability on your personal assets, and so on. And although it might be intimidating to pick one option amongst several, it isn't really that difficult. And with a little bit of legal help, it can be made even easier.

Also, it makes it easier for you to conduct your business and stay on the right side of the law.

Develop a marketing plan

Marketing your business right is essential. To ensure that people approach your business, it is important to let them know that your business exists. Also, your marketing should properly reflect your brand's message and communicate what you want to in the right tone.

Hence, developing a marketing plan early on is important.

Have a good team

A good team can make or break your business. As with a home healthcare business, the way you deal with people matters the most, it is important to have a good team. Your team should be able to understand different customers and deal with them accordingly.
Home Health Care Business Plan Outline
This is the standard home health care business plan outline which will cover all important sections that you should include in your business plan.
Executive Summary

Mission Statement
Vision Statement
Keys to Success
Financial Summary
Financing Needed

Company Summary

Management Team
Personnel Table
Startup Summary

Products and services
Market Analysis

Market Trends
Target Market
Market Segments

Strategy & Implementations

Advertising Strategy
Pricing Strategy
Sales Plan
Milestones

Financial Plan

Important Assumptions
Brake-even Analysis
Projected Profit and Loss

Profit Yearly
Gross Margin Yearly

Projected Cash Flow
Projected Balance Sheet
Business Ratios
After getting started with Upmetrics, you can copy this sample business plan into your business plan and modify the required information and download your home health care business plan pdf or doc file. It's the fastest and easiest way to start writing your business plan.
Ready to Start Your Planning?
Now that you know how to write a business plan, it's time to create one for you.
Remember that problem and market analysis are essential, but implementation is what counts. Go through the process explained in this guide to start planning for your business.
We have created Upmetrics — business plan software to simplify the process of business planning.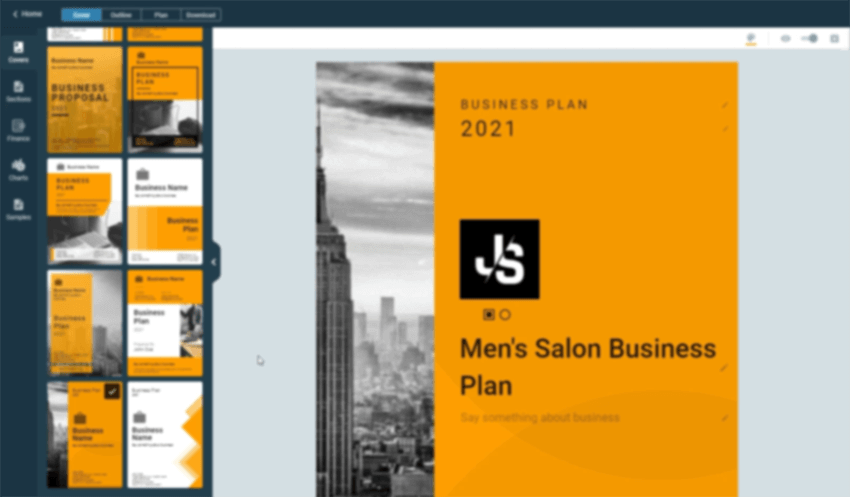 Our business plan builder allows you to write and customize your business plan. Our sample business plans and inbuilt help tips will help you to get started with your writing even if you are no expert. Our business plan sections and charts will make your document visually attractive.
Our financial forecasting module will create all the essential reports automatically. You need to enter numbers, and the application will do all the math to generate all your financial statements. Later you can embed those reports into your business plan.
After completing your business plan, you can download your business plan in PDF or DOC file with Upmetrics. You can also share it online with investors just by a quick link.
Customize your Business Plan
All businesses are different. So, don't hesitate to customize your business plan according to your requirements.
Even though our sample business plans are to help you create the perfect presentation for your clients and investors, it is finally up to you to decide how you're going to present your ideas in the best light.
Use this Home Health Care Business Plan as guide and start writing your business plan.
Business Planning Resources
We have plenty of free business planning resources available to help you with your planning. You can download our resources to learn all about business planning.
DISCLAIMER: The business plans, templates, and articles contained on upmetrics.co are not to be considered as legal advice. All content is for informational purposes, and upmetrics makes no claim as to accuracy, legality or suitability. The site owner shall not be held liable for any errors, omissions or for damages of any kind.