Cutting and styling hair is an art not many are adept with.
After all, it takes more than artistic talent to give cuts that suit different hair. And if you are someone who has this talent, then you might have thought of having your hair salon business.
Having your hair salon business is possible and just requires two things for success. That is, skills to make people's hair look pretty and a hair salon business plan.
Here are a few facts about the hair salon industry and steps to setting up your business. But at the same time, the prospect of having a business is overwhelming to many of us. You don't need to worry, though!
Industry Overview
The spa and salon market stood at an impressive value of $138.9 billion in 2020, and as people continue to return to salons after the pandemic, the market's value is expected to rise at a higher rate.
The rise in personal care and beauty spending is one of the major reasons for the growth of the hair salon industry.
Apart from beauty purposes, hair salon businesses have also seen a rise due to the increasing demand for hair care services.
Say goodbye to boring templates
Build your business plan faster and easier with AI
Plans starting from $7/month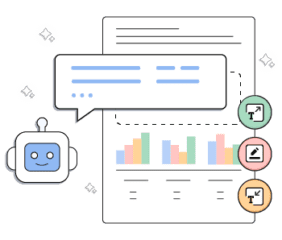 Things to Consider Before Writing a Hair Salon Business Plan
Find your USP

A hair salon gives several services including cutting, coloring, styling, and hair care. Apart from that, your customer service, prices, and a lot of other things make your services a package deal for your customers.

But out of everything that makes up your business, you have to do something that you do differently or better than your competitors. This would help you stand out and become memorable to your customers.

Build your client base

Although this is an ongoing process, getting a head start with building your client base is essential. Know what sources you can use to reach out to your clients, what makes them pick a hair salon service, what makes them come back, and so on.

Knowing these things gives you an edge over businesses that dive right in without an action plan.

Find the ideal location

The ideal business location will be both accessible and functional. A good location for a hair salon would be either located in a busy neighborhood or a place that people frequent between home and work.

A good location makes accessing your services more convenient and hence more in demand.

Design your salon for both form and function

Although, it is advisable to hire a designer to design your salon in a way that is functional and also looks appealing. But cash crunches, startup costs, and whatnot might leave lesser scope for a designer in your budget.

In such a case, you can design your salon with the help of catalogs, outside inspiration, and your creativity to make it as functional as possible and build upon and redesign it as your business grows.
Writing Your Business Plan
If you are planning to start a new hair salon business, the first thing you will need is a business plan. Use our sample hair salon business plan created using upmetrics business plan software to start writing your business plan in no time.
Before you start writing a business plan for your new hair salon business, spend as much time as you can reading through some samples of hair and beauty salon business plans.
Reading some sample business plans will give you a good idea of what you're aiming for and also it will show you the different sections that different entrepreneurs include and the language they use to write about themselves and their business plans.
We have created this sample hair salon business plan for you to get a good idea about how perfect a hair salon business plan should look and what details you will need to include in your stunning business plan.
Hair Salon Business Plan Outline
This is the standard hair salon business plan outline which will cover all important sections that you should include in your business plan.
Executive Summary

Business Overview
Mission
Vision
Our Services
Goals and Objectives
Keys to Success

Business Overview

Ownership
Legal Business Description
Startup Summary
Hiring Plan
Location

Products & Services

Products & Services
Services
Products

Market Analysis

Market Trends
Target Market
Market Segmentation
Customer Profile
Competitive Summary
Competitive Advantage

Strategy and Implementation

Sales & Marketing Strategy
Sources of Income
Sales Forecast
Pricing Strategy
Publicity and Advertising Strategy
Milestones

Management
Financial Plan

Startup Costs
Important Assumptions
Profit & Loss Projections
Balance Sheet Projections
Cashflow Statement
Business Ratios
After getting started with Upmetrics, you can copy this hair salon business plan example into your business plan and modify the required information and download your hair salon business plan pdf and doc file. It's the fastest and easiest way to start writing your business plan.
The Quickest Way to turn a Business Idea into a Business Plan
Fill-in-the-blanks and automatic financials make it easy.
Get Started Now!

Download a sample hair salon business plan
Need help writing your business plan from scratch? Here you go; download our free hair salon business plan pdf to start.
It's a modern business plan template specifically designed for your hair salon business. Use the example business plan as a guide for writing your own.