If you are someone with a decent knowledge of planning, strategizing, and increasing a company's profit through it, then a project management business might be your cup of tea.
Several business owners want their business's voice to be heard and recognized, but with a hundred other tasks to do, they are left with no time to plan or look back on the progress of their strategies. And here's where project management teams can help.
And if you are planning to start your project management business, you'll need a project management business plan.
We have created a project management plan template for you to get a good idea about what a perfect project management plan should look like and what details you should include in your plan.
Industry Overview
The project management market was valued at 5.37 billion dollars in 2020 and is expected to rise going forward too.
The major reason behind the rise of this market is the value addition and results in it offers. Also, as project managers become experts at what they do, the demand and value of their services rise too.
But at the same time, you must have proof that your services can add value to your client's business. Proper planning and in-depth knowledge of the industry and its trends can help you do that.
Say goodbye to boring templates
Build your business plan faster and easier with AI
Plans starting from $7/month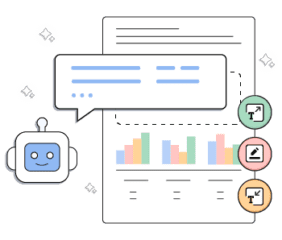 Things to Consider Before Writing Project Management Business Plan
Identify your niche

Although you might be tempted to take up different projects, you need to niche down and find out which area you want to turn into your area of expertise. Taking up similar projects helps you find out and develop optimal solutions to the major problems that exist in that market.

Note down your deliverables

Note down what would be included in your set of deliverables. It helps you set the right customer expectations and also helps you manage your resources more effectively.

Note down common risks in the industry

Smart people learn from other people's mistakes, and so should you. Analyze common risks and how to avoid them, so you get to provide better services to your clients. It also helps you get through common problems that hold other businesses back. Hence, it is necessary to analyze common risks for the betterment of your business.

Find out ways to reach out to your potential customers

There would be definite ways that would help you reach out to potential customers better and faster. Your business needs to find these mediums and market your business to help you increase your audience's awareness regarding your brand. It also ensures that you get results equivalent to your marketing efforts.
Such mediums could be a specific social networking site, email, websites, print ads, online communities, and so on. You should research to find out which is the best for your niche.
Chalking Out Your Business Plan
The project management plan is required to understand how the project will be executed, monitored, controlled, and closed during the project development life cycle.
Before you start writing your project management plan, spend as much time as you can reading through some samples of project management plans.
Not only will that give you a good idea of what it is you're aiming for, but it will also show you the different sections that different entrepreneurs include and the language they use to write about themselves and their plans.
Project Management Plan Outline
This is the standard project management plan outline which will cover all important sections that you should include in your business plan.
Overview

Project Purpose, Objectives, and Success Criteria
Project Deliverables
Assumptions, Dependencies, and Constraints
References
Definitions and Acronyms
Evolution of the Plan

Project Organization

External Interfaces
Internal Structure
Roles and Responsibilities

Managerial Process Plans

Start-Up Plans

Estimation Plan
Staffing Plan
Staff Training Plan
Resource Acquisition Plan
Project Commitments

Work Plan
Control Plan

Data Control Plan
Requirements Control Plan
Schedule Control Plan
Budget Control Plan
Communication, Tracking, and Reporting Plan
Metrics Collection Plan

Risk Management Plan
Financial Management Plan (Cost/Budget Management)
Issue Resolution Plan
Project Close-Out Plan

Technical Process Plans

Process Model
Methods, Tools, and Techniques
Configuration Management Plan
Quality Assurance Plan
Documentation Plan
Process Improvement Plan
After getting started with Upmetrics, you can copy this project management plan template into your plan and modify the required information and download your project management plan pdf and doc file. It's the fastest and easiest way to start writing your plan.
The Quickest Way to turn a Business Idea into a Business Plan
Fill-in-the-blanks and automatic financials make it easy.
Get Started Now!

Download a sample project management business plan
Need help writing your business plan from scratch? Here you go; download our free project management business plan pdf to start.
It's a modern business plan template specifically designed for your project management business. Use the example business plan as a guide for writing your own.